THE CRACKER THAT TICKS ALL THE BOXES!

Low Carb Grain Free Seed Crackers.
I have needed to go grain free myself and have had many a client need to give up grains as well. Grains can be great for some, but for many of us they can negatively affect our gut, our blood sugar balance, and hormone balance to name a few.
Even if you are grain-free, that doesn't mean you don't crave something
CRISPY, CRUNCHY AND SALTY
This cracker has it all.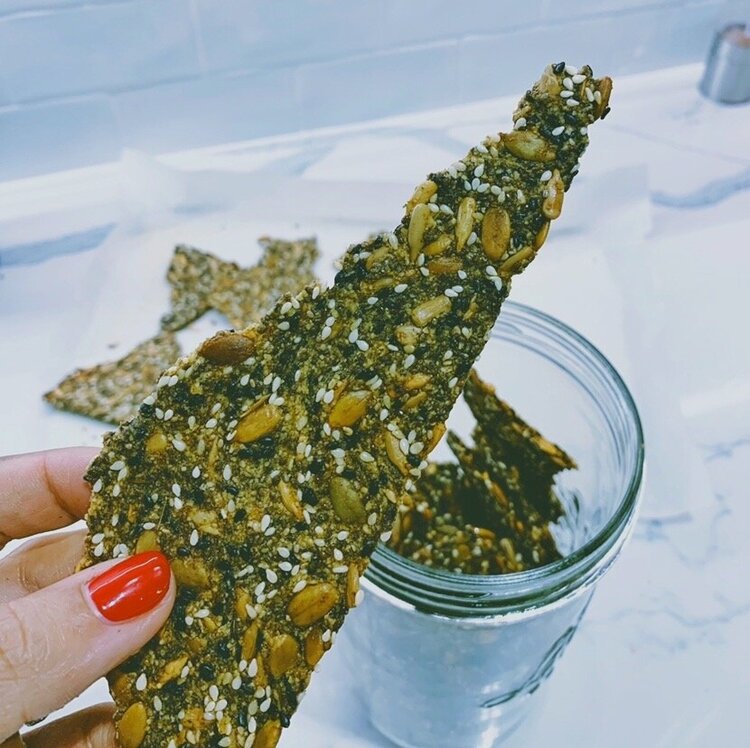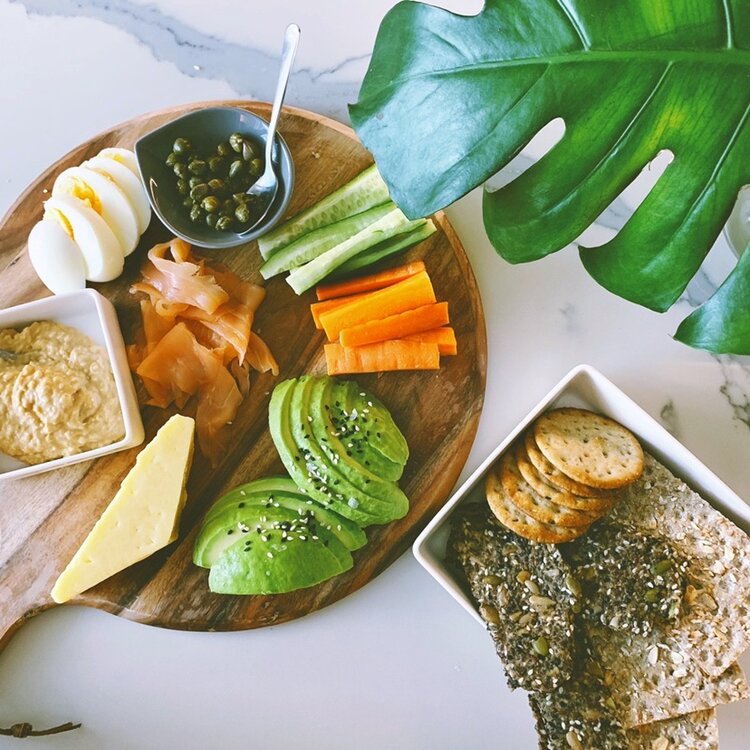 I love having these crackers with some guacamole as a snack, as part of my breakfast with some smoked salmon, or as part of grazing board with some meats cheese and other nibbles.
The trick when cooking these crackers is to ensure you get them as thin as possible when setting them on your baking tray. Don't be afraid to get your hands dirty and use the palm of your hands to really press the seed mixture down into a flat even layer.
Once you are done baking and letting them cool completely, make sure to store them in
an airtight container to keep them fresh and crispy.  It's hot and humid in Singapore and these can go soft in a couple of hours if they aren't stored correctly.
GIVE THEM A TRY AND GET YOUR GRAIN-FREE CRUNCH ON!
Yield/Servings:
Author: Riyana Rupani
Print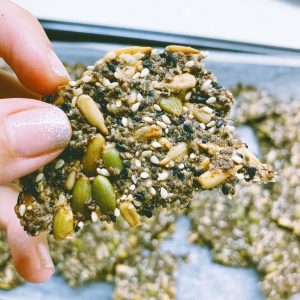 Low Carb Grain Free Seed Crackers
The cracker that ticks all the boxes
PREPARATION TIME: 10 MIN
COOKING TIME: 20 MIN
TOTAL TIME: 50 MIN
INGREDIENTS
1/4 cup almond flour
1/3 cup chia seeds 
1/3 cup sunflower seeds
1/3 cup pumpkin seeds
1/3 cup sesame seeds (I used a mix of black & white)
1 tbsp psyllium husk
1 tsp sea salt or more to taste
1/2 tsp garlic powder (optional)
1 tsp Italian seasoning (or any other seasoning you like)
1/2 tsp fresh ground black pepper
3 tbsp olive oil or coconut oil
1 cup warm water
INSTRUCTIONS
Preheat oven to 150C / 300F
In a large bowl, mix all the dry ingredients.
Add in the oil and warm water and mix. The consistency will be a bit slimy.
Let this rest for 2 to 3 minutes to allow the chia seeds to expand.
While waiting, line a baking sheet with parchment paper.
Pour the mixture on to the lined baking sheet and use your hands to smooth out the mixture into a thin even layer on the baking sheet. The thinner you get this, the crispier your crackers will be. You will want to use the palms of your hands to really get these nice and even.
Bake for 40 minutes and turn off the oven but do not remove the crackers
Leave the crackers in the oven for about 20-30 minutes to crisp up (check, it sometimes takes longer)
break by hand for the perfect grain-free rustic cracker