THIS SALAD IS GREAT FOR THE HOLIDAYS OR ANYTIME! EASY TO PREP UP TO A DAY IN ADVANCE!
When Preparing Your Holiday Meal, Don't Forget The Salad!
Everyone's roasting their brussels sprouts this time of year but me, I'm making them into a salad! It's still hot in Singapore so even though I'm craving all the fall flavors, I'm enjoying
them cold in this dish!
This salad is wonderful for the holidays or when entertaining because you can prep it up to a day in advance. The kale and brussels sprout hold up well and the longer they marinate in the dressing, the tastier it gets!
Insert Recipe below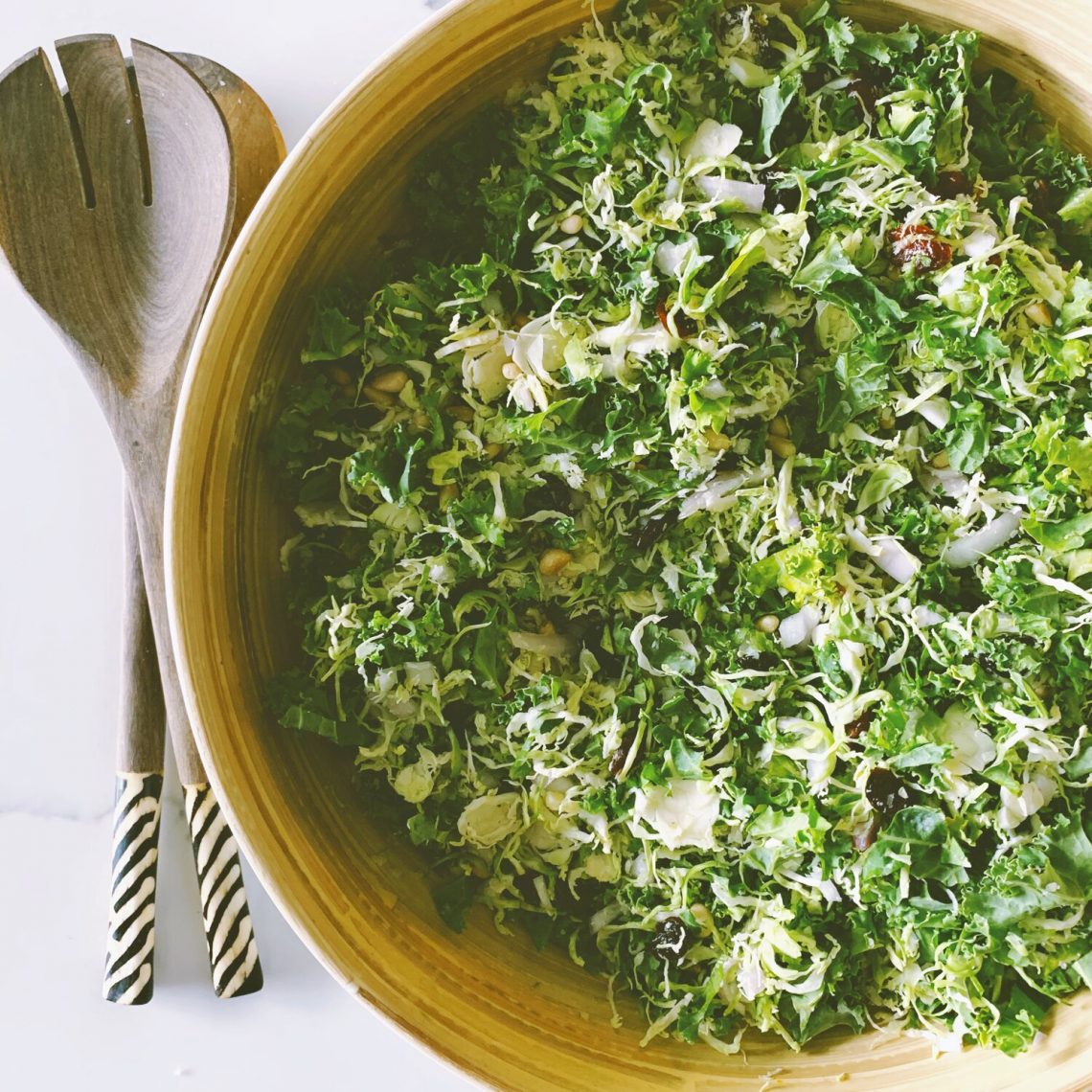 Brussels Sprout & Kale Salad
A delicious salad using brussels sprouts, kale, cranberries, and nuts. wonderful for the holidays!
Preparation time: 20 M
Cooking time:
Total time: 20 M
Ingredients:
Salad
2 cups shaved brussels sprouts (you can use a grater or mandolin)
2 cups chopped kale
1/3 cup chopped red onion (soaked in cold water for 15 minutes)
1/2 cup toasted pine nuts
1/3 cup dried cranberries (make sure sweetened with only apple juice for whole30)
1/2 cup freshly grated parmesan cheese (omit for whole30)
Dressing
1/3 cup extra virgin olive oil
1/4 cup lemon juice (or apple cider vinegar)
1 tbsp Dijon mustard
1 tsp maple syrup (omit for whole30)
1-2 cloves garlic, finely chopped
salt & pepper to taste
Instructions:
How to cook Brussels Sprout & Kale Salad
Toast the pine nuts in a medium skillet over medium heat. Stir & toss frequently until the seeds start to brown. This usually takes less than 5 minutes. Pour the toasted nuts into a bowl and set aside to cool.
Remove the stem of the brussels sprouts and the first layer before grating them. You can grate them directly into your serving bowl.
Remove the tough stem and chop your kale. Add to the serving bowl.
Add the chopped onion, cheese, cranberries, and cooled pine nuts to the serving bowl.
In a small mason jar, add all your dressing ingredients, and it give it a good shake to combine.
Pour the dressing over the salad and stir until everything is lightly coated.
This salad is wonderful to make ahead as the kale, and brussels sprouts hold up well. You can make this up to a day ahead of time (great for holiday meal prep!)
Notes:
*Options • this salad works very well with broccoli • replaced the cranberries with pomegranate seeds • replace the pine nuts with any toasted nuts or seeds