A MIDDLE EASTERN AND NORTH AFRICAN DISH TRADITIONALLY SERVED FOR BREAKFAST OR LUNCH, THIS CAN BE MADE ENTIRELY ON THE STOVE OR FINISHED IN THE OVEN.
For those of you who know me, you I like big flavors, and this simple dish is full of them.
I'm a big advocate of starting your day with a savoury breakfasts as it really keeps you satiated and gives you a nice even energy to start your day. It also won't leave you craving for sweet snacks all day. What we are after in the morning, is steady energy to start our day and this has the protein and good fat to do just that.
This dish does well in big portions and baked so feel free to double or triple the portion and serve it up at your next brunch. If you have a big enough cast iron skillet, great! if not, you would need to cook the sauce first on your stove. After the sauce is ready, transfer it to a baking dish. Make your wells to break the eggs into. Bake on 180℃ / 350℉ for 8-10 minutes. The whites should be set but yolk nice and runny.
You can also add additional veggies while cooking the sauce. I have tried zucchini, spinach, and capsicum. They all turned out well.
Yield/Servings: 1
Author: Riyana Rupani
Print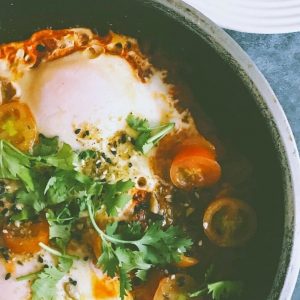 Shakshouka
A complete breakfast with tons of flavor and easy to prepare.
PREPARATION TIME: 5 MIN
COOKING TIME: 7 MIN
TOTAL TIME: 12 MIN
INGREDIENTS
Main Ingredients
1 cup Good Quality Crushed Tomatoes
1/2 tsp Cumin Powder
1/2 tsp Paprika
1/2 Red Onion
1 Clove of Garlic (or 1/4 tsp Garlic Powder)
2 tsp Olive Oil
2 Eggs
Salt & pepper
Optional Toppings
Chili Flakes
Dukkah
Sliced Cherry Tomatoes
Avocado
Coriander or Parsley
Hot Sauce
A slice of Sourdough or Gluten-Free Bread
INSTRUCTIONS
On a medium flame, heat your olive oil.
Once hot, sauté the onion and garlic for about 30 seconds. Add the cumin and paprika and continue cooking for about a minute till aromatic.
Add your crushed tomatoes and lower the heat. Mix, cover and let cook for a few minutes. If u feel your tomatoes are getting too dried out, you can add a little water.
Next, make two wells and crack your eggs in. Season with salt & pepper, cover and let cool for about 2 minutes. Garnish with toppings of choice and enjoy right out of the pan.