THE PERFECT GRAIN FREE SIDE TO YOUR NEXT INDIAN MEAL
This Grain Free Indian flavored rice is a winner!
Made this DELISH cauliflower rice last night.
We were having chicken kebabs and needed a flavorful side to accompany. We do eat Basmati & Jasmine rice at home but was craving something light but flavorful.
The lemon & turmeric work so nicely together and the lemon zest adds that perfect finish. This one is definitely going in the cauliflower rice rotation!
2 tips when it comes to cauliflower rice-
⁠
1. Don't over-process it
2. Don't overcook it
Both of these will leave you with a bowl of mush!⁠
If you like this recipe, give my Paleo Poriyal a try. You are sure to enjoy the flavors.⁠
Insert Recipe below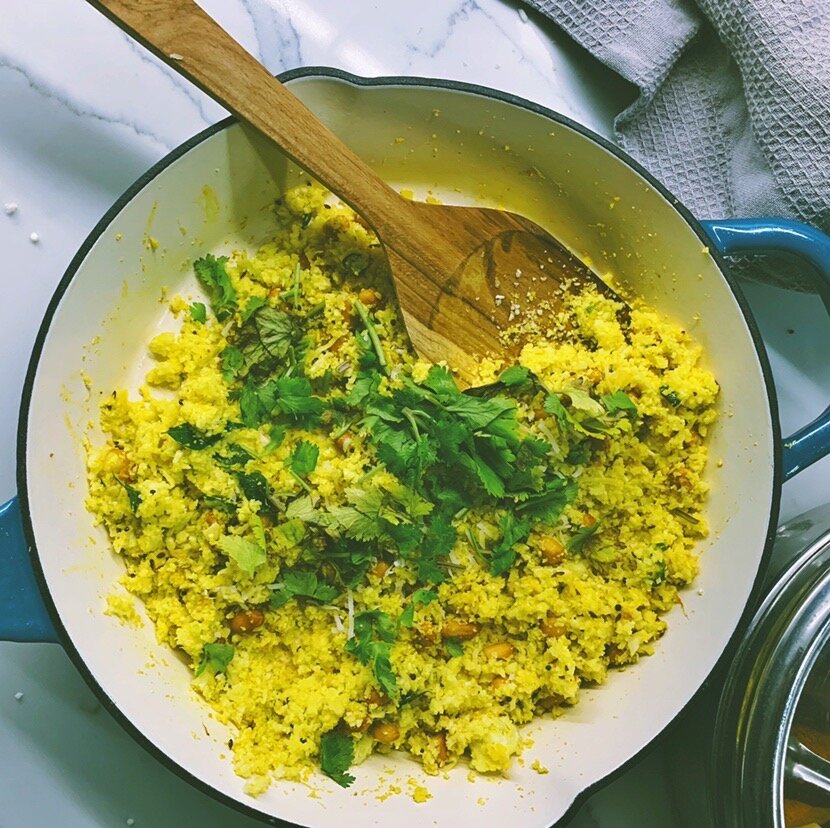 Turmeric Lemon Cauliflower Rice
Preparation time: 8 M
Cooking time: 10 M
Total time: 18 M
Ingredients:
2 tbsp coconut oil
1 tbsp mustard seeds
1 tbsp cumin seeds
1-2 green chills, chopped
5 curry leaves
1-inch piece ginger, grated
1/4 cup cashews ⁠
1 tsp turmeric
3 cups raw cauliflower rice
1/2 lemon zest & juice
1 tsp salt or to taste⠀
1/4 cup shredded coconut (i used frozen) but you can use desiccated
1/4 cup fresh cilantro, chopped
Instructions:
Heat the oil in a pan, once hot, add the mustard seeds, cumin seeds, ginger, chili, nuts, & curry leaves. Let sizzle for 10-15 seconds. (please be careful as the mustard seeds to pop! I like to hold a pan lid as a shield)
Next, add turmeric and the rest of your ingredients. Toss to coat the cauliflower.
Garnish with extra cilantro and enjoy!
Hungry For More?
Subscribe to my Newsletter and follow along on Instagram for all of the latest updates