THIS AURVEDIC TEA IS PERFECT IF YOU ARE DEALING WITH GAS, BLOATING, AND SLUGGISH DIGESTION.
An Ayurvedic tea that aids digestion, increases absorption of nutrients, helps to reduce bloating and gas, and helps detoxify the body. 
You will often find these spices used in Indian cooking and while they make the food aromatic and delicious, many traditional recipes were created based on Ayurvedic principles.  These spices have incredible digestive powers and is why you will often find them with hard-to-digest foods like lentils and legimes.
This tea is perfect any time of day but can be very helpful after meals if you are feeling your digestion needs some extra support.
Yield/Servings: 2 cups
Author: Riyana Rupani
Print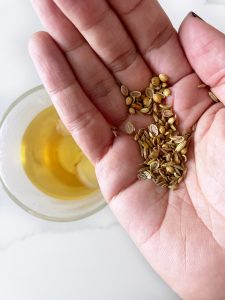 CCF Tea (Coriander, Cumin, Fennel)
An Ayurvedic digestive tea
PREPARATION TIME: 5 MIN
COOKING TIME: 10 MIN
TOTAL TIME: 15 MIN
INGREDIENTS
2 cups water
1 tsp fennel seeds
1 tsp cumin seeds
1 tsp coriander seeds
INSTRUCTIONS
In a small skillet dry roast your spices until they are just fragrant.
with a mortar and pestle, roughly pound and break the seeds.
steep half the seeds in a cup of hot water for 5 to 10 minutes.
If you like, add other herbs/spices like fresh ginger, turmeric, cinnamon, and cardamom.

 

All that taste great and are therapeutic for digestion.
Enjoy warm.