AN INDIAN INSPIRED SPICE BLEND
Not really Indian, but I still love it.
Curry powder is a spice blend that was actually created by the British in the 1700s.  It's a sweet and savory spice blend that has spices like turmeric, cardamom, cinnamon, and pepper.
Though it isn't a traditional Indian blend, I love it and use it in a lot of recipes.  Here are some of my favorites that use curry powder.
Yield/Servings: 5 tbsp
Author: Riyana Rupani
Print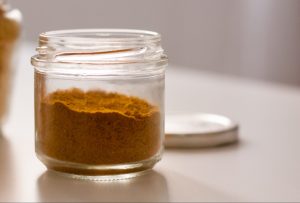 Curry Powder
A sweet & savory Indian inspired spice blend
PREPARATION TIME: 2 MIN
TOTAL TIME: 2 MIN
INGREDIENTS
2 tbsp ground cumin

1 1/2 tbsp ground turmeric

2r tsp ground ginger

1 tsp dry yellow mustard

1/2 tsp ground black pepper

1 tsp ground cinnamon

1/2 tsp ground cardamom

1/2 tsp red chili powder
INSTRUCTIONS
Mix all ingredients.  Store in an airtight container.