ADD THIS TO YOUR LUNCH ROTATION!
Looking for a delicious no-fuss vegetarian recipe for lunch? 
Here is my simple yet oh-so-delicious chickpea curry salad recipe.  I like to make a big batch of this so I can have a fuss-free lunch more than once during the week.
This salad is super versatile and I like it served up a number of different ways.
Wrapped up in one of my Paleo Parathas
Dished on top of 1/2 a baked sweet potato
Added to a plate of mixed greens or stirred through with kale which holds up really well if you need a lunch to take with you to the office!
No matter how you decide to serve this up, I am sure you are gonna love the flavors in this dish.
Want a vegetarian version? No problem! (You know I got you, my veggie friends!) Sub the chicken for chickpeas for an equally delicious and plant-based salad!
You've got the warm spices of the curry powder, the crunch of the walnuts, a bit of tang from the mustard, creaminess from the mayo,  and sweetness from the raisins.
Not sure how else to use your curry powder?  Try my Curried Cauliflower Soup.
Yield/Servings: 2
Author: Riyana Rupani
Print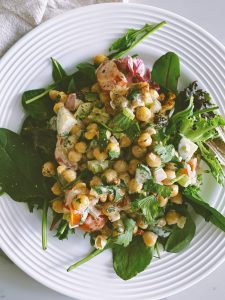 Chickpea Curry Salad
A delicious simple vegetarian lunch recipe
PREPARATION TIME: 10 MIN
TOTAL TIME: 10 MIN
INGREDIENTS
1 can chickpeas, drained and rinsed
2 small or 1 large celery stalk, diced
½ red onion, finely diced (can sub for chopped scallions)
¼ cup, chopped fresh coriander
3 Tbsp golden raisins (can sub cranberries, black raisins, chopped dates)
2 tbsp, chopped walnuts
1 tsp curry powder
pinch cayenne (optional)
4 tbsp good-quality mayonnaise (for vegans & Plant-based Whole30, I recommend primal kitchen's vegan mayo)
2 tsp dijon mustard
salt & pepper to taste
Add in any other chopped veggies you like (i.e. bell pepper, cucumber, cherry tomato, carrots, etc.)
INSTRUCTIONS
Mix all the ingredients in a bowl. Done!
Goes wonderfully over mixed greens, 1/2 a sweet potato, wrapped up in a paleo paratha or in a lettuce/cabbage cups