A HEARTY AND VIBRANT SALAD!
This salad is great for a quick easy plant-based meal. Enjoy this salad warm, or cold, it's delicious either way!
It's getting warmer outside and for me, that means salad season!  This salad has roasted cauliflower and chickpeas.  I love both of these ingredients for their ability to easily pick-up whatever flavors they are seasoned with.  I've simply seasoned them today with salt, paprika, garlic powder, and cumin powder.  Simple but sooo much flavor!
For the dressing, I've done a simple lemon juice and olive oil but if you are looking for something a bit more rich and creamy, my simple tahini dressing would be perfect! 
To finish off the salad I've used a spice mix called za'atar.  While you can find this at some grocery stores, you can also make this at home very easily!  I have a recipe for you for the perfect za'atar here.
Yield/Servings: 4
Author: Riyana Rupani
Print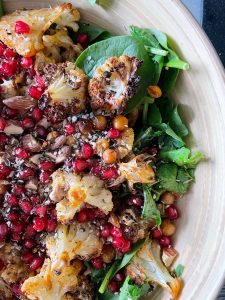 Oven Roasted Cauliflower & Chickpea Salad
This salad is great for a quick easy plant-based meal. Enjoy this salad warm, or cold, it's delicious either way!
PREPARATION TIME: 10 MIN
COOKING TIME: 30 MIN
TOTAL TIME: 40 MIN
INGREDIENTS
Salad
 1 head of cauliflower, cut into florets
1 14 oz can of chickpeas, drained, rinsed, and patted dry
~ 3 to 4 tbsp extra virgin olive oil
1.5 tsp salt or to taste
1 Tbsp paprika
2 tsp garlic powder
2 tsp cumin powder
6 cups mixed greens (I used spinach & arugula)
1/4 cup chopped nuts (I used almonds)
1/4 cup fresh herbs chopped (I used dill & parsley)
1/4 cup fresh pomegranate (can sub raisins, chopped dates, figs, or other compatible dried fruit)
Dressing
juice of half a lemon
2 Tbsp extra virgin olive oil
3 Tbsp za'atar
INSTRUCTIONS
Preheat your oven to 400 ℉ / 200 ℃.
On a large baking sheet, combine the cauliflower, chickpeas, olive oil, and spices. Toss everything together well to coat.
Roast for 20 minutes, or until the Cauliflower is tender and lightly charred.
Meanwhile, in a large salad bowl, combine the mixed greens, and prep your other ingredients
Toss the roasted cauliflower and chickpeas in with the salad and dress with lemon juice, EVOO, and season a bit with salt & pepper. Top the salad with your herbs, nuts, pomegranate / dried fruit, and lastly sprinkle over the za'atar (you can buy za'atar or make it at home. I have a great recipe on my blog!)
This salad is great warm, at room temp, or cold! Leftovers work beautifully!