SINGLE SERVE AND READY IN MINUTES!
It doesn't matter if you call this a crumble, crisp, or cobbler, the one thing you will definitely call this is berry delicious!  😆
This dessert is perfect for the summer.  It works well for small dinner parties, BBQs, or an easy weeknight treat for yourself. It's delicious on its own, but it would pair perfectly with some dairy-free vanilla ice cream, or chilled coconut yogurt.
The topping is completely grain-free and if you are interested in making this low-carb or sugar-free you use a sugar replacement like lakanto.
Don't have berries on hand?  The recipe works well with plums, peaches, apples, pears, and more!  You may need to adjust the cook time based on the fruit you are using.  
Enjoy!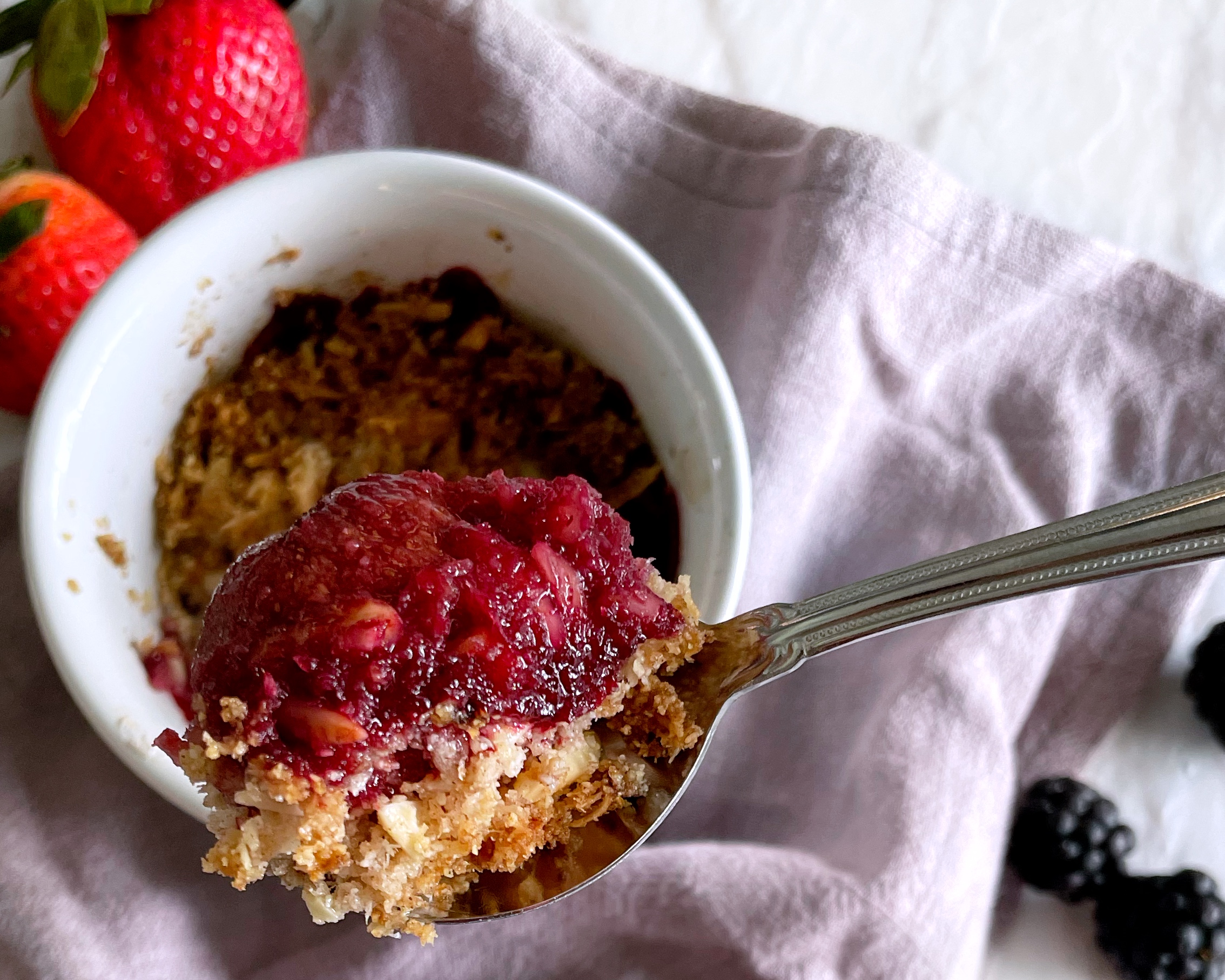 Yield/Servings:
Author: Riyana Rupani
Print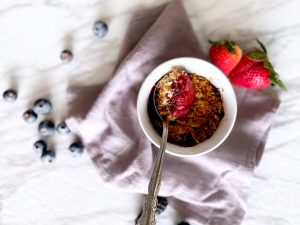 Single Serve Grain-Free Berry Crumble
A single serve berry crumble in your air-fryer
PREPARATION TIME: 10 MIN
COOKING TIME: 20 MIN
TOTAL TIME: 30 MIN
INGREDIENTS
Berry Filling
1/2 cup frozen or fresh mixed berries

1/2 tsp tapioca or arrowroot

1 tsp coconut sugar or  lakanto sweetener

1/2 tsp vanilla extract
Crumble Topping
1 tbsp almond flour

1 tbsp coconut flakes

1 tbsp chopped nuts of choice

1 tsp coconut sugar or lakanto sweetener 

1/2 tsp vanilla extract

dash of cinnamon

 

pinch of salt

2 tsp ghee or coconut oil

1 tsp plant-based milk of choice
INSTRUCTIONS
mix your filling ingredients and put them in an oven-safe ramekin

 

mix your crumble ingredients.

  S

poon over your filling

cover with a piece of foil and pop into your air-fryer on 175C / 350F for 20 minutes for frozen berries and 10 minutes for fresh berries. (if making in the oven, preheat and bake for 30 min for frozen berries and 15 minutes for fresh)

Remove the foil and pop it back in for an additional 3 minutes to brown the top.

optional - serve with coconut yogurt or your fav dairy-free vanilla icecream
NOTES:
This would work well with other fruits such as apple, pear, peach, etc.  Cooking time may vary depending on the fruit.   If you don't have an air fryer, pre-heat oven to 190C / 375F, bake for 20 - 30 minutes or until berries are bubbling and top is golden.