THESE BROWNIES ARE FUDGEY PERFECTION!
If you didn't know, you wouldn't know these brownies are both vegan AND grain-free!
These brownies are a crowd pleaser to say the least.  Whether you are following a Paleo, gluten-free, or vegan style of eating, these work for you!  If you are a person who simply loves brownies (like my kids) these also work for you!
For me, I sometimes crave desserts that remind me of my childhood, just with better ingredients of course.  These vegan grain-free brownies, totally hit the spot!  They are rich, fudgey, perfection.  
I hope you love them as much as my family does!
If you want to make these lower in carb I suggest swapping out the sweeteners for lakanto ones.  They work perfectly!
Yield/Servings: 16
Author: Riyana Rupani
Print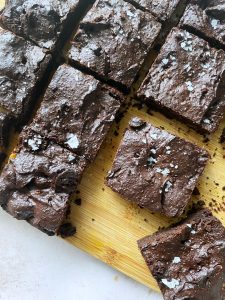 Vegan Fudgy Dark Chocolate Brownies
chewy dark chocolate egg and dairy-free brownies
PREPARATION TIME: 10 MIN
COOKING TIME: 30 MIN
WAITING TIME: 1 HOUR
TOTAL TIME: 1 H & 40 M
INGREDIENTS
1/4 cup unsalted creamy almond butter
1/4 cup coconut sugar
1/4 cup maple syrup
3 tbsp coconut oil
1/2 cup + 2 tbsp cocoa powder
1 tsp vanilla extract
1/4 tsp salt
3/4 tsp baking powder
2 flax eggs (2 tbsp ground flax seeds + 6 tbsp cold water whisked together and allowed to rest for 10-15m)
1/2 cup almond flour
50g chopped dark chocolate or chocolate chips (I used 1/2 a bar of lindt 78%)
1/3 cup chopped walnuts
Flaked sea salt (optional)
INSTRUCTIONS
Preheat your oven to 160℃/325℉ and line an 8in / 20cm square baking pan
In a medium bowl, whisk together the almond butter, coconut sugar, maple syrup, and coconut oil until well combined.
Add 1/2 the cacao powder and mix to combine. Then add the next half and mix to combine.
Next, add the vanilla extract, flax eggs, salt, and baking soda. Mix till well incorporated.
Next up, add the almond flour and combine everything well with a spatula.
Fold in your chopped chocolate and walnuts.
Pour the batter into your pan and smooth it with your spatula.
Bake for ~30 minutes. Your time may go up or down a little depending on your oven so check at the 25 minute mark.
Let the brownies cool completely then cut into 16 cubes
Sprinkle with flaked sea salt and enjoy.