THIS RECIPE SPELLS COMFORT FOOD!
Far from traditional but this soup is dreamy, creamy, and just so comforting!  
It's been raining non-stop here in Singapore and with this weather, soup has been constantly on my mind!
I had miso paste in the fridge but didn't want the classic miso soup, I wanted to make something a bit more heavy and filling!
Coconut milk came to mind (those who know me know I am coconut obsessed), then I thought about peanut butter and then it hit me! TAHINI!
Miso + Tahini = MAGIC!
I finished it all off by making it a little garlicy and spicy by adding a good dollop of Ri's garlic chili sauce.
The result?  Heaven! 
Perfect when you are craving something soupy, savory, and satiating!
I hope you enjoy this recipe as much as I did!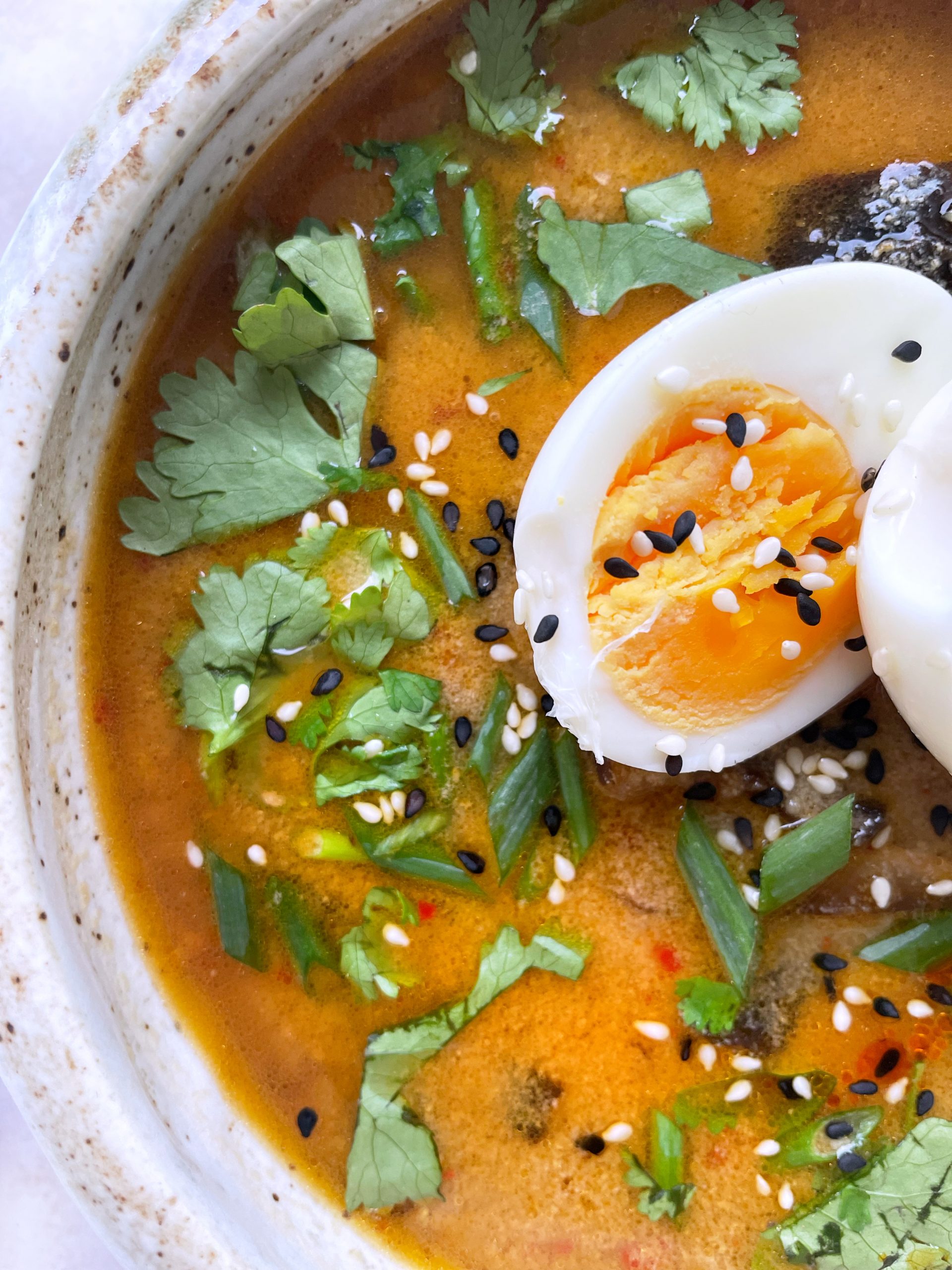 Yield/Servings: 2
Author: Riyana Rupani
Print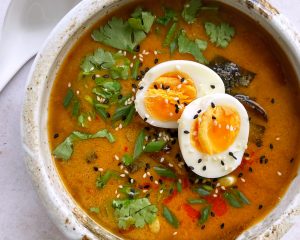 Creamy Sesame Miso Soup
A delicious creamy comforting miso soup
PREPARATION TIME: 10 MIN
COOKING TIME: 20 MIN
TOTAL TIME: 30 MIN
INGREDIENTS
Soup
4 cups vegetable broth
2 cups water
1 tbsp white or yellow miso paste (taste and adjust if needed)
1 tbsp coconut aminos
2 tbsp tahini
1 tsp Ri's garlic chili oil
1" piece of ginger, grated
1/4 cup dehydrated shitake mushrooms 
1/4 cup shredded nori or cut nori sheets
optional - noodles of choice (I usually use kelp noodles)
Garinish
Protein Options
INSTRUCTIONS
In a pot heat the vegetable broth and water. 
Once warm add in the miso paste, coconut aminos, tahini, Ri's garlic chili oil, and grated ginger.  Wisk everything till well combined. 
Next, add in your dried shitake mushrooms and bring the soup up to a gentle boil.
Lower the heat so that the soup is simmering and let it cook for 12-15 minutes.
Turn off the heat and add the seaweed and tofu if using.
If using noodles split the cooked noodles into bowls and ladle over the soup.
Add the boiled egg along with your garnish and enjoy!