A DELICIOUS AND SIMPLE TO PREPARE CLASSIC JAPANESE SOUP
This miso soup takes about 15 minutes to make and is warm and nourishing.
I ❤️ miso soup.  For me it's a warm hug in a bowl.  It's savory, light, but packed with plant-based protein and nutrients.
I love this soup as a snack or to start a meal like my Yakitori and Garlic Bok Choy.
Traditionally miso soup is made with dashi and bonito, but I wanted to make a plant-based version.  I've used vegetable broth to up the nutrition of the soup but you can use water as well if you like.
This soup is super versatile and while it traditionally doesn't have any additional vegetables in it, you could easily add any greens or other veggies to make it more hearty.
If you want to make this into a light meal, I would suggest adding ¼-½ an avocado alongside to get in some healthy fats which will help you stay satiated for longer.
Hope you enjoy this simple soup as much as I do!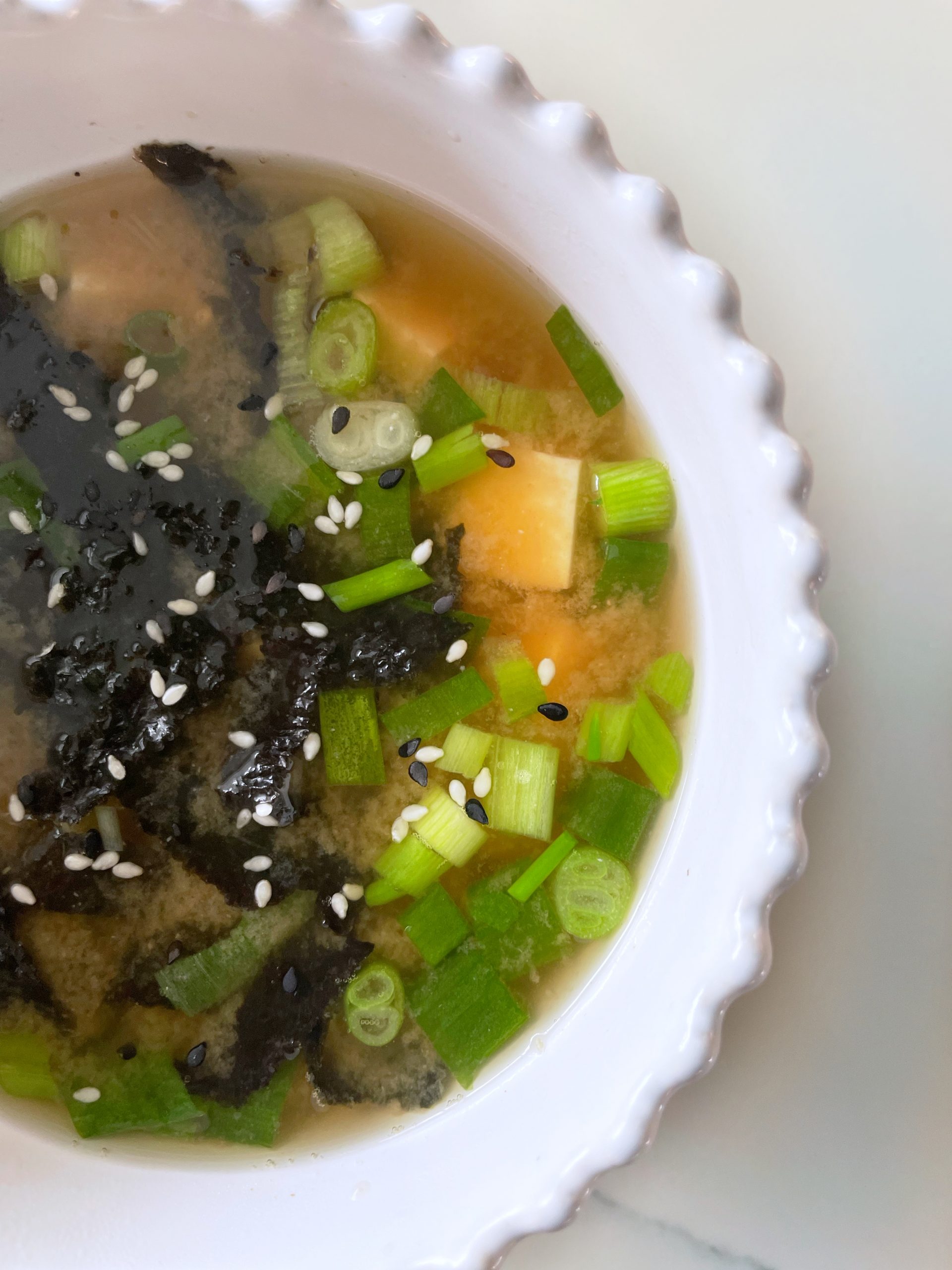 Yield/Servings: 3-4
Author: Riyana Rupani
Print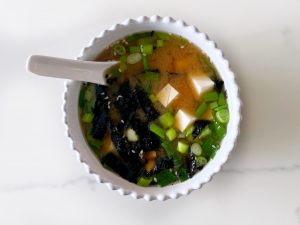 Vegan Miso Soup
A traditional warming Japanese soup
PREPARATION TIME: 5 MIN
COOKING TIME: 10 MIN
TOTAL TIME: 20 MIN
INGREDIENTS
4

 

cups

 

vegetable broth

2

 

sheets

 

nori, or 2 handfuls of shredded nori

 

(dried seaweed)

2-3

 

Tbsp

 

white or yellow miso paste

2 green onions/scallions,

 

chopped

1 block of organic

firm tofu, cubed

1/2 cup chopped baby spinach or other greens (optional)
INSTRUCTIONS
Place vegetable broth in a medium saucepan and bring to simmer.
In a small bowl, whisk the miso paste with some hot water until smooth.  Start with 2 tbsp and increase according to taste.  Set aside for later.
Once the broth is simmering, you can turn off the stove and add your green onions/scallions, tofu, nori, greens (if using), and miso mixture.  Stir to combine.  The warm broth will gently cook the other ingredients.
Taste and add more miso or a pinch of sea salt if you like. Serve warm.