A PALEO AND HEALTHIER VERSION OF THE CLASSIC JAPANESE YAKITORI
If you love yakitori, you are gonna love this!
If you are craving the classic Japanese yakitori but don't want the fuss of going out, or the additives that are probably in most restaurant versions, you are going to love this recipe!
The dish is not only beautiful served up, but tastes amazing.  I love serving this when entertaining for an elevated "chicken on a stick".  Works well as an appetizer or as a main.
Serve it up alongside my superfood fried rice and some garlic bok choy.  The perfect complete meal!
I used chicken when I made this recipe but the magic is in the sauce, and I have found it works well with almost any veggie or protein of choice.  tofu, tempeh, mushroom, potato, prawns, salmon, beef, or pork are all delicious!  
ENJOY!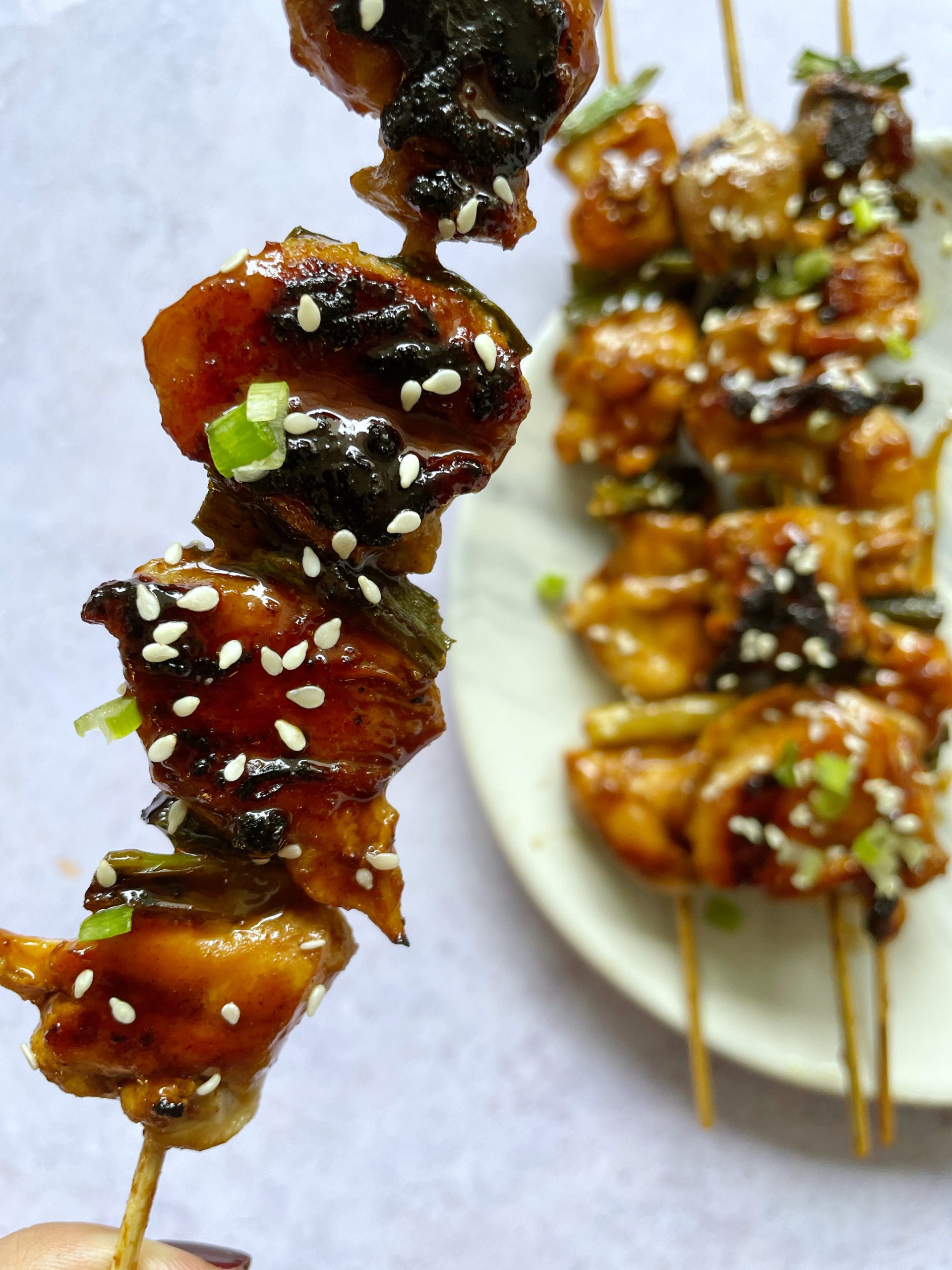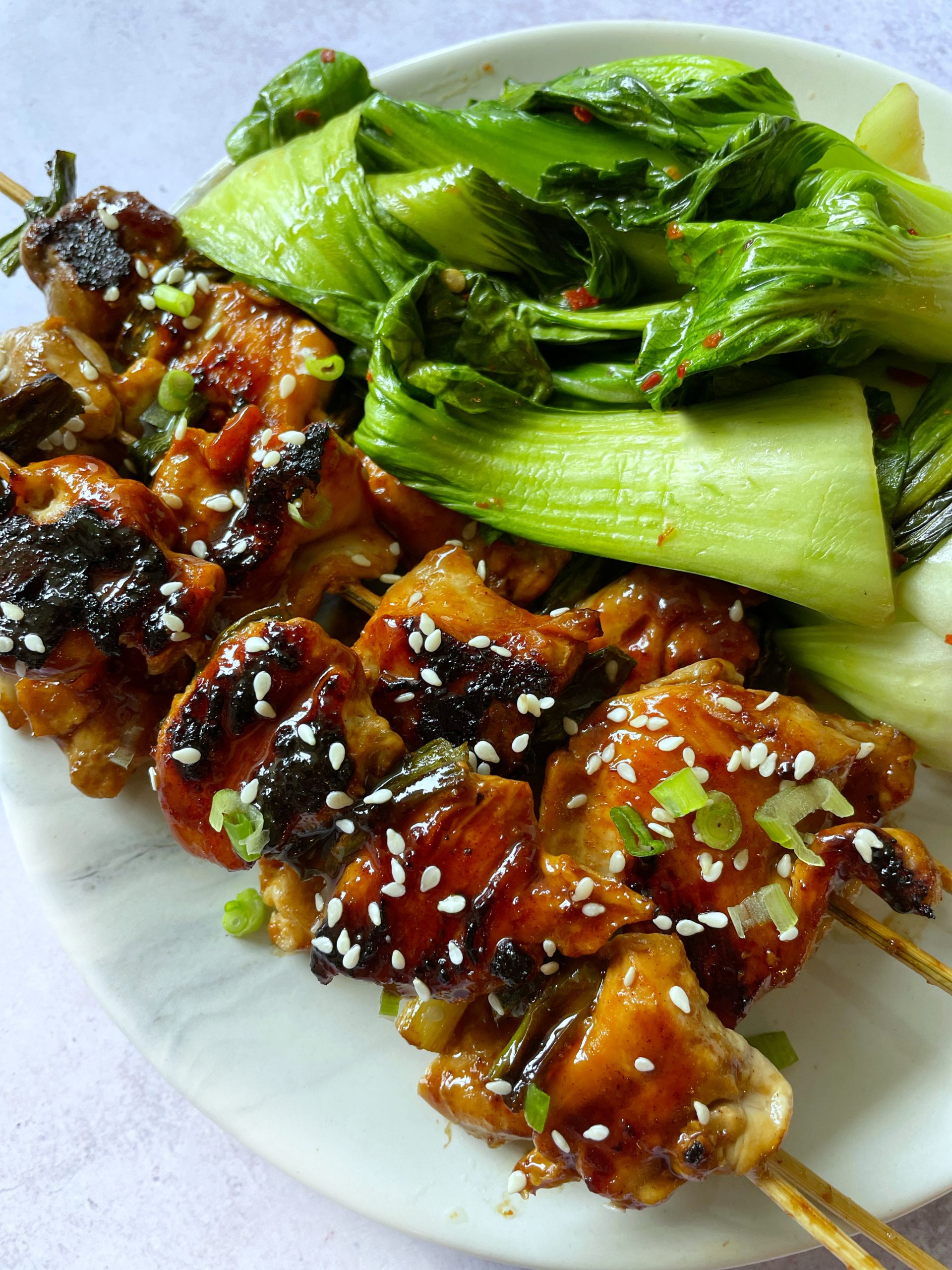 Yield/Servings: 2 - 3
Author: Riyana Rupani
Print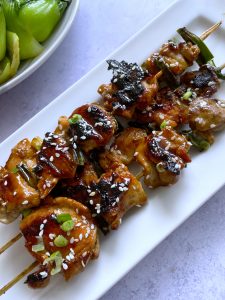 Japanese Yakitori
A delicious Paleo version of Japanese yakitori
PREPARATION TIME: 15 MIN
COOKING TIME: 15 MIN
TOTAL TIME: 30 MIN
INGREDIENTS
Skewers
10-12 bamboo skewers
500 grams boneless and skinless chicken thighs, or salmon, or beef, or pork, or prawns, or tempeh, or tofu - cut into 2" squares
6-8 green onions cut into 1-inch pieces
Salt and pepper to taste
Sesame seeds for garnish
Yakitori Sauce
¼ cup coconut aminos
2 tbsp water
2 tbsp rice vinegar (use apple cider vinegar or coconut vinegar for AIP)
½ or 1 small pitted medjool date
1½ tsp tapioca or arrowroot starch
½ inch fresh ginger
1 garlic clove
½ tsp chili flakes (optional)
INSTRUCTIONS
Soak your bamboo skewers for 20 minutes.
Place all ingredients for the yakitori sauce in a blender and blend until smooth.
Pour into a small saucepan and heat over medium-high heat. Let the mixture come to a boil for about 3 minutes until it thickens. Remove from heat.
Separate ½ of the sauce for basting your protein, and set aside the rest for serving.
Thread your protein pieces and green onions on the skewers, alternating them. Sprinkle with salt and pepper.
Generously grease your grill/pan to prevent sticking, then heat the grill/pan over medium-high heat.
Add the skewers, brush the top layer of skewers with the prepared yakitori sauce, then cook for 2 minutes. Flip the chicken, and repeat by putting on another layer of the sauce on the other side and cooking for 2 more minutes.  Continue this until your protein is cooked to your liking
Sprinkle with toasted sesame seeds and serve immediately with extra yakitori sauce for dipping.