A SIMPLE YET DELICIOUS SIDE TO ANY ASIAN INSPIRED MEAL.
If need a simple and fool-proof way to prepare your bok choy or any Asian greens, this is for you.
This is the perfect side to any Asian meal and is full of nutritional benefits.
Asian leafy greens such as bok choy are rich in vitamin C, beta-carotene, B vitamins, calcium, and fiber.   It's great for gut health and supporting the liver detoxification process, so tuck into all those Asian greens and enjoy!
I love this served up alongside
Yield/Servings: 4
Author: Riyana Rupani
Print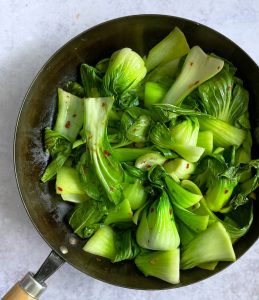 Garlic Bok Choy
A delicious side of Asian greens.
PREPARATION TIME: 5 MIN
COOKING TIME: 8 MIN
TOTAL TIME: 13 MIN
INGREDIENTS
1 tbsp avocado or olive oil
5 garlic cloves, minced
Half a red onion, minced
1kg / 2lbs baby bok choy, halved or quartered
2 Tbsp coconut aminos
1 tsp sesame oil
salt to taste
1-2 tsp Ri's garlic chili oil (optional)
INSTRUCTIONS
Add the oil to a large wok or skillet over medium-high heat. Swirl to coat the entire surface of the pan. Add the garlic and red onion, stirring continuously for 1-2 minutes, or until fragrant.
Add the bok choy, coconut aminos, and sesame oil.
Toss to coat and cover. Cook for 2-3 minutes,
Uncover and toss. Season with salt,2
Add Ri's garlic chili oil, give a quick mix, and serve immediately.