A DELICIOUS AND SIMPLE WAY TO PREPARE ENOKI MUSHROOMS.
Have these as a side or a main!
These crispy enoki mushrooms are not only beautiful but delicious.  I love how they look like bare trees that are so reminiscent of fall.
The mushrooms don't require a lot of prep, and have a lovely umami flavor so you don't have to go crazy with the seasoning.
I used just a few simple spices to prepare these but these would taste wonderful with so many different flavor profiles
Enjoy these as a snack or side dish!
Yield/Servings: 2
Author: Riyana Rupani
Print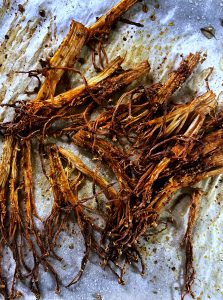 Crispy Baked Enoki Mushrooms
A delicious and simple way to prepare enoki mushrooms.
PREPARATION TIME: 5 MIN
COOKING TIME: 30 MIN
TOTAL TIME: 35 MIN
INGREDIENTS
Or
Avocado oil cooking spray 
Salt
Pepper
Garlic powder
Paprika
Cayenne (optional)
INSTRUCTIONS
Preheat your oven to 200 C / 400 F and line a baking tray with parchment paper.
cut the base off your mushrooms,  separate them, and lay them on your baking sheet.  Ensure you give your mushrooms space and don't crowd them.
Drizzle with Ri's garlic chili oil (or Mala), and give a little toss.
Alternatively, spray the mushrooms with your avocado oil spray and season with your spices to taste.  - Feel free to change up the seasoning, flavor profile to whatever you like.  
Pop into the oven and bake for 20 to 30 minutes* or until crispy.  Check at the 10-minute mark and give them a little toss. (I'm sure these would turn out amazing in an air fryer too).  Please see notes
NOTES:
*Note on the cooking time - These can go from perfect to burnt really fast so depending on the amount of moisture in your mushrooms and your oven, you will want to keep a close eye on these.  They could be done in as little as 12-15 minutes so checking them at the 10-minute mark is important.