A LIGHTER PLANT-BASED VERSION OF THE CLASSIC MATAR PANEER.
This matar tofu is a delicious and lighter alternative to the traditional paneer dish.
This dish is rich, creamy, and packed with plant-based goodness.  You get the same creaminess and a good amount of protein without the dairy.
I love this served over rice, cauliflower rice, or alongside some delicious GF Kulchas!
However you decide to enjoy this, I am sure you will love it.
Yield/Servings: 4
Author: Riyana Rupani
Print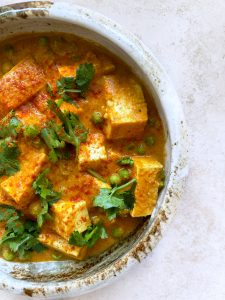 Plant-based Matar Tofu
A traditional Indian dish prepared with tofu instead of paneer
PREPARATION TIME: 15 MIN
COOKING TIME: 30 MIN
TOTAL TIME: 45 MIN
INGREDIENTS
2 tbsp avocado oil or coconut oil, devided

1/3 cup

raw cashews or

2.5 tbsp cashew butter

1

medium onion, diced

3

cloves of garlic, chopped
1/2 inch fresh ginger, grated 
1 can of chopped tomato or 3 medium fresh tomatoes, diced 
1 tsp salt
1 tsp cumin powder
3/4 tsp garam masala
1/4 tsp turmeric
1/2 tsp chili powder (or to taste)
¼ tsp cinnamon
2 tbsp tomato paste
1 cup vegetable stock, or water 
250g firm tofu, cubed 
1 cup frozen or fresh green peas
Freshly chopped coriander, for garnish
INSTRUCTIONS
In a deep pan heat 1 tbsp of oil on medium-high heat.  If using raw cashew, add them in first and saute till they start to turn color. 
Next add the onion and saute until they start to caramelize. 
Add in the garlic and ginger and saute for a couple of minutes until they start to soften and become fragrant.
Add in the canned or fresh tomatoes and salt to taste and cook for 5 minutes, then remove from stove.
Carefully transfer the mixture along with the cashew butter (if using instead of fresh cashews) to your blender (be careful, it will be hot!) and blend until smooth.  You can also add some of the veg stock/water if needed to make the blending easier.  (use an immersion blender if you like).  
In the same pan, heat, 1 tbsp of oil.  Once hot, add in the spices and saute for about 30 seconds until aromatic.
Add in the tomato paste and stir well to combine.
Pour in the tomato mixture from the blender and add the water/stock. Stir well and simmer for 10 minutes. The longer you cook, the thicker your gravy will be.
Add in the chopped tofu and peas and cover and cook for 5 minutes.
Garnish with coriander and serve with your choice of sides.