THIS VEGAN CURRY WILL HAVE YOU COMING BACK FOR MORE!
This simple baked tofu curry is so full of flavor, you will literally be spooning the curry into your mouth straight from the baking dish (don't say I didn't warn you)!
We love big bold flavors in our house and this dish hits all the right flavor notes. Thai is definitely one of my favorite cuisines. The balance of spicy, salty, sweet, sour, and umami are just perfect.
Thai food is known to be spicy but you can make this dish as mild as you like. I actually make this fish for my kids and just remove the fresh chili
You can easily prepare this the night before or in the AM and simply pop it into the oven before you are ready.
The longer it marinates, the more flavorful the tofu will be.  I love cooking with Tofu because it is literally like a sponge and soaks all the flavors of whatever it is marinated in.
I've used bell peppers and broccoli as my vegetable choice, but feel free to use any vegetable you love.
I love this curry served with cauliflower rice or jasmine rice to soak up all the delicious curry!
Yield/Servings: 4
Author: Riyana Rupani
Print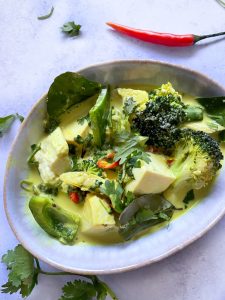 Thai Style Tofu Curry
A delicious vegan curry filled with fresh Thai herbs
PREPARATION TIME: 10 MIN
COOKING TIME: 20 MIN
INACTIVE TIME: 1 HOUR
TOTAL TIME: 1 H & 30 M
INGREDIENTS
400 grams of non-GMO firm tofu, cut into cubes
1 bell pepper, diced into 2-inch pieces
1/2 a head of broccoli, broken into florets
1 -2 fresh red chilis, finely sliced (de-seed if you want less heat, and omit for AIP)
4 spring onions chopped into 1/2 inch pieces
2 pieces fresh lemongrass chopped into 1-inch pieces (replace with 2" piece ginger sliced into matchsticks if you can't get lemongrass)
1/2 cup cilantro, chopped
5 garlic cloves, chopped finely
4 kaffir Lime Leaves thinly sliced (can replace with the zest of 2 limes)
2 tbsp lime juice
2 tbsp coconut aminos
2 tbsp apple cider vinegar
1.5 tsp turmeric
1 can coconut milk (about 1.25 - 1.5 cups)
salt & pepper to taste
INSTRUCTIONS
In a bowl, mix all your ingredients except the tofu and veggies to make your sauce.
put the tofu and vegetables in a baking dish and coat with the sauce.
Let everything marinate in the fridge for a minimum of 2 hours (the longer the better).
Preheat oven to 180C/350F.
Bake for 20 minutes or until the vegetables are cooked to your liking.
Taste and season with additional salt and or a squeeze of lime if needed.
Garnish with more chopped fresh cilantro and serve with some steamed rice or cauliflower rice.
NOTES:
Feel free to sub or add any other vegetables you like.