BECAUSE SOMETIMES YOU JUST NEED CHOCOLATE CAKE NOW!
This one-minute chocolate cake is perfection.   
We've all been there, the times when the craving hits and you know you aren't gonna sit there and bake a full-on cake but need something to satisfy that cake desire ASAP.  I gotcha!  This cake is made with all the good ingredients you guys know I love, but it doesn't skimp on taste or texture.  Best part is, it takes less than 5 minutes to prep and only 1 minutes to cook!
Looking to reduce the sugar content and go for a more Low-carb cake?  I have subbed the sugar with Lakanto granulated sugar and it's turned out delicious!
I hope you enjoy this one-minute wonder!!!
Can't wait to hear your reviews!
Yield/Servings: 2
Author: Riyana Rupani
Print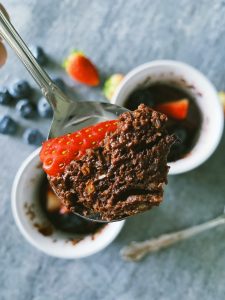 1 Minute Paleo Chocolate Mug Cake
a delicious moist and rich chocolate cake in just 1 minute!
PREPARATION TIME: 5 MIN
COOKING TIME: 1 MIN
TOTAL TIME: 6 MIN
INGREDIENTS
4 tbsp walnut or almond flour
2 tbsp cacao powder
2 tbsp coconut sugar or Lakanto for a sugar-free version (I like to to 1 tbsp coconut sugar, and 1 tbsp lakanto)
1/2 tsp baking soda
pinch of salt
2 tbsp extra virgin olive oil or coconut oil
1/4 cup plant-based milk
1 egg
Optional add-ins or toppinings
chopped nuts,
dark chocolate chips
dried cherries
fresh berries
INSTRUCTIONS
Mix all ingredients in a bowl
Divide into two microwave-safe ramekins or small bowls.
Add any add-ins like chocolate chips or nuts
Pop in the microwave for 1 minute
Finish with any toppings you choose and enjoy!