THE PERFECT GRAIN-FREE REPLACEMENT FOR THE CLASSIC INDIAN BREAKFAST.
This Grain-Free version of upma doesn't disappoint.
One of my favorite weekend breakfasts used to be a big bowl of upma and a hot cup of chai.  I loved this especially in the colder months but unfortunately, my body didn't enjoy the meal as much as my tastebuds did!  I would be left feeling tired and bloated after the meal.  
Last Saturday I woke up to a rainy breezy morning and cravings for comforting upma and chai came on strong!  I decided to do a little experimenting and found using cauliflower rice works amazingly well as a replacement for suji (semolina)!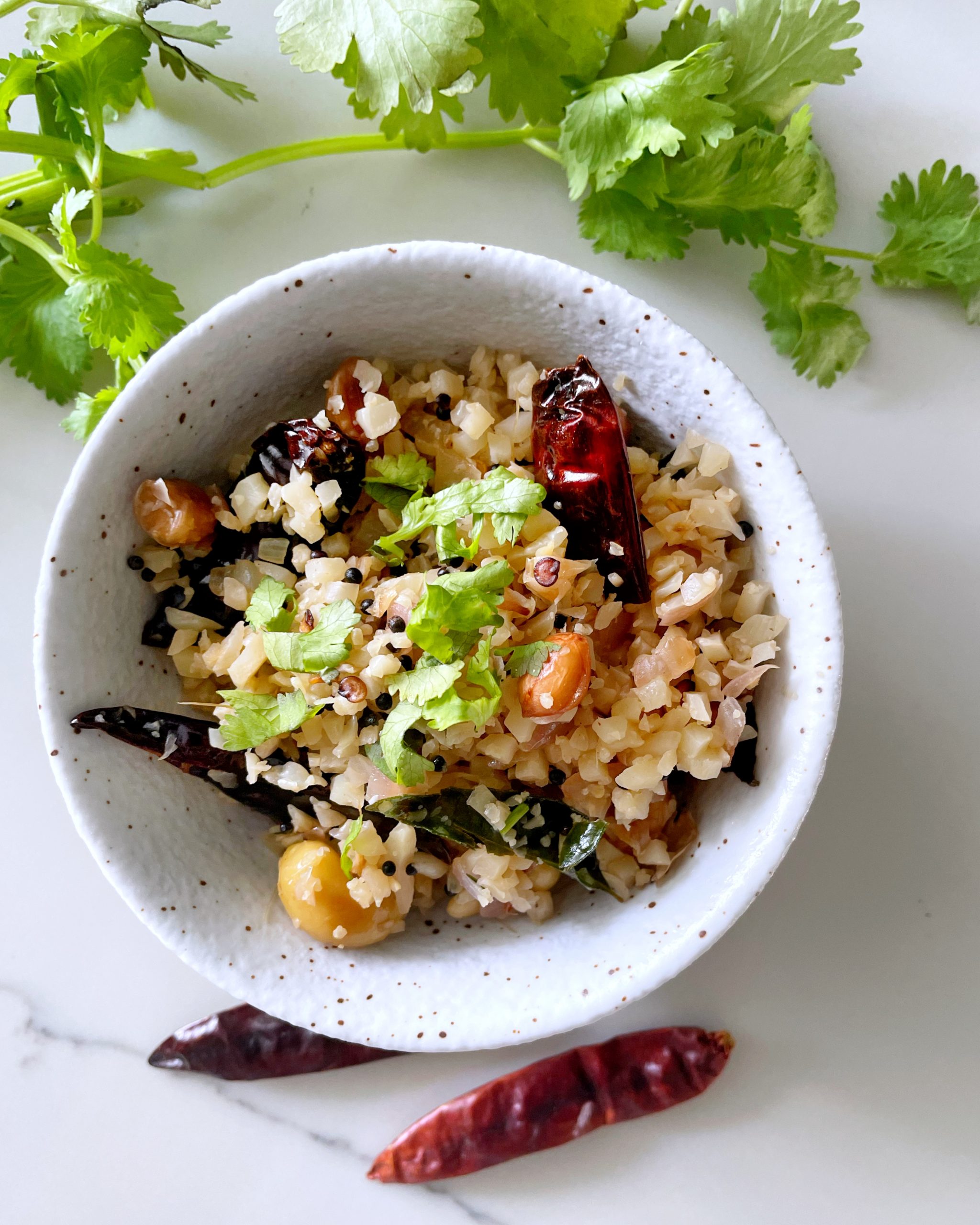 I paired my delicious grain-free and low-carb upma with a dairy-free masala chai and the meal was perfect!  I got my craving satisfied, and didn't have to deal with a drop of energy and bloating!!!!
Give this upma a try.  You can have it for breakfast or serve it up with lunch or dinner as a lovely masala cauliflower rice.
Yield/Servings: 2
Author: Riyana Rupani
Print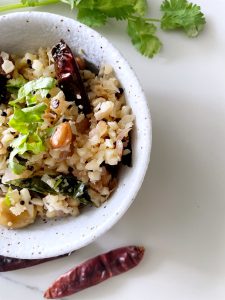 Low-Carb Upma
A low-carb version of one of your favorite Desi breakfasts
PREPARATION TIME: 10 MIN
COOKING TIME: 15 MIN
TOTAL TIME: 25 MIN
INGREDIENTS
2

 

tbsps

g

hee or avocado oil for plant-based

1

 

teaspoon

 

mustard seeds

½

 

teaspoon

 

cumin seeds

2 to 3 dried red chilis broken in half

3 tbsp

 

cashews

3 tbsp peanuts (omit for Omnivore Whole30 & Clean-in-15)

1 medium-sized onion, chopped

1 green chill, chopped

1-inch piece of ginger

10 to 12 curry leaves

4 cups riced cauliflower

 salt to taste

a few tbsp of water if needed

freshly

chopped coriander for garnish 

Protein option - Add 1/2 cup green peas
INSTRUCTIONS
Heat your ghee or oil in a pan.  Once hot add your mustard seeds, cumin seeds, cashews, and peanuts (if using).  Cook till aromatic.
Next add your curry leaves, dried chili, green chili, and ginger.  Saute for 1 minute
Add your chopped onion and cook till transparent.
If you are using peas, you can add them in now.
Add your cauliflower rice and salt.  Stir through.  Cover and let cook for 10 minutes.
Check your cauliflower upma and add a little water if needed to get the desired consistency.
Garnish with chopped fresh coriander and a squeeze of lemon