THE PERFECT DESSERT FOR SUMMER ENTERTAINING!
This dessert is the perfect summer dessert.  Great for entertaining as it takes only a few minutes to prep and easy to make ahead.
I made this recipe before heading out to a friend's house for an evening BBQ.  I wanted something quick, fruity, and low-carb as my friend was currently on a low-sugar diet for health reasons.
This dessert was just perfect!  I kept the 1/2 cup rolled oats but replaced the natural sweeteners for zero-sugar alternatives and it turned out excellent!  I went home with a clean dish!
This recipe was inspired off of one I saw on CookieandKate and at first I thought the use of yogurt would taste odd, but the natural tartness paired beautifully with the berries!
For the filling, I used frozen mixed berries that I had on hand (I always have a bag for smoothies) but I honestly feel this recipe would work well with a variety of different fruits – peaches, plum, apple, pear, cherries to name a few
I hope you enjoy this as much as we did!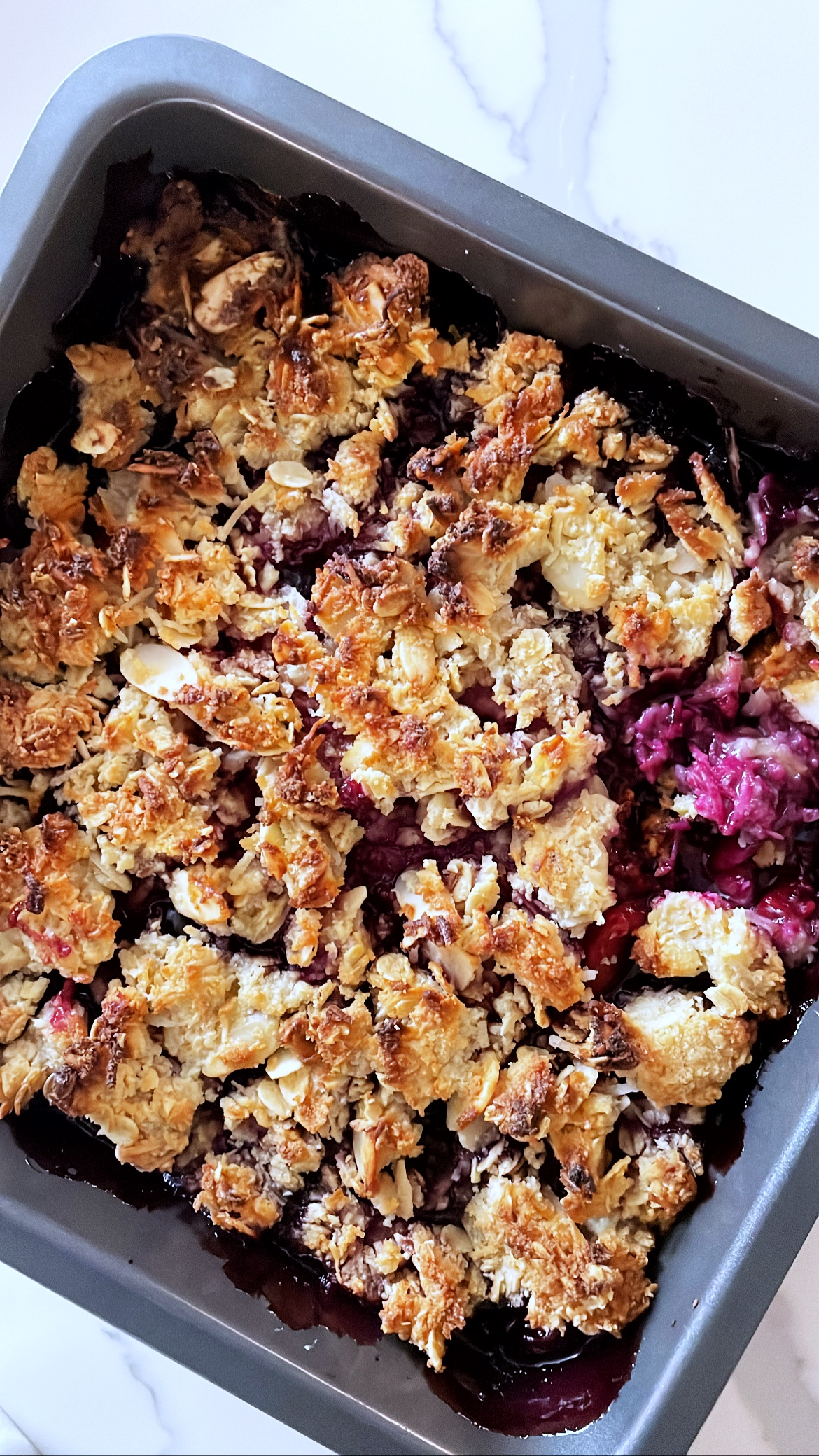 Yield/Servings: 6
Author: Riyana Rupani
Print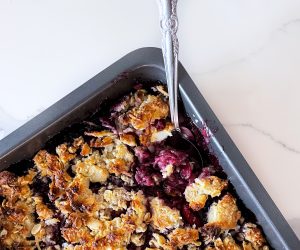 Mixed Berry Crumble
A delicious dessert perfect for summer entertaining.
PREPARATION TIME: 10 MIN
COOKING TIME: 45 MIN
TOTAL TIME: 55 MIN
INGREDIENTS
Filling
5 cups fresh (washed) or frozen (thawed) berries of choice - I used a frozen mix that had blueberries, strawberries, blackberries, and raspberries.

1/4 cup

honey or maple syrup (for vegan) or a zero sugar replacement (for low-carb - see notes for options)

2 Tbsp arrowroot flour or tapioca flour

2 Tbsp

lemon juice 

1 tsp

vanilla extract
Crumble Topping
1/2 cup

gluten-free rolled oats 

1/2 cup

  almond flour
1/2 cup shredded coconut

1/2 cup

sliced almonds (can sub with any chopped or slivered nuts)

5 Tbsp coconut

sugar or zero sugar replacement (for low-carb, see notes)

1/4 teaspoon

 salt

3 Tbsp

melted butter or ghee (for dairy-free), or coconut oil (for vegan)

4 Tbsp yogurt (can use coconut or nut-based yogurt for dairy-free)
INSTRUCTIONS
Preheat the oven to 180℃/350℉.
In a 9" by 9" baking dish, mix together the berries, and the rest of the filling ingredients.  Give everything a good mix.
In a mixing bowl, stir together the crumble topping dry ingredients.  Mix in the wet ingredients and stir until the mixture is moist throughout.
With your hands, sprinkle the crumble mixture over the filling.  Use your fingers to break up the mixture to evenly distributed it.
Bake for 40 to 45 minutes, or until the filling is bubbling and the top gets golden brown. Let the crumble rest for 10 minutes before serving.
Goes very well with vanilla ice-cream, frozen yogurt, or a dollop of coconut yogurt!
NOTES:
To make this dessert low-carb:
In the filling, replace the honey or maple syrup with a sugar-free alternative.  I used zero honey and it turned out wonderful.
In the topping, replace the 1/2 cup oats with 1/4 cup additional shredded coconut + 1/4 cup additional sliced almonds and the coconut sugar with a zero sugar replacement.  I used Lakanto here.