THESE NO BAKE GRANOLA BARS ARE PERFECT FOR SCHOOL SNACK, OR ON-THE-GO!
Do you struggle with school snack ideas? 
Want to give your kids something they enjoy but also isn't going to give them a sugar rush during the day, and have them coming home grumpy and tired due to a sugar crash?  I hear ya!  If you know me, you know I am all about balance.  So it's not about no sugar, but keeping those sugars natural, and balancing them with ingredients that will help with blood sugar regulation. 
These no-bake gluten-free granola bars are a cinch to make and the perfect snack for school or on-the-go! You and your kids will love them!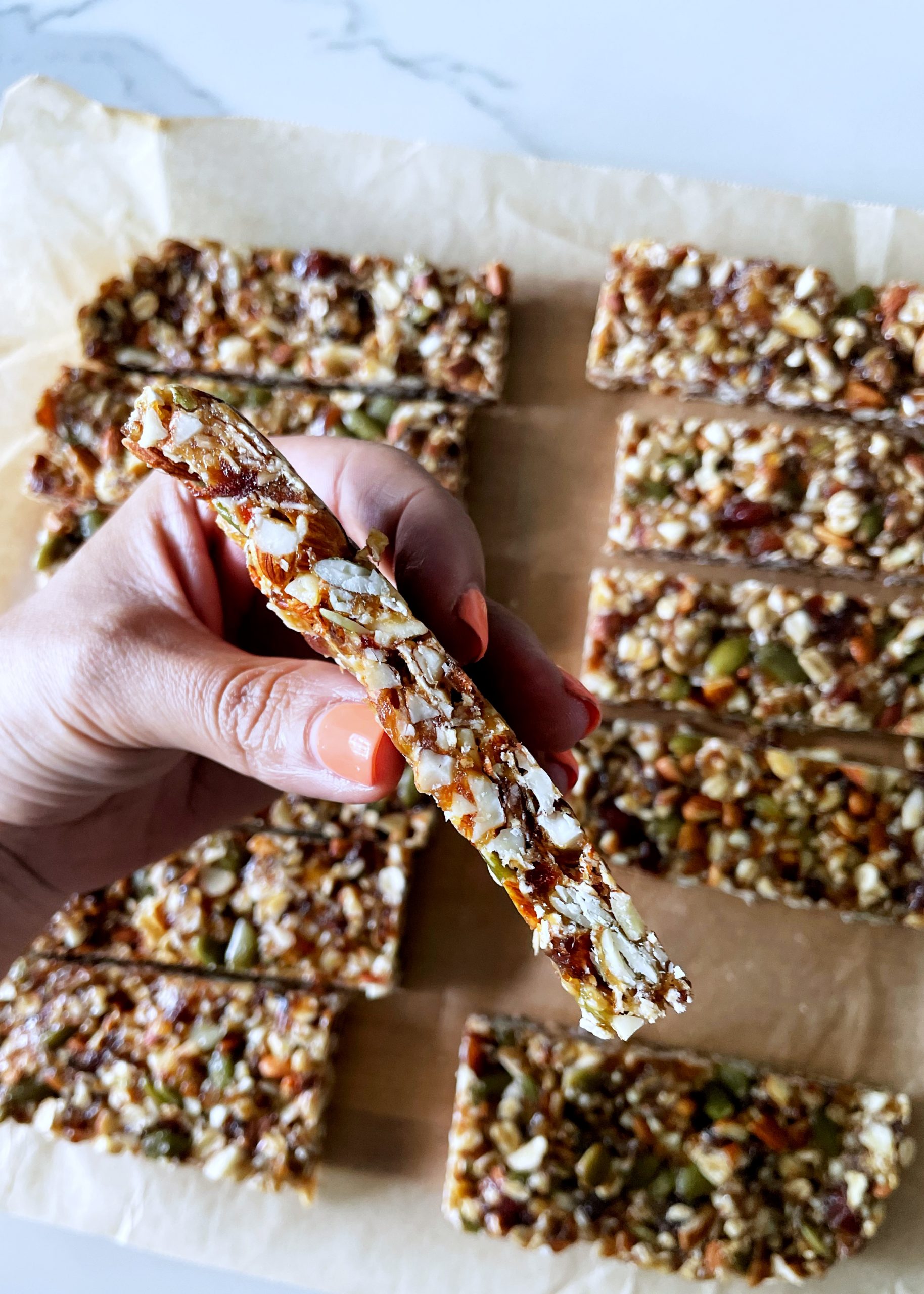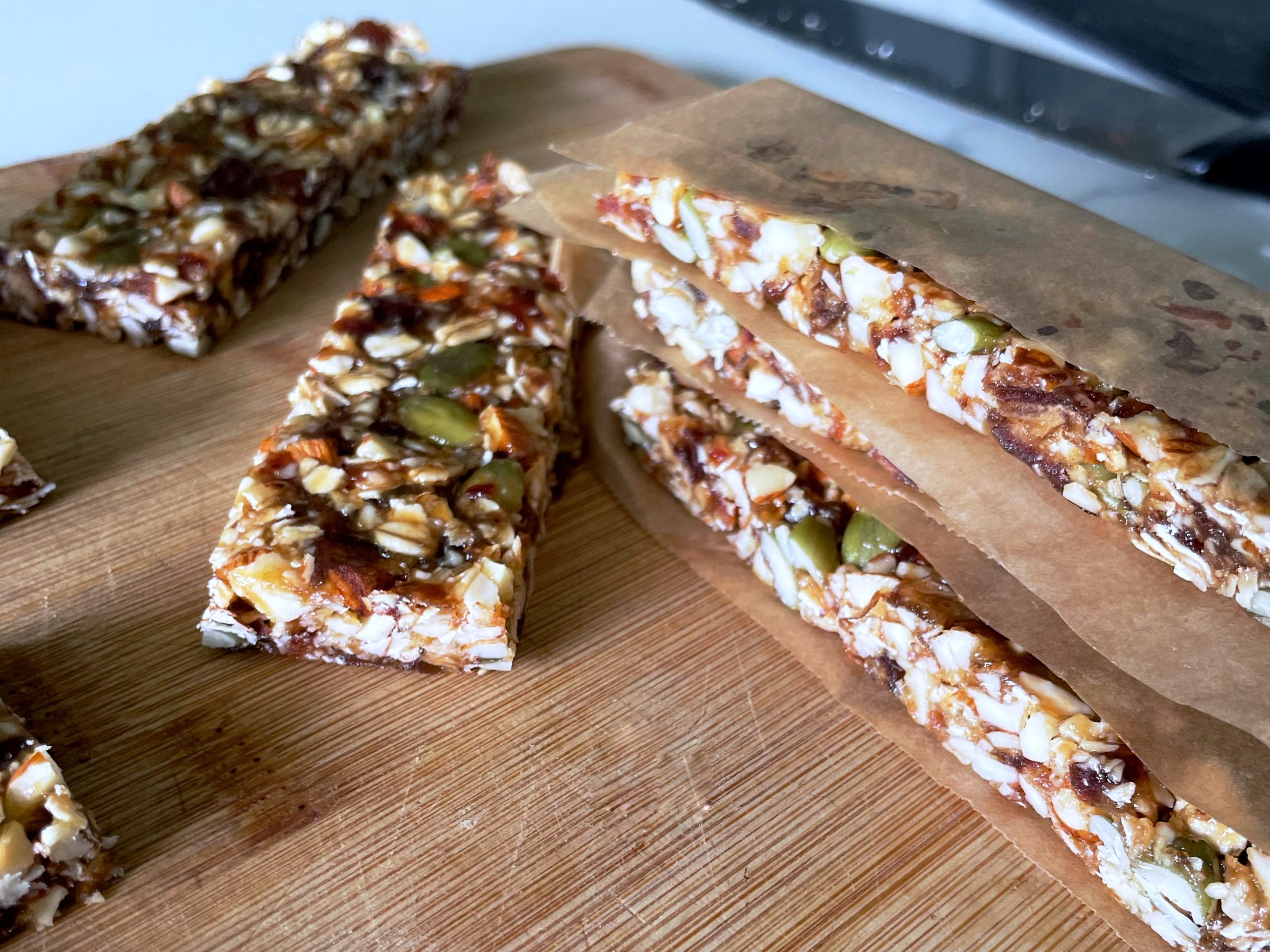 Yield/Servings: 12
Author: Riyana Rupani
Print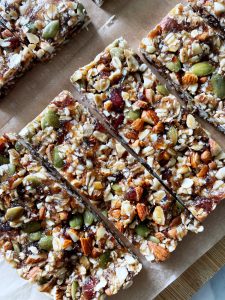 Gluten-Free No Bake Granola Bars
Perfect for school snacks or on-the-go
PREPARATION TIME: 10 MIN
COOKING TIME: 5 MIN
WAITING TIME: 30 MIN
TOTAL TIME: 45 MIN
INGREDIENTS
1 tsp coconut oil or avocado oil
1.5 cup pitted dates (about 18)
1/4 cup nut/seed butter of choice (peanut, almond butter, sunflower butter, tahini all work well!)
1/4 cup honey
1 tsp vanilla extract
1 cup roasted unsalted almonds, roughly chopped (see note for nut-free option)
1/2 cup rolled oats
1/4 cup pumpkin seeds
1 Tbsp ground flax seeds
INSTRUCTIONS
Line an 8" square pan with parchment paper and leave a slight overhang on all sides.  Very lightly grease your parchment paper with coconut or avocado oil just to ensure the bars don't stick.
Chop your dates.  You can either do this by hand or in a food processor.  The dates will form a ball in the food processor, and that's okay! 
Transfer your dates to a mixing bowl.
In a small saucepan over medium/low heat, melt the nut/seed butter of choice with the honey and vanilla.  Stirring occasionally until combined and warm.  This should take about 1 minute. Add the mixture to the bowl with the dates and mix to combine.
If you don't have roasted almonds, you can use raw almonds, and toast them on a pan for a few minutes before chopping.
Fold in the almonds, oats, pumpkin seeds, and flax.
Press the mixture into the prepared pan and freeze for about 30 minutes. Remove your parchment paper with the frozen bar mixture onto a cutting board and cut into 12 bars. Store in the refrigerator.
NOTES:
For a nut-free version, you can replace the almonds with a seed mixture.  I like pumpkin seeds, sesame seeds, shredded coconut, and sunflower seeds.  You can gently toast these on a pan like you would the almonds.
For storing I like to individually wrap the bars in parchment paper.  This ensures they won't stick and makes grabbing and going easy.
You can make more!  Make 2 batches if you like and store the 2nd in the freezer.  Transfer to the fridge when ready to enjoy.