THE PERFECT CHOCOLATEY WAY TO START YOUR MORNING!
My family looks forward to Sundays because at our house it's pancakes for breakfast! 
These chocolate pancakes are the latest to our Sunday rotation!     
the base of these pancakes is gluten-free oats and cacao.  We add some natural sweetness with a ripe banana and a little date paste which adds a bit of richness to the pancakes.
If you find it hard to digest oats, I highly recommend soaking them overnight with a little acid (lemon juice or apple cider vinegar) to help break down the phytic acid.  Also, ensure the package clearly says gluten-free if you are avoiding gluten.  While oats don't contain gluten, they may be packaged in a place where gluten-containing items are as well, so you have a risk of cross-contamination.  
I hope you give these a try this weekend!
PRO TIP – These pancakes freeze really well!  Make a bigger batch and store them in the freezer for a quick chocolate breakfast anytime!  You can pop them in the toaster or heat them in a pan when ready to enjoy.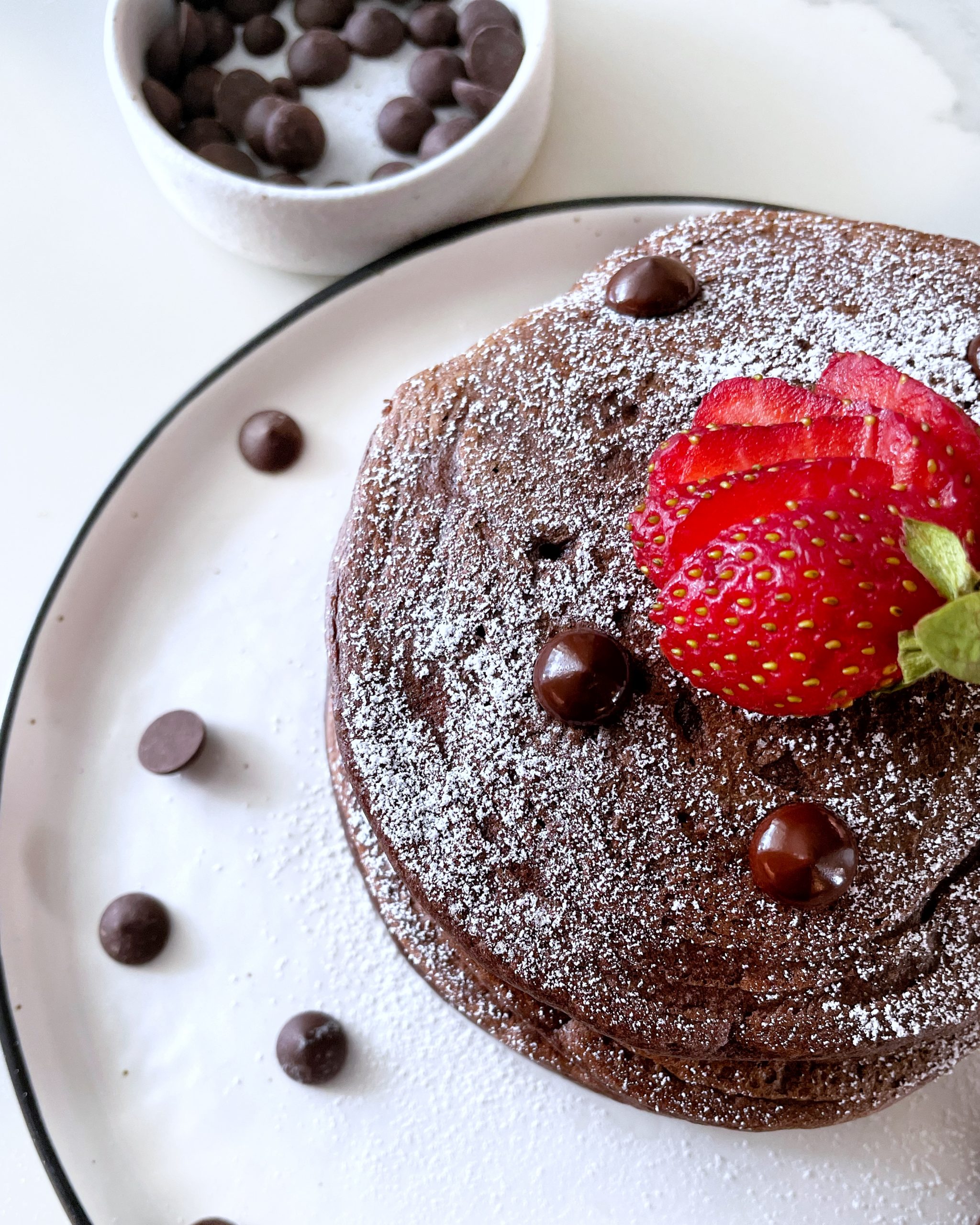 Yield/Servings: 8-10 pancakes
Author: Riyana Rupani
Print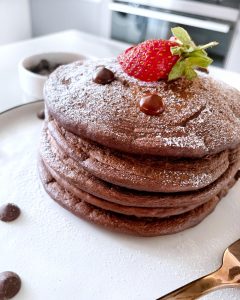 Gluten-Free Chocolate Pancakes
A delicious chocolatey way to start your morning!
PREPARATION TIME: 10 MIN
COOKING TIME: 10 MIN
TOTAL TIME: 20 MIN
INGREDIENTS
Pancakes
1 & 3/4 cups gluten-free old fashion rolled oats
2 tbsp unsweetened cacao or cocoa powder
1 cup water
1 tbsp coconut oil
2 eggs
1 tsp vanilla extract
1 ripe banana
1 tbsp date paste or maple syrup
2 tsp baking powder
pinch of salt
Optional toppings / fillings
dark chocolate chips
maple syrup
coconut yogurt
Nut butter
berries, banana, or any other fruit
INSTRUCTIONS
Add all your ingredients into your blender and blend until you get a smooth batter.
Heat up your frying pan and grease with butter, ghee, or coconut oil.
Pour your batter onto your frying pan once it is hot. Let the base of the pancake set, should take about 1-2 minutes before flipping and cooking the other side.
Serve hot with toppings of choice.