A DELICIOUS SIMPLE TO PREPARE THAI INSPIRED SOUP.
This Thai-inspired vegetarian noodle soup is delicious and quick to make. Ready in less than 30 minutes, it's warm and aromatic and perfect for a quick weeknight dinner.
What protein can I use?
I used tofu as my plant-based protein, but you can use anything you like or have on hand.  This would work well with some crispy tempeh on the side or soft-boiled eggs on top.
Adding the curry paste
When adding your red curry paste to the soup, start with less.  Each curry paste can is a little different in regard to spice and potency.  Add a little, give the soup a try, and add more if needed.sThe key to this recipe is letting the spices roast and letting the herbs simmer to bring out all the lovely warm flavors.
What vegetables can I use?
ANY!  I used choy sum + broccoli for my veggies, I love Asian greens and for me, these are a go-to, mushroom, peppers, green beans are some other great options!
For the Noodles
I have used kelp noodles today which are great plant-based mineral-rich noodles.  They have the texture of a glass noodle and soften over time as they are exposed to heat and acid.  You can also use classic rice noodles, or to get more veggies in, zoodles or daikon noodles!
Leftovers?
You don't want the soup making the noodles super soggy, so  I would store the noodles and the soup separately if you can.  The soup keeps well for 2-3 days.
I hope you enjoy this beautiful yet simple dish!  Would love to hear if you made it!
Yield/Servings: 4
Author: Riyana Rupani
Print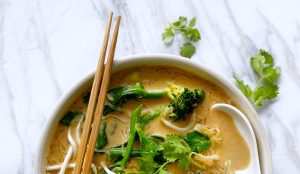 Vegetarian Thai Red Curry Noodle Soup
A delicious spicy and aromatic soup
PREPARATION TIME: 10 MIN
COOKING TIME: 15 MIN
TOTAL TIME: 25 MIN
INGREDIENTS
Soup
1 package kelp noodles rinsed, or rice noodles soaked in warm water, or about 4 cups of zoodles (use zoodles for Whole30)

4oog organic/non-gmo tofu, cubed  or mushrooms, sliced*

1 tbsp coconut oil

1 white onion, sliced 

4 cloves garlic, minced 

6 cups chicken or vegetable stock

2 tbsp (or to taste) red curry paste (Check ingredients for Whole30 & Clean-in-15)

1 can full-fat coconut milk, blended 

2 tbsp lime juice 

2 tbsp coconut aminos

1 tsp salt, or to taste

2 tbsp grated fresh ginger 

1 bunch Broccolini or any Asian green veggie

1 cup additional veggies of choice.
Garnish Options
1 lime, cut into wedges

chopped cilantro

chopped scallions

bean sprouts
INSTRUCTIONS
In a large Dutch oven or stockpot melt 1 tbsp ghee or coconut oil. Add the onions, and garlic, stirring continuously to avoid burning the garlic, and cook for about 1 minute. 

Pour the stock into the large pot with the onion mixture and bring to a boil. 

Add the curry paste, coconut milk, lime juice, coconut aminos, fish sauce, and ginger, stirring to combine. 

Next, add the tofu or sliced mushrooms.  Stir to combine. 

Add the noodles of choice and cook for about 1 to 2 minutes.

(Note on the kelp noodles - don't add them in too soon as they will break apart but will be kinda crunchy if not cooked enough)  

Add the Broccolini/Asian Greens and other veggies.  Cook for another 30 seconds and remove from heat.  

Garnish with toppings of choice, and serve.
NOTES:
*Use mushrooms for Paleo.  If using mushrooms, I suggest pre-cooking them before adding them to your soup.  Simply saute in a pan with ghee or coconut oil until golden brown.  You can add a boiled egg done to your liking for extra protein if you like.