GREEK STYLE ROASTED POTATOES TO ADD TO YOUR NEXT MEAL.
A lemony spin on a classic roasted potato!
I recently purchased an air-fryer… I'm a little late to the game but better late than never!  My counter space is limited so adding something needs a lot of consideration, but I have to say, I am thrilled with my decision to get one!  I can't wait to cook up so many things in it! 
These potatoes came out perfectly cooked.  Soft on the inside, and beautifully browned on the outside.
I used lots of lemon, lemon zest, and oregano as the main flavors for these simple tasty potatoes.  
These would go great with dishes like 
Vegetarian or meat kebabs
any grilled seafood or meat
ENJOY!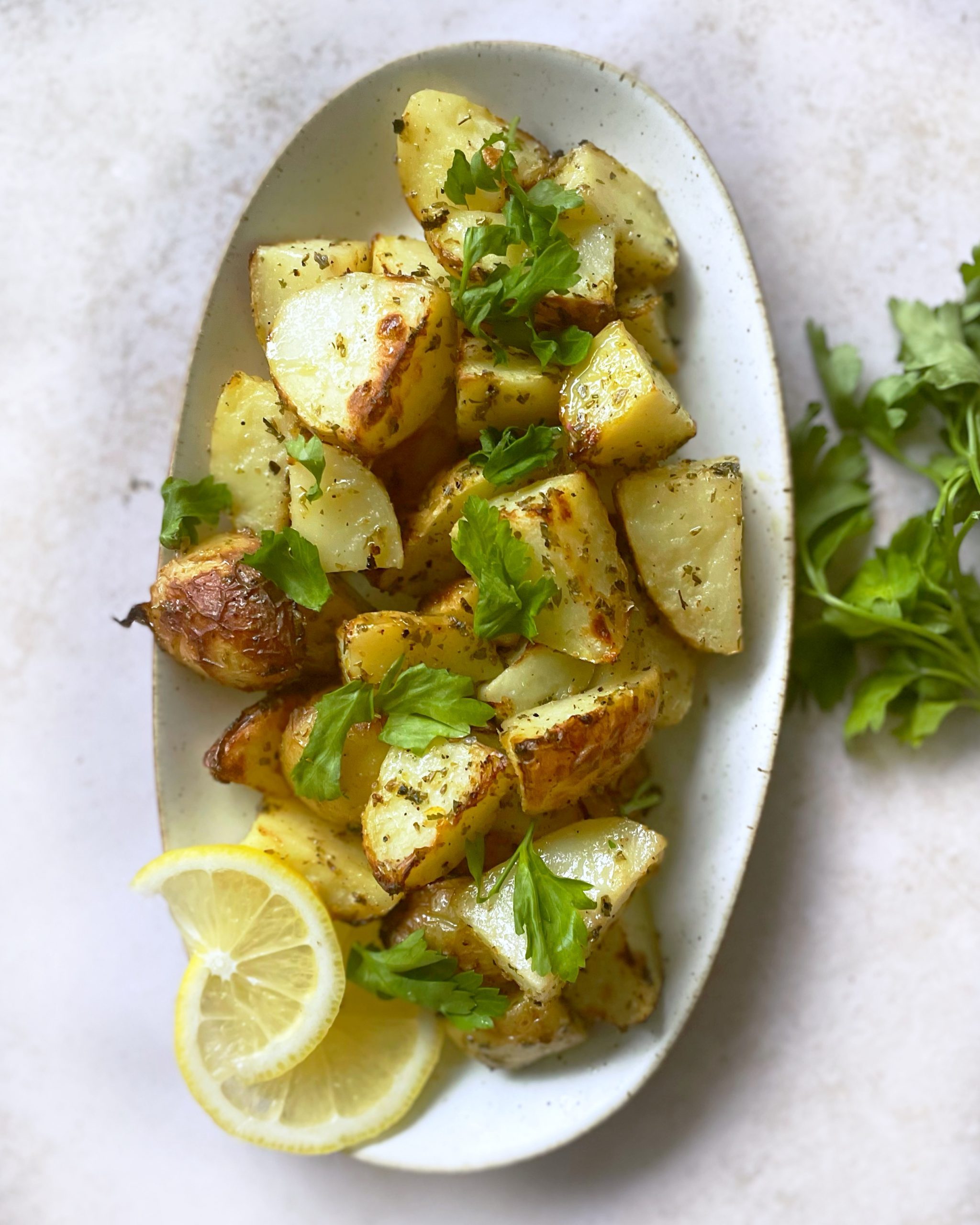 Yield/Servings: 4
Author: Riyana Rupani
Print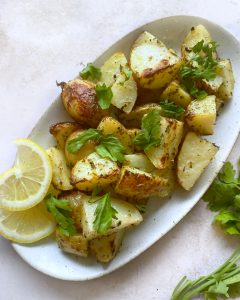 Greek Style Lemon Potatoes
A delicious variation to roasted potatoes
PREPARATION TIME: 5 MIN
COOKING TIME: 20 MIN
TOTAL TIME: 25 MIN
INGREDIENTS
1 tbsp Olive oil
Juice and zest of 1 lemon
1.5 tbsp dried oregano
1 tsp dried parsley
1.5 tsp garlic powder
Salt & pepper to taste
1 lb / 500g baby potatoes, washed and quartered
garnish - fresh parsley and lemon slices
INSTRUCTIONS
Air Fryer
Mix all your ingredients except the potato and garnish in a large bowl.
Toss in your potatoes and mix to coat
Line your air fryer with parchment paper and add your potatoes in
Cook on 200 C/400 F for 10 min. Shake your potatoes and cook for an additional 10 minutes at the same temp.
Garnish and enjoy!
Oven
Preheat oven to 200 C/400 F and follow steps 1-3 from Air fryer method
bake for 30 to 40 minutes, rotating the pan halfway through
Garnish and enjoy!