THIS ONE SOUNDS COMPLICATED BUT IS ACTUALLY SUPER SIMPLE.
This classic Ottolenghi recipe is divine.   
Minimal ingredients and minimal prep are required for this finger-licking good dish.
This one is perfect for entertaining.  You can make it ahead and bake it later.  It comes together so easily!
Two key ingredients that make this dish WOW.
Za'atar – A flavorful spice blend used in many dishes throughout the Middle East (and my house!). Curries, dips, meat rubs, and more.  You can easily make this blend at home and here is my recipe for it.

Sumac

– A spice that comes from drying and grounding up the berries of the sumac tree, which can be commonly found in the Middle East and Africa (but also other places).⁠⠀It's tart, lively, and bright. I've heard it referred to as powdered lemon. It definitely has that beautiful citrus undertone but it also has a little something extra that you would just have to try and taste for yourself! ⁠You can find sumac at Middle Eastern grocery stores, and general spice stores or get it online (iHerb, Amazon US, Amazon SG)
Add these two beautiful ingredients along with a few other things, and dinner is served!  A satisfying one at that.
This dish is Whole30, Clean-in-15, Paleo, Gluten-free, Dairy-free, Low-carb, and most important YUMMY!
Try it and let me know what you think!
Serve it alongside some of these delicious  sides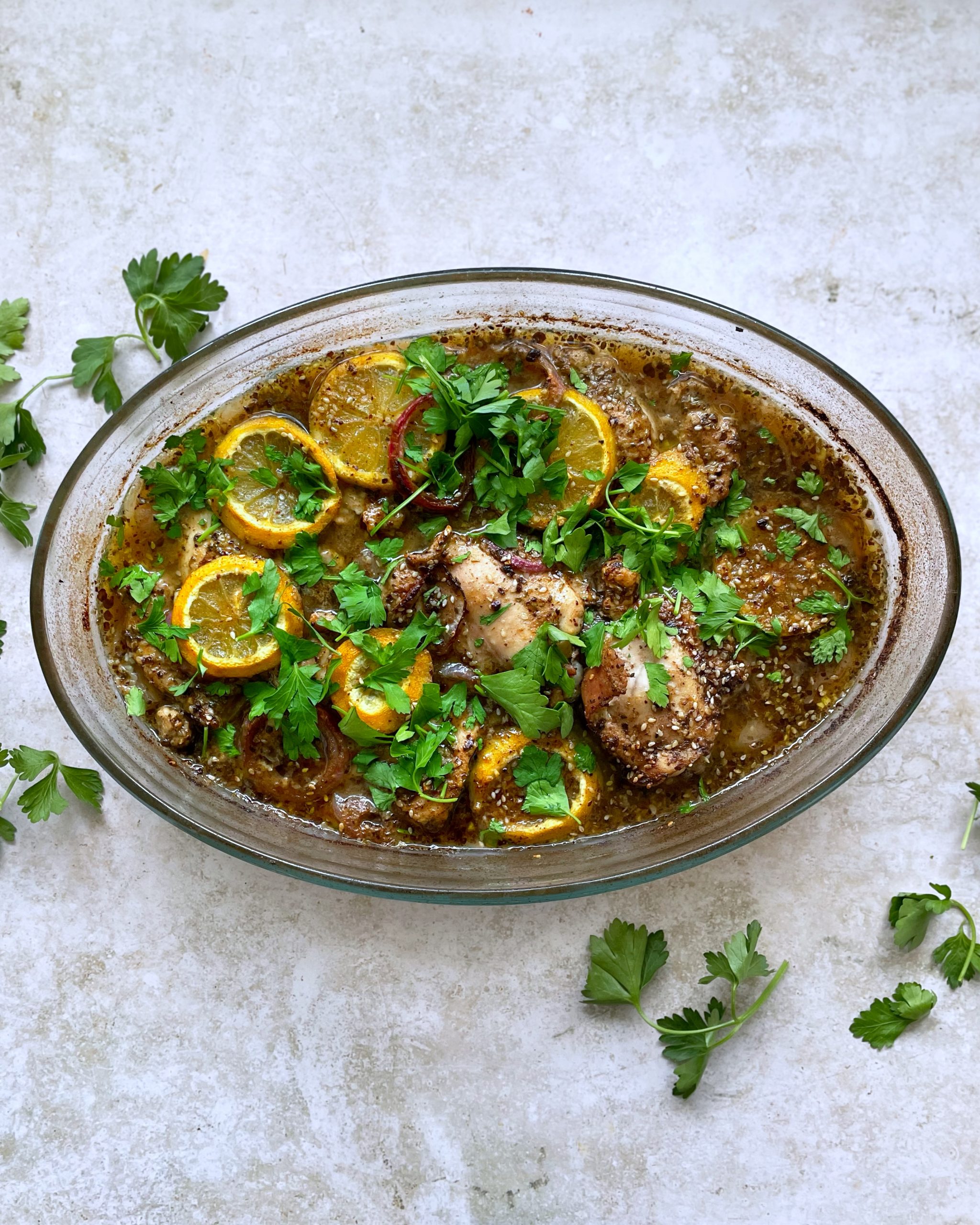 Yield/Servings: 2-3
Author: Riyana Rupani
Print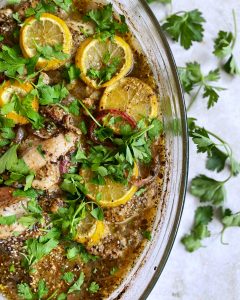 Za'atar & Sumac Roasted Chicken
A classic Yotam Ottolenghi recipe
PREPARATION TIME: 15 MIN
COOKING TIME: 45 MIN
INACTIVE TIME: 2 HOURS
TOTAL TIME: 3 HOURS
INGREDIENTS
4 chicken thighs (~800g / 1.8lbs), trimmed of excess fat and skin
1 red onion, thinly sliced
1 lemon, thinly sliced
2 cloves of garlic, crushed
2 Tbsp olive oil
1.5 Tbsp za'atar, plus more to taste
1/2 Tbsp sumac
1/2 tsp ground cinnamon
1/2 cup chicken broth
1 tsp salt (or to taste)
1/2 tsp freshly ground black pepper, or to taste
Toppings/Garnish
1/4 cup pine nuts
2 Tbsp flat-leaf parsley, chopped
INSTRUCTIONS
In a large bowl, mix chicken, onions, lemon, garlic, 3 tablespoons olive oil, spices, broth, salt, and pepper. Marinate in the fridge for at least 2 hours or overnight. The longer the better.
Preheat oven to 400 F/200 C.
Transfer chicken, skin side up, and all of the marinade to a shallow baking pan. The pan should be large enough to hold all the chicken pieces lying flat with a bit of space in between.
Roast for 35 to 40 minutes, until just cooked through.*
While the chicken is roasting, dry-roast your pine nuts and cook, stirring constantly, until they turn golden. Transfer to a bowl to stop the cooking process.
Transfer the hot chicken, onions and lemons to a serving platter. Pour pan juices over the chicken pieces. Sprinkle chicken with extra za'atar if you like and sprinkle with chopped parsley and toasted pine nuts.
NOTES:
*If you like the skin browned, turn the oven up to broil for the last few minutes of cooking, checking every minute or so until the skin is as crisp and brown as you like it. (Be very careful not to burn it)