THE FLAVORS AND TEXTURES OF THIS PUMPKIN ARE JUST WOW!
Pumpkin is definitely one of my favorite vegetables and this spiced-up version will keep you coming back for more! 
I made this recipe on a whim one night when I was having some friends over, and I was just thrilled with how it turned out.  The spices work so well with the natural sweetness of the pumpkin, and the creamy zesty dairy-free yogurt dressing really brings everything together!  
The fall season is all about warm comforting foods, and this one definitely ticks the boxes.
If you like this recipe and you are a pumpkin/squash fan like me, I am sure you are gonna love this Squash with Chili Yogurt or this Cozy Roasted Butternut Squash Soup.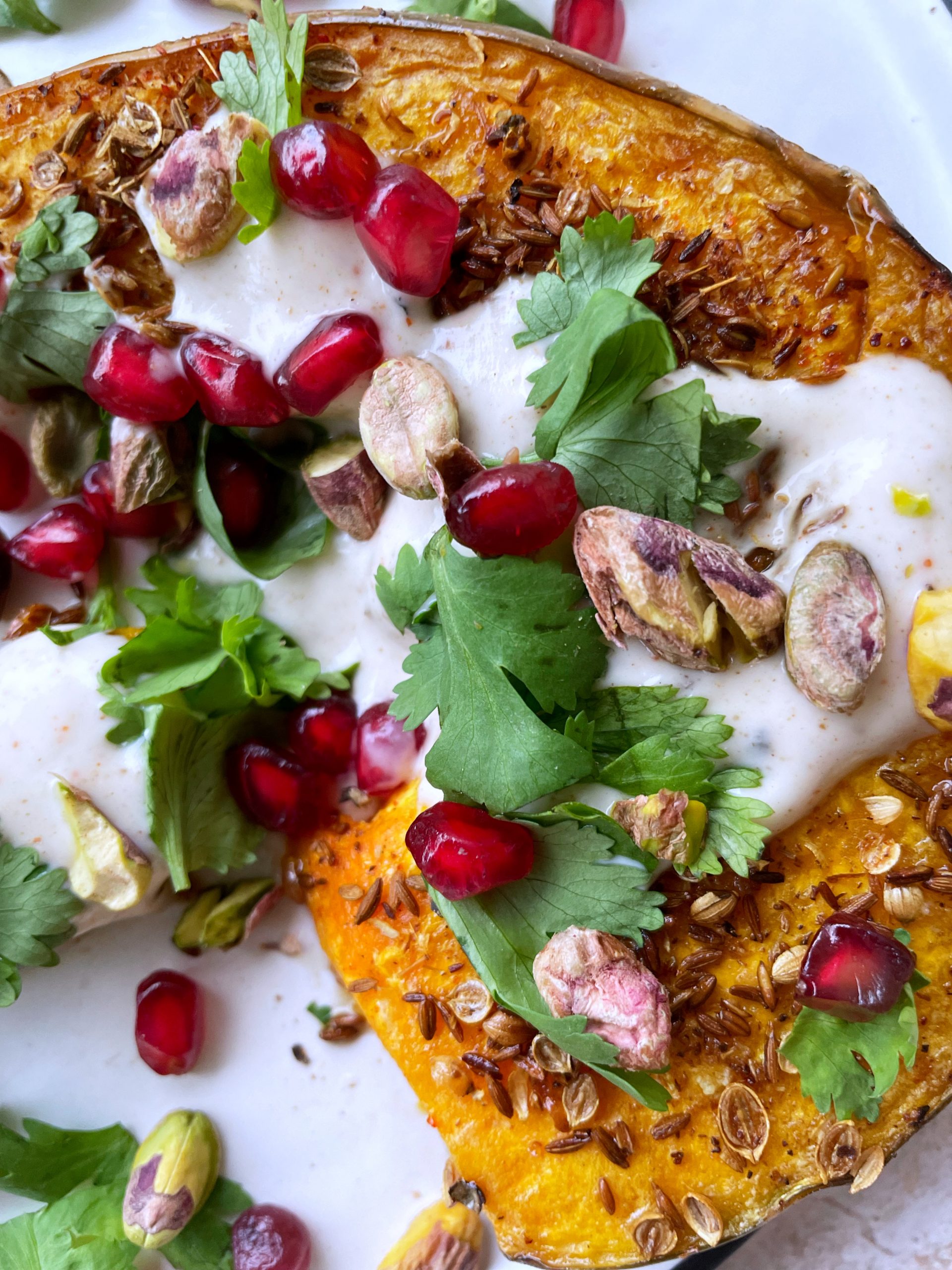 Yield/Servings: 4
Author: Riyana Rupani
Print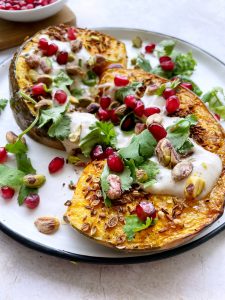 Roasted Pumpkin with toasted Cumin and Coriander
A delicious savory pumpkin dish
PREPARATION TIME: 15 MIN
COOKING TIME: 25 MIN
TOTAL TIME: 40 MIN
INGREDIENTS
Pumpkin
1 tbsp cumin seeds
1 tbsp coriander seeds
1 tsp Kashmiri mirch or paprika
400g pumpkin
1 tbsp extra virgin olive oil
salt and freshly ground pepper
Yogurt Dressing
½ cup almond yogurt or yogurt of choice (I used Nush almond yogurt)
1/2 tsp garlic powder
1/2 tsp cumin powder
1/4 tsp chili powder
1 tbsp lemon juice
salt and pepper to taste
Garnish
½ cup pistachio nuts, lightly chopped
¼ cup fresh coriander leaves
1/4 cup pomegranate seeds (can sub with chopped dates or raisins)
INSTRUCTIONS
Preheat the oven to 200℃ / 390℉.
Heat a small frying pan over medium heat, add the cumin and coriander seeds, and toast until fragrant. This should take no more than 2 minutes. Lightly crush in a mortar with a pestle or in a spice grinder.
Prepare your pumpkin - Remove the seeds from the pumpkin and, leaving the skin on, slice into wedges about 1.5 to 2 inches thick. Lay your pumpkin on a lined baking tray and drizzle with oil. Brush or use your fingers to evenly spread the oil on the pumpkin. Season with salt and pepper and sprinkle on the paprika and crushed cumin and coriander.
Put your pumpkin in the oven and roast until golden and soft, for about 20 - 25 minutes.
While the pumpkin is cooking, make your yogurt dressing by combining all the dressing ingredients.
Place the pumpkin pieces on a large platter. Drizzle the yogurt dressing and garnish with chopped cilantro, pistachio, and pomegranate.
NOTES:
This dish tastes great warm or at room temperature. You can make the pumpkin ahead of time and dress right before serving.