THIS SOUP IS WARM, CREAMY, AND SCREAMS FALL.
Literally, all you need to do is roast and blend.  
We are at the cusp of November, and even though it's still HOT as ever in Singapore, I am missing all things fall.
I'm a New Yorker, and I am craving the change of seasons… Right now I miss the weather, the food, and the clothes!
Roasted squash, a hint of apple, a dash of cinnamon… are you getting the fall vibes?? 
If you love this recipe, definitely try these too!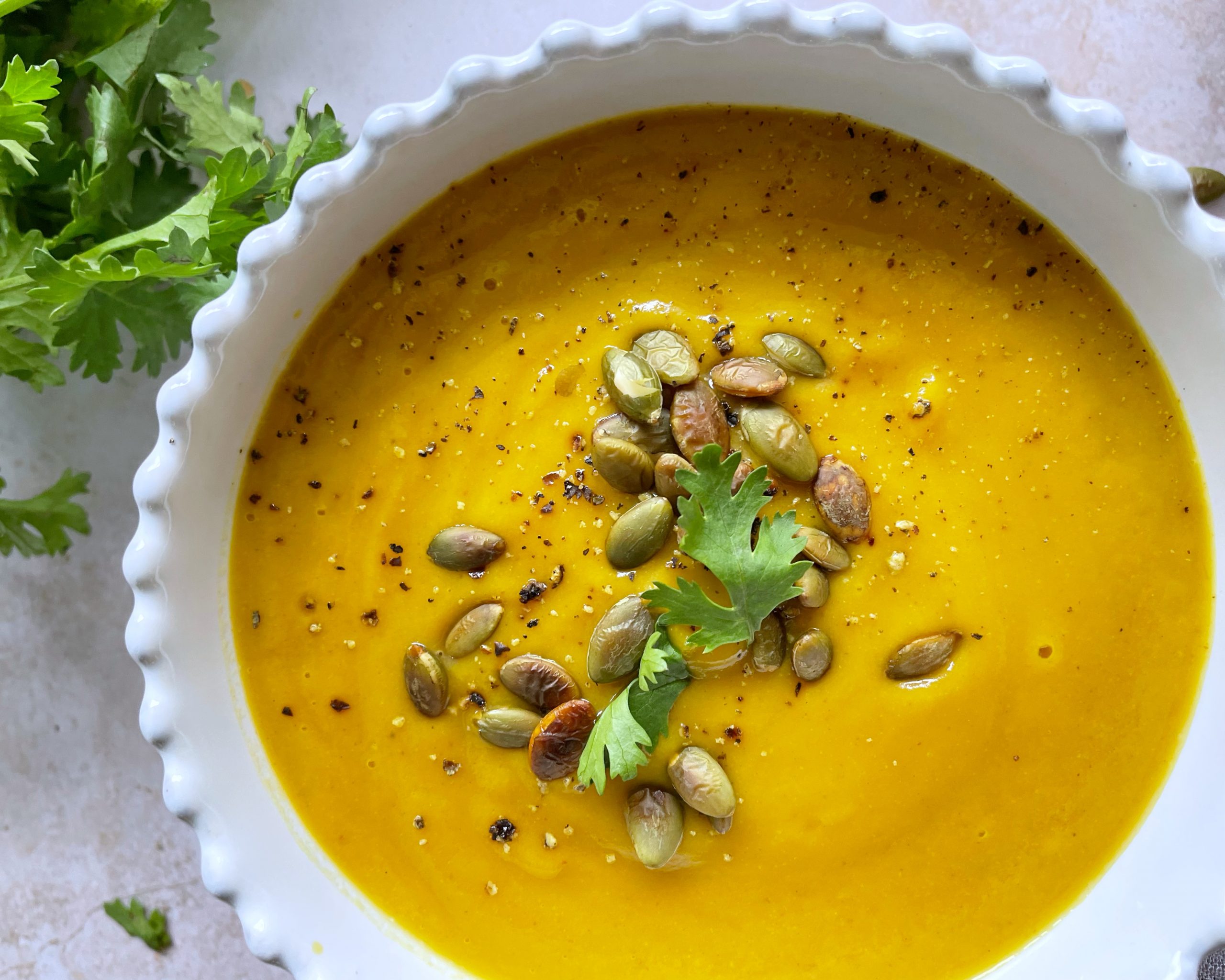 Yield/Servings: 3-4
Author: Riyana Rupani
Print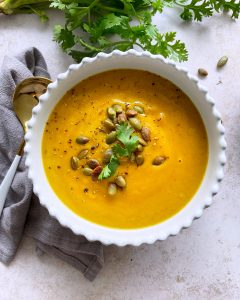 Spiced Roasted Butternut Squash Soup
A velvety smooth & rich soup that has all the fall feels
PREPARATION TIME: 10 MIN
COOKING TIME: 45 MIN
TOTAL TIME: 55 MIN
INGREDIENTS
1 small red onion, cut into wedges
2 garlic cloves, peeled and left whole

 

1-inch piece ginger, peeled

 

1/2 medium butternut squash, peeled, seeds scraped out and cut into 1-inch cubes

 

1 large sweet potato, peeled and cut into chunks

 

1/2 an apple, peeled and chopped
2 tbsp olive oil

 

1/4 tsp ground cinnamon

 

1/4 tsp cayenne (optional)
1/2 cup coconut milk
1.5 cups vegetable stock

(or more depending on how thick you like your soup)

salt and pepper to taste 
toasted pumpkin seeds
INSTRUCTIONS
Preheat the oven to 200C/400F.
Place the onion, garlic, ginger, butternut squash, sweet potato, and apple in a baking tray.

 

Drizzle or spray with oil and sprinkle with cinnamon and cayenne. Roast in the oven for 30 minutes, or until tender.
Place the roasted vegetables, coconut milk, and vegetable stock in a blender and process until smooth. Season to taste with salt & pepper. (alternatively, you can place all ingredients in a pot and use an emersion blender).
Heat through in a pot, and top with toasted pumpkin seeds and/or Coconut yogurt/cream