JUST BECAUSE YOU CAN'T HAVE LEGUMES, DOESN'T MEAN YOU CAN'T HAVE HUMMUS!
This hummus is made with creamy cashews and tahini. It is light, airy, and full of all the flavors you love about hummus.
Many of us might find chickpeas hard to digest, or might be avoiding them for some time to do some gut healing.  If this is you, and you love your hummus, you are gonna love this recipe!
I lived in the Middle East for about 2 years, and one of the dishes I loved eating the most was freshly made hummus,  but unfortunately, my tummy didn't like it as much as my tastebuds did!
This version has all the lovely taste and texture but without the possible digestive distress, legumes can give some.
Perfect if you are on a Whole30 or doing my Clean-in-15 too!
Pro-tip –  Don't skip the ice cube and use of ice-cold water!  This is what's gonna make your hummus super fluffy and light! 
When entertaining I love my cashew hummus served up in a mezze platter serve it alongside:
Complete the night with a lovely Middle Eastern-inspired Dinner.  Some of my favorite dishes are
Hope you love this one as much as I do!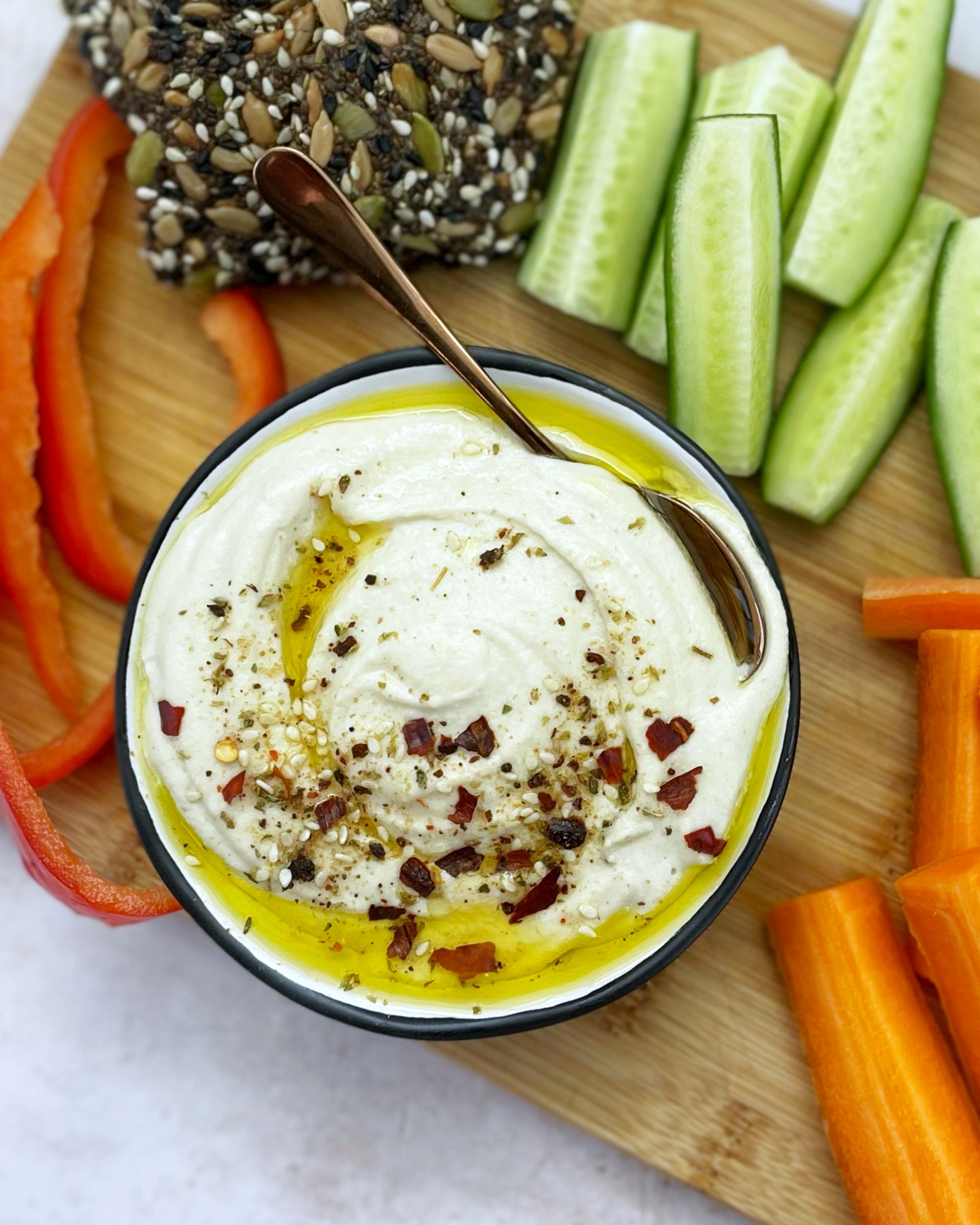 Yield/Servings: ~ 1 cup
Author: Riyana Rupani
Print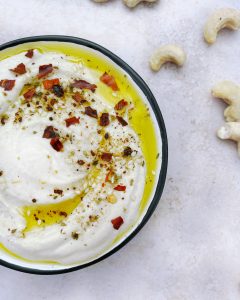 Cashew Hummus
A legume-free version of the traditional hummus
PREPARATION TIME: 10 MIN
COOKING TIME: 0 MIN
WAITING TIME: 30 MIN
TOTAL TIME: 40 MIN
INGREDIENTS
1 cup raw cashews
3 tbsp fresh lemon juice
2 cloves of garlic, roughly chopped
1/4 cup hulled tahini
2 tbsp extra virgin olive oil
1/2 tsp cumin powder
salt to taste
1 ice cube
ice-cold water as needed
INSTRUCTIONS
Soak the cashew overnight or in boiling water for 1 hour to soften.
Drain the cashew and rinse them under cold running water.
Put the cashew with all the ingredients + 1 ice cube into a food processor. While the machine is running add ice cold water 1 tbsp at a timeuntil you will reach a creamy consistency.  Let the machine run at a high speed, stop it every now and then to scrape down the side with a spatula.