CLASSIC ROASTED VEGETABLES, SPICED UP!
Take simple roasted vegetables up a notch with flavorful Indian spices!
When I think fall, I think warm comforting roasted vegetables.  seasoned to perfection, crisped and golden.
This recipe can be made with just about any vegetable that is in season or that you have on hand, but right now it's getting cool and fall is in the air so I have used vegetables like pumpkin, beetroot, and potato to name a few.  All of which are hearty and sing Fall.
I love this recipe sprinkled with chaat masala right before serving and drizzled with green chutney.  It gives the veggies that extra zing!
In case you don't know what chaat masala is – It's a spice mix that is made up of spices like amchoor (dry mango powder), black salt, cumin, and coriander.  It's tangy, zesty, a little spicy, and can spruce up any dish with a pinch. You can find it in most South Asian grocery stores or online.
These vegetables hold their own, but I also love them served alongside
This also goes great along with lamb chops, or a simply grilled piece of salmon.
I hope you give this preparation a try and give your regular roasted veggies a nice kick!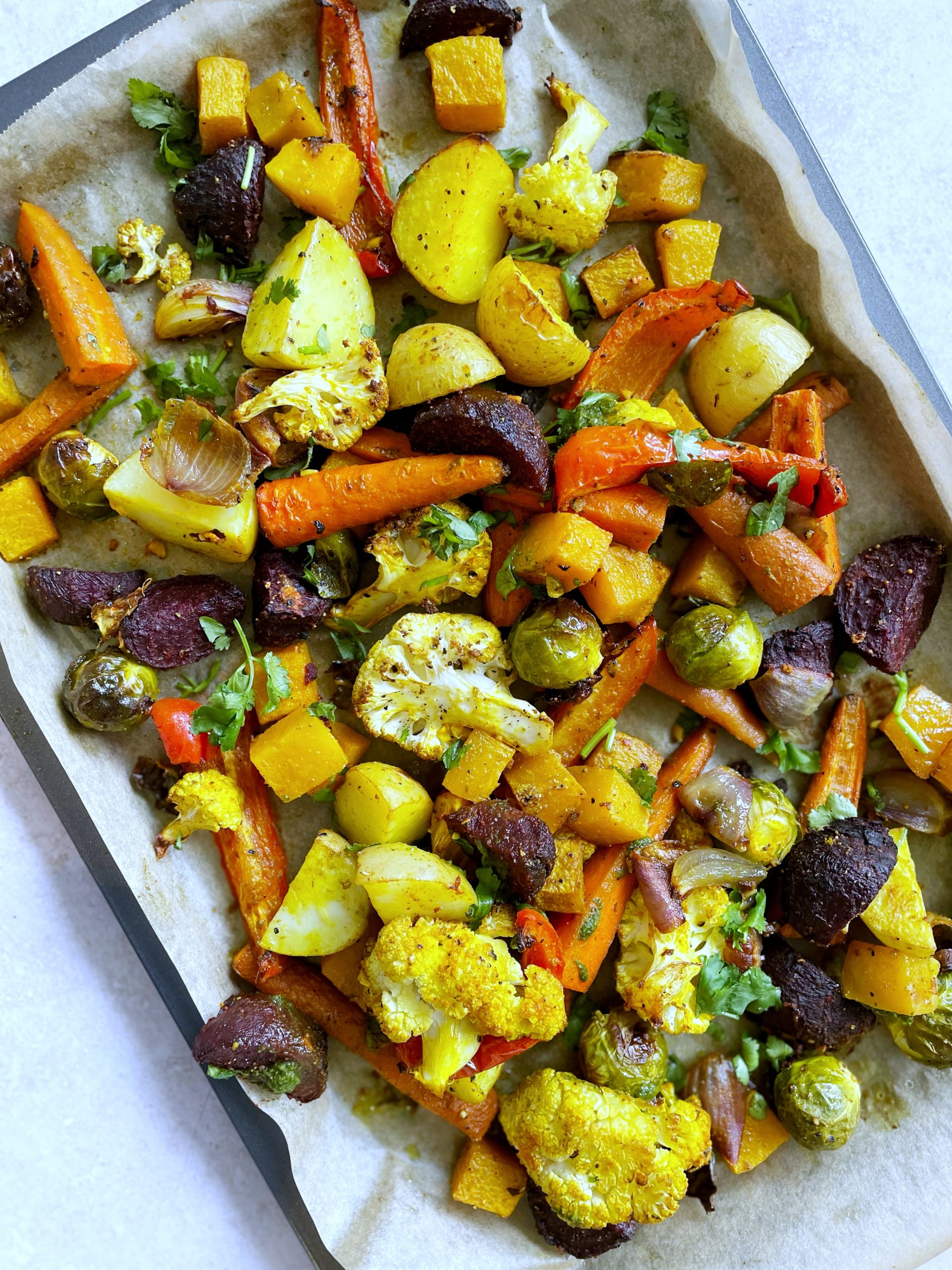 Yield/Servings: 4
Author: Riyana Rupani
Print
Indian Spiced Roasted Vegetables
Taking simple roasted vegetables up a notch with flavorful Indian spices.
PREPARATION TIME: 10 MIN
COOKING TIME: 25 MIN
TOTAL TIME: 35 MIN
INGREDIENTS
1 cup baby potatoes, washed and quartered
1 cup pumpkin, cubed 
1 cup cauliflower florets
1 cup Brussels sprouts, trimmed
1 cup pre-cooked beets, quartered 
1 onion, quartered and separated
1 red bell pepper, cut into 2" wide strips
4 tbsp extra virgin olive oil
3 garlic cloves, finely chopped or grated
2 tsp cumin powder
2 tsp coriander powder
3/4 tsp turmeric powder
salt & pepper to taste
Optional toppings
chaat masala
fresh cilantro & mint, chopped
INSTRUCTIONS
Preheat the oven to 220C/425F.
Gather a very large roasting pan or 2 sheet pans and line with parchment paper.   
Put all the vegetables in a very large bowl; add the garlic, oil, and spices, and give everything a good mix.
Spread the vegetables on your sheet pan.  Roast until tender and golden, about 25 to 30 minutes - you can toss the vegetables halfway through to ensure everything is evenly cooked.
. When ready to serve, sprinkle with chaat masala and fresh cilantro & mint.  Serve chutney on the side or drizzle over top.