A MIDDLE EASTERN SPIN ON BRUSSELS SPROUTS THAT WILL HAVE YOU COMING BACK FOR MORE
Take your Sprouts up a notch!
This beautiful recipe uses aromatic spices like sumac and fennel combined with slightly sweet and tangy pomegranate molasses.  
I love this as a starter or side with the following dishes.
You can have these sprouts as is or garnish them with tahini dressing, more pomegranate molasses, fresh pomegranate, herbs, and pine nuts to name a few.
If you don't have pomegranate molasses, you can sub with a balsamic reduction.
Why add a veg as a starter to any meal?
Having a meal that starts with veg is not going to only help you get in more nutrients and gut beneficial fiber, It's going to also help keep your blood sugar stable! Whatever you are eating, having vegetables beforehand is going to help flatten any potential glucose spikes. here is one of my favorite easy veggie dishes that will pair perfectly with Middle Eastern or Indian flavors.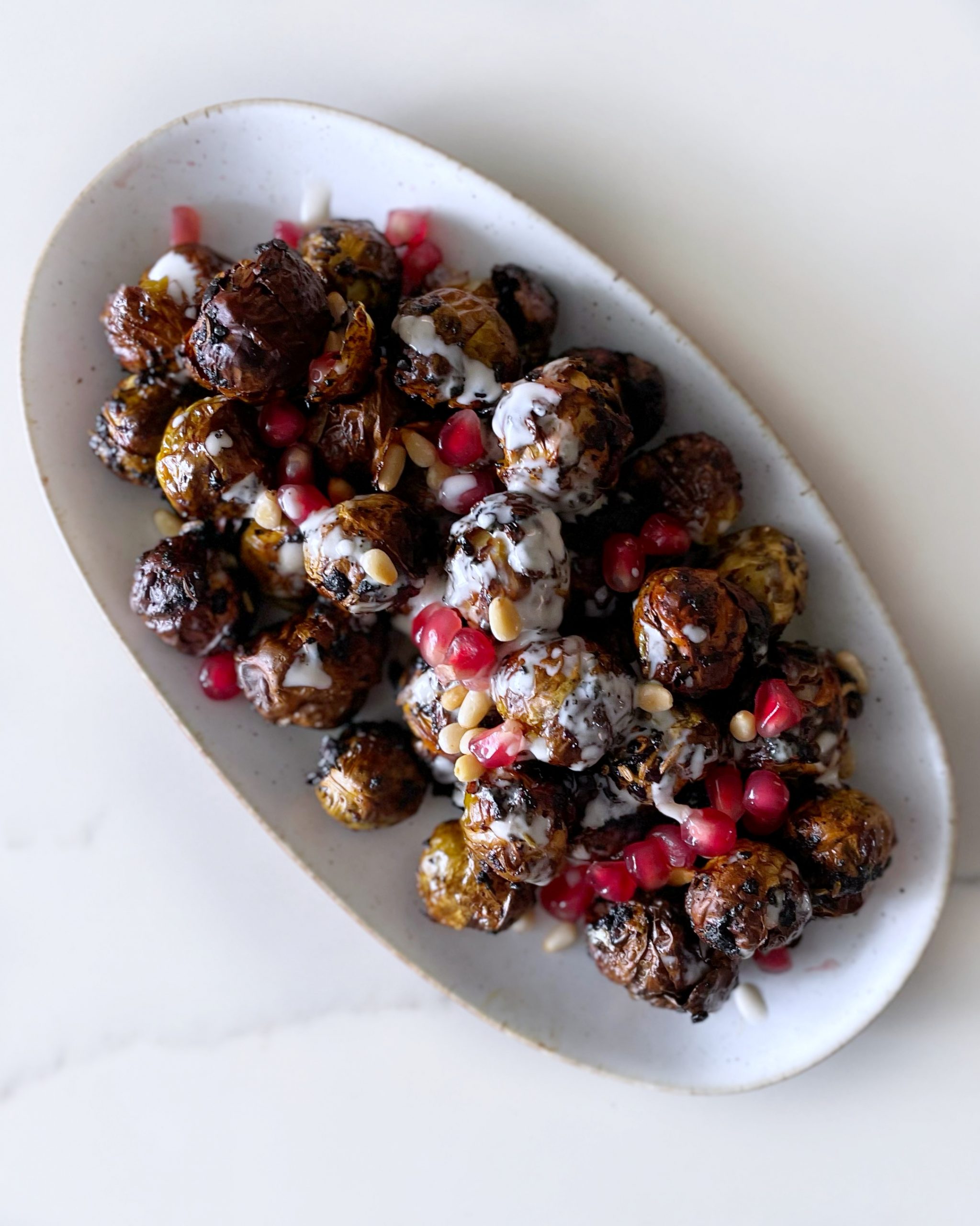 Yield/Servings: 2
Author: Riyana Rupani
Print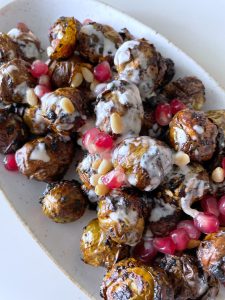 Spiced Pomegranate Molasses Brussel Sprouts
A Middle Eastern inspired spiced Brussels sprouts dish
PREPARATION TIME: 10 MIN
COOKING TIME: 30 MIN
TOTAL TIME: 40 MIN
INGREDIENTS
Brussel Sprouts
350g / .75lbs brussels sprouts
1/2 tsp fennel seeds
1 tsp sumac
1/4 tsp garlic powder
1/4 tsp chili flakes (optional)
1/4 tsp salt
1 tbsp olive oil
1 tbsp pomegranate molasses (or sub with balsamic reduction)
Optional Garnish
toasted pine nuts
fresh pomegranate
any fresh herbs
INSTRUCTIONS
Preheat your oven to 200°C/400°F.
Wash and prep your sprouts.
Combine your spices.
Add the olive oil and pomegranate molasses to your sprouts and mix.
Sprinkle in your spice blend, and mix to coat.
Spread your Brussel sprouts on a wired baking tray
Bake for about 30 minutes or until crispy and caramelized.
Serve with garnish of choice.