YOU WOULD NEVER BELIEVE CAULIFLOWER COULD TASTE SO GOOD!
The perfect vegan dish to add to your next meal!
Cooking
There are many methods out there to roast cauliflower, and I've tried most, but for meI find the method of steaming followed by popping it in the oven gives the best results.
You need to watch your flower closely during both steaming and roasting, but if you give it the attention it deserves, you'll be left with a veggie that will not only be delicious, but beautiful.
Tender on the inside and golden to perfection on the outside.
Seasoning
Personally, I like the cauliflower seasoned with fleur de sel,  but feel free to season more liberally with spices like cumin, turmeric, cayenne, etc. 
Plating
Be careful when moving your cauliflower from oven to plate.  You don't want it to break.  Once it's on your plate drizzle and sprinkle away with your herbed tahini, fresh chopped herbs, nuts, and pomegranate. 
I love this dish for entertaining.  It presents beautifully and is a crowd pleaser!  Omnivores and vegetarians will love this dish equally!  
Got leftovers??  Lucky you!!!  I love this dish, even more, the next day when it's soaked up all the tahini dressing and really has the time to marinade.
Yield/Servings: 6
Author: Riyana Rupani
Print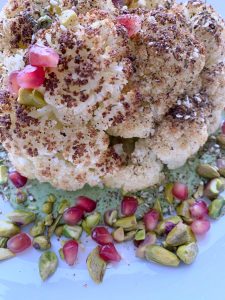 Whole Roasted Cauliflower with Herbed Tahini Sauce
Cauliflower never tastes so good!
PREPARATION TIME: 10 MIN
COOKING TIME: 1 H & 30 M
TOTAL TIME: 1 H & 40 M
INGREDIENTS
Cauliflower
1 whole cauliflower, washed, outer leaves trimmed so the cauliflower can sit flat.
Olive oil
Fleur de sel, or another good quality salt
Other optional spices (cumin, paprika, coriander, turmeric, garlic powder, sumac, tandoori masala, etc.)
Herbed Tahini
1/4 cup hulled tahini
2 tbsp lemon juice
15g flat-leaf parsley
5g mint leaves
1 garlic clove
1 green chili
1/4 tsp salt or to taste
ice cold water as needed to thin
Optional Toppings
chopped pistachios or toasted pine nuts
sesame seeds
fresh pomegranate kernels
fresh chopped herbs - mint, parsley, chili
INSTRUCTIONS
Cauliflower
Preheat your oven to 200C/400F.
In a large pot, fill water about 2 inch high and bring to a boil.
once boiling put in your washed whole cauliflower, stem down and lower the heat to a simmer. Cover and cook for about 10-15. You want to steam the cauliflower (not boil it) till it is tender, NOT MUSHY. you should be able to insert a knife in easily, but still have a little resistance.
Once your cauliflower is done steaming, transfer it to a wired rack with a tray underneath.
Liberally drizzle olive oil and sprinkle with your fleur de sel and any spices you choose to use.
rub everything in, ensuring to get in the crevacis, and all around.
Bake for 50-60 min. or until golden brown.
Herbed tahini
While the cauliflower is baking, add your herbed tahini ingredients into a food processor.  Start with the herbs, garlic, and chili and blend to break down.
Next add in your tahini, lemon juice, a bit of cold water, and salt - blend.
scrape down, check for texture and continue processing and adding water till you get a thick but drizzly consistency.
Taste for seasoning and adjust accordingly.
Plate
On a large serving spread some herbed tahini and gently place your cauliflower to the center.
Drizzle with more herbed tahini around and on top of the cauliflower.
add toppings of choice and serve.
NOTES:
This tastes delicious the next day. No need to reheat!