YOUR COFFEE'S NEW BEST FRIEND
Going dairy-free can be hard, and one of the hardest things for me to give up was my coffee creamer!
This recipe is simple, delicious, and easy to add to your weekly meal planning.  I make a batch every Sunday, cause come Monday, my coffee is a vital part of my morning!  
Promise you won't miss your dairy creamer after trying this better for you dairy-free version!
PRO TIP! – If you are looking to replace cream in a cooking recipe, simply skip the vanilla extract, and keep the dates to just 1 for that hint of sweetness.  Works like a charm in any recipe cream is needed
Yield/Servings: 3
Author: Riyana Rupani
Print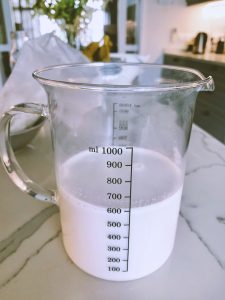 Coconut Cashew Creamer
a delicious dairy-free creamer
PREPARATION TIME: 5 MIN
INACTIVE TIME: 1 HOUR
TOTAL TIME: 1 H & 5 M
INGREDIENTS
2 cups raw cashews
2 to 3 pitted medjool dates
3 cups filtered cold water
1 tsp pure vanilla extract
small pinch of sea salt
1/2 regular can full-fat coconut milk
INSTRUCTIONS
Place the cashews in a bowl of hot water and soak for 1 hour
Discard the water and add the cashews and dates to a blender with 3 cups of filtered water. Blend on high for 1-2 minutes, until very smooth.
If you aren't using a high-speed blender, you may need to strain the cashew milk with a nut milk bag or cheesecloth to remove some of the bits.
Add the remainder of the ingredients to the blender and blend for 30 seconds to incorporate.
Store in the refrigerator for 1 week.