YOUR ROASTED PUMPKIN OR SQUAHS JAZZED UP.
I absolutely love this recipe from Ottolenghi!
The Flavors are savory, sweet, herby, and a little spicy. And the textures are moist, creamy, and a little crunchy.
When I think fall, I think warm comforting roasted vegetables.  seasoned to perfection, crisped and golden.  Thanksgiving is only a few days away and 1 vegetable that is a staple on my table is either a pumpkin or squash.  I personally love the vegetable year-round, but let's be honest, it screams fall.
This recipe from Ottolenghi is pumpkin done right.
The cinnamon brings out the natural sweetness of squash, the chili yogurt complements the creaminess of the vegetable, the coriander drizzle adds freshness, and the toasted pumpkin seeds add the crunch we all want!
I wanted to make a version of this dish that was dairy-free so that my friends doing a Whole30 or Clean-in-15 could still enjoy it.
I've swapped out the regular yogurt with coconut yogurt and added just a bit of lemon juice and salt to give it the tartness traditional dairy yogurt has.  If you haven't worked with coconut yogurt before, it has a naturally sweet taste which is lovely but just wouldn't work in a recipe like this on its own.
Combine this yogurt mixture with Ri's Red Chili Sauce and you have magic!
Looking for other recipes to serve up this Thanksgiving?  Try these!
Or want to serve this dish alongside your next Middle Eastern style dinner?  Try these recipes!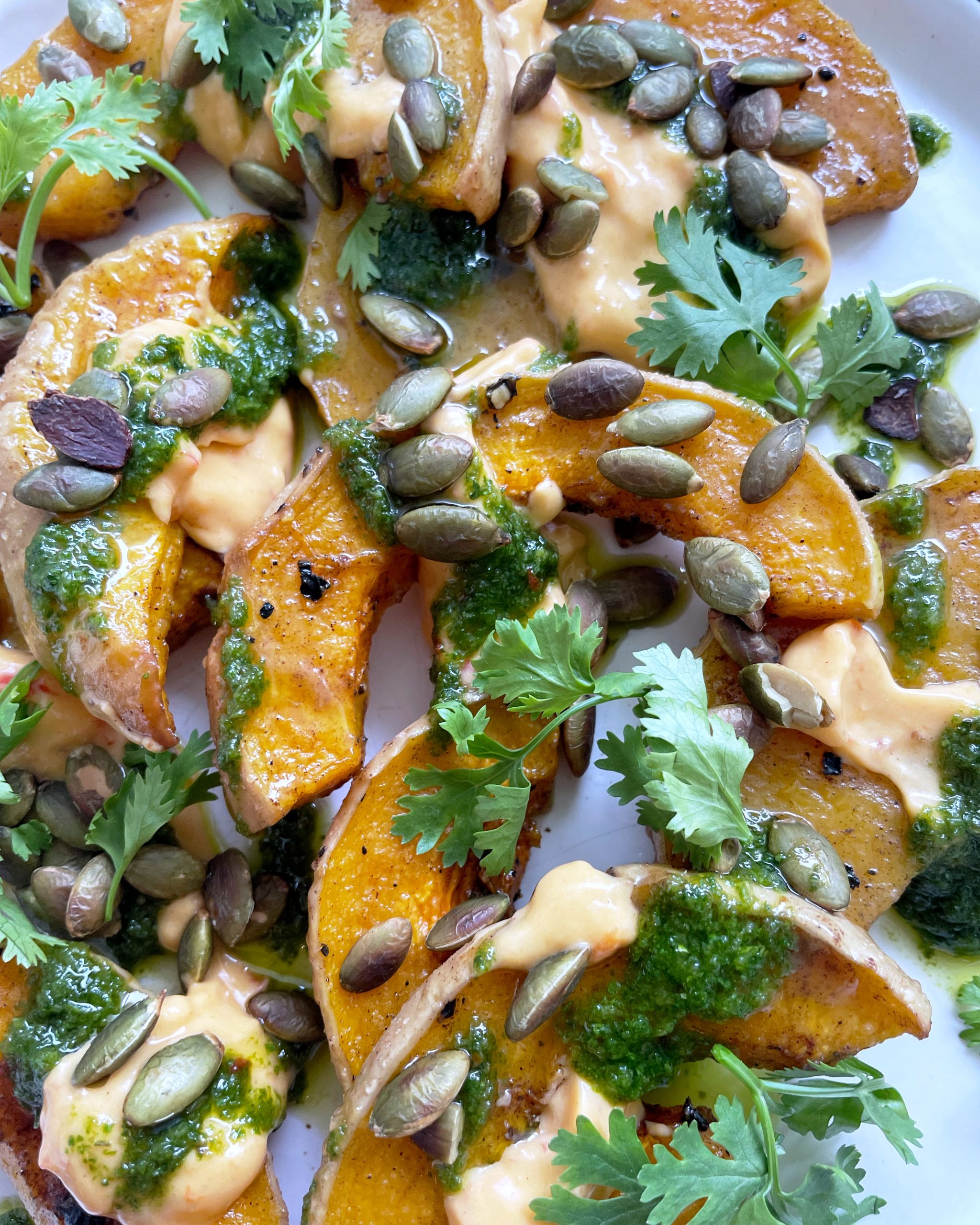 Yield/Servings: 4
Author: Riyana Rupani
Print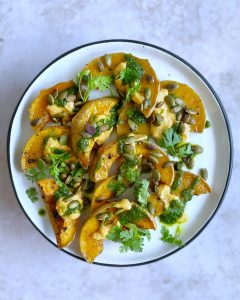 Squash with Chili Yogurt & Coriander Drizzle – from Ottolenghi
A delicious simple to put together side dish that is full of flavor and texture
PREPARATION TIME: 15 MIN
COOKING TIME: 30 MIN
TOTAL TIME: 45 MIN
INGREDIENTS
Pumpkin
1 small pumpkin or butternut squash (1 kg in total)
1.5 tbsp olive oil or avocado oil
1 tsp ground cinnamon
salt & pepper
15g pumpkin seeds
Dairy-Free Chili Yogurt Sauce
100g plain coconut yogurt
1½ tsp Ri's red chili sauce (or another savory chili sauce)
1 tsp lemon juice
pinch of salt
Coriander drizzle
3 tbsp extra virgin olive oil
50g coriander, leaves, and stalks, plus extra leaves to garnish
1 small garlic clove, crushed
good pinch of salt
INSTRUCTIONS
Preheat the oven to 200C/400F
Cut the squash/pumpkin into 2cm-thick wedges with the skin on.
Place the pumpkin/squash in a large bowl with the cinnamon, 1.5 tbsp of olive oil or avocado oil, and salt, and pepper. Mix well so that the squash is evenly coated.
Place the squash/pumpkin on a lined baking tray, skin side down, and roast for 30 – 40 minutes, until soft and starting to color on top. Remove from the oven and set aside to cool.
While your veg is roasting, make the dressings and toast your pumpkin seeds.
To make the coriander drizzle, place the coriander, garlic, 3 tablespoons of extra virgin olive oil, and a generous pinch of salt in a small food processor, blend to form a paste. Reserve for later
Ina small pan, toast your pumpkin seeds on a medium-low flame.  You will hear them pop and they will start to brown.  They can burn easily, so keep an eye on them
When you are ready to serve, swirl together the coconut yogurt, lemon juice, salt, and chili sauce. Lay the squash/pumpkin wedges on a platter, drizzle over the spicy yogurt sauce, and then the coriander drizzle.
Scatter the pumpkin seeds on top, followed by the extra coriander leaves, and serve.
This dish tastes great at room temp, so an easy one to prepare ahead of time!
NOTES:
If you aren't dairy-free, you can use regular yogurt and omit the lemon juice and salt from the chili yogurt ingredients