Super fresh and full of brightness!
Pomelo salad is one of my favorite Thai dishes.  It's a fruit-based salad in a tart, spicy, sweet dressing.   It's filled with fresh herbs like mint & coriander, and have a lovely variety of textures from the pomelo, coconut, and nuts. 
I love using my nam prik as the dressing when I have it on hand but I have included a simple dressing below. 
This salad is traditionally made with Pomelo but if you don't have access to it, you can use grapefruit as the perfect replacement.
Doing a Whole30 and can't have peanuts?  swap them out for toasted cashews or chopped almonds!
This salad can be served as a side dish or as a meal on its own.  If you are having it as a meal you want to make sure you add a good protein source.  Simply cooked prawns, shredded chicken, and pan-fried tempeh all work really well!
If you are serving it as a side dish, pair it with one of these flavorful Thai mains!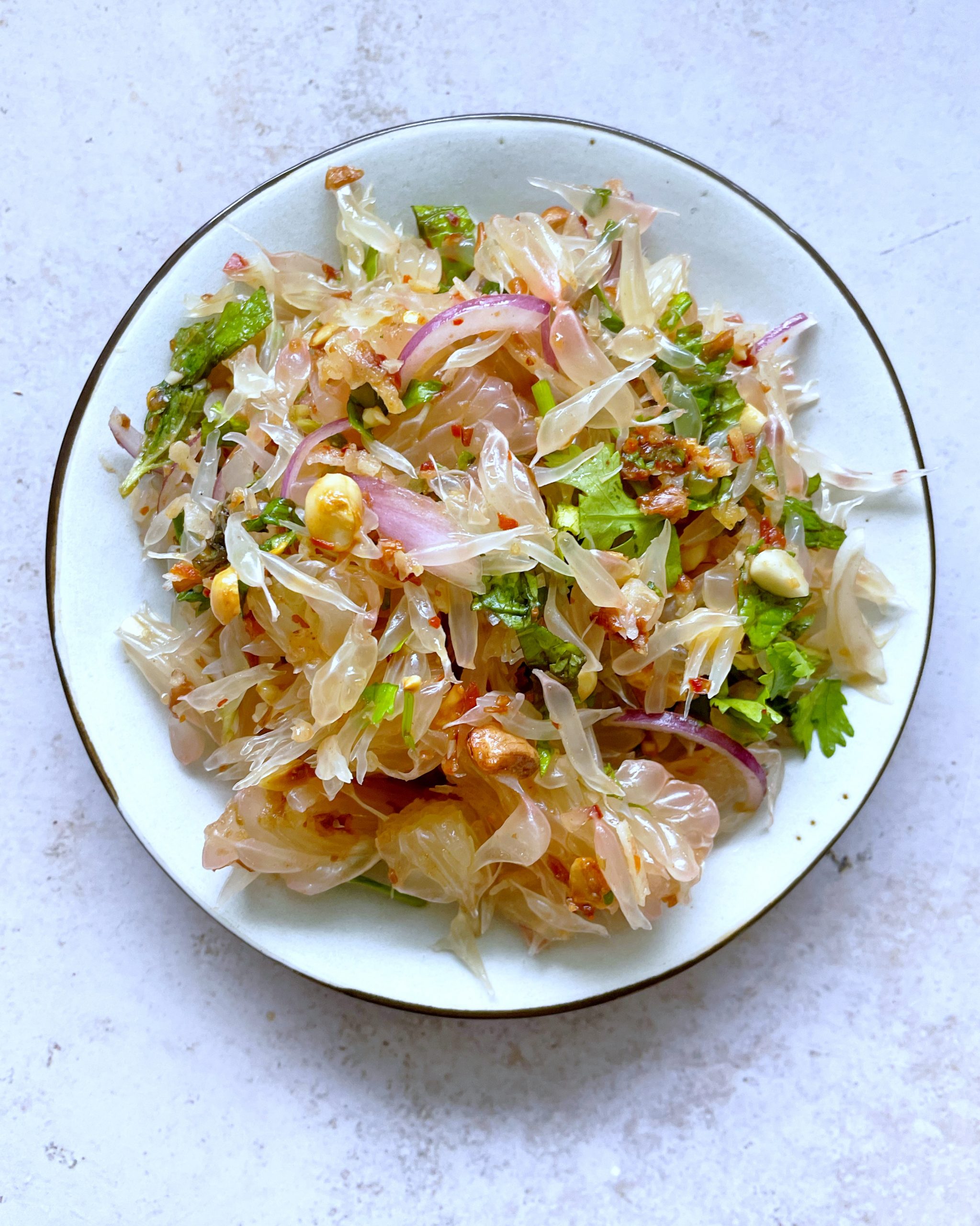 Yield/Servings: 4
Author: Riyana Rupani
Print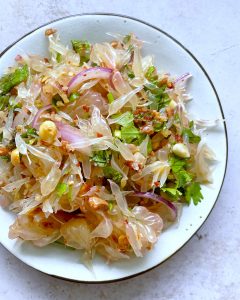 Pomelo Salad – Yam Som-O
A delicious traditional Thai salad
PREPARATION TIME: 15 MIN
COOKING TIME: 0 MIN
TOTAL TIME: 15 MIN
INGREDIENTS
Salad
1 pomelo, flaked by hand into small chunks. (1 Pomelo gave me approximately 600g of fruit or ~3 cups)

1/4 cup u

nsweetened shredded coconut, toasted

1/3

 

cup

roasted and crushed

peanuts

1 red onion, thinly sliced

2

 

Kaffir lime leaves, stems removed, very thinly sliced

1

 

stalk

l

emongrass, outer hard layer removed, very thinly sliced

1/3

 

cup

 

packed mint leaves, chopped

1/4 cup chopped cilantro
Dressing
1

 

Thai bird's eye chili

 

(or to taste), finely chopped

1.5

t

bsp

 

date paste (traditionally uses palm sugar)

2

 

tbsp

 

lime juice

1 tbsp

fish sauce (use red boat brand for Clean-in-15 & Whole30 and Vegan fish sauce for vegetarian/vegan)

1 garlic clove, minced
1 tbsp tamarind paste (or 1 tsp tamarind concentrate)
For a more authentic dressing, make my Nam Prik Sauce and use 3 to 4 tbsp
INSTRUCTIONS
Salad
Peel your pomelo and discard peel. Working with one section at a time, use your hands to peel off the pith, leaving just the pale green or pink fruit. Gently break apart the fruit.  I wish there was an easy way to do this, but you just gotta get in there and get your hands dirty.  This is the hardest part of making the salad!
Heat a skillet or wok over medium heat. Add coconut and toast, stirring constantly, until golden brown and fragrant, 5 to 6 minutes.
Place peanuts in a mortar and use a pestle to grind them until they are in coarse, uneven pieces. (If you don't have a mortar and pestle, just roughly chop them with a knife.)

Thinly slice your red onion

Finely chop your lime leaves and lemongrass. (Note: Kaffir lime leaves and lemongrass can be a bit tough if left in large pieces, so be sure to slice these very finely.)

Roughly chop your mint and cilantro.
Dressing
For a more authentic flavor follow my recipe for Nam Prik, otherwise follow the below steps for a faster dressing.

In a mortar and pestle, grind the chilis into a paste.

Add the chili paste to a bowl along with date paste, fish sauce, and lime juice and mix.

Taste the dressing and adjust as you'd like, adding more of any of the components. Set aside.

At this point, all of the ingredients can be stored separately for up to a day.

Before serving, combine all salad ingredients in a large bowl. Add dressing and toss to combine. Serve immediately.