AN EASY ONE-PAN RECIPE THAT IS BURSTING WITH FLAVOR!
This baked fish is so full of flavor, you will literally be spooning the curry into your mouth straight from the baking dish (don't say I didn't warn you)!
We love big bold flavors in our house and this dish hits all the right flavor notes. Thai is definitely one of my favorite cuisines. The balance of spicy, salty, sweet, and umami are just perfect.
Thai food is known to be spicy but you can make this dish as mild as you like. I actually make this fish for my kids and just remove the fresh chili
You can easily prepare this the night before or in the AM and simply pop it into the oven before you are ready.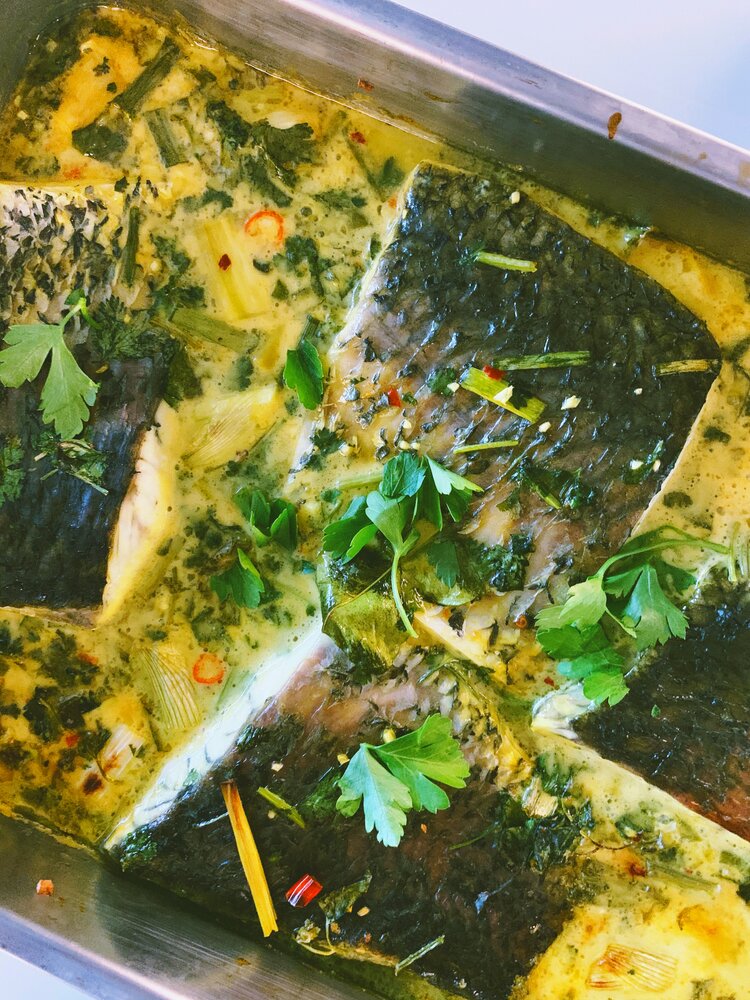 The longer it marinates, the more flavorful the fish will be.
I have tried this with a few different fish types but my favorite by far is barramundi & salmon.
For the sweet chili sauce, please read your labels. Many bottled sauces are full of preservatives and additives. Here is one I found that has minimal & real ingredients.  If you want to make your own, try this recipe
Don't feel like turning on your oven or don't have fish on hand?  I have also made this recipe on the stove top and replaced the fish with prawns and it has turned out amazing!
Serve over some steamed jasmine rice, along side some sautéed broccolini or other green veg for a complete meal!
Thai / Asian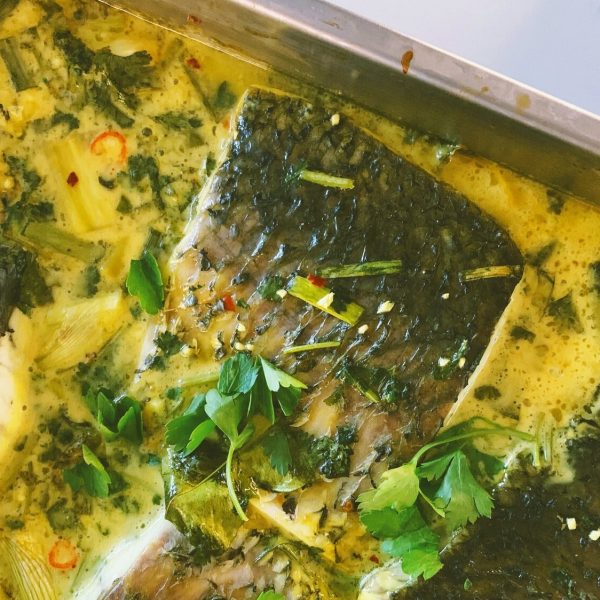 Thai Style Coconut Fish Curry
A delicious curry that will leave you wanting more!
Preparation time: 10 Min
Cooking time: 20 Min
inactive time: 2 Hour
Total time: 2 H & 30 M
Ingredients
2 fish fillets about 150g - 200g (I like barramundi or salmon)
1 -2 fresh red chilis, finely sliced (de-seed if you want less heat, and omit for AIP)
2 Spring onions chopped into 1/2 inch pieces
1 piece fresh lemongrass chopped into 1-inch pieces*
1/4 cup cilantro, chopped
3 Garlic cloves, chopped finely
2 Kaffir Lime Leaves thinly sliced (can replace with the zest of 1 lime)
1/2 tsp Turmeric
1 Tbsp Lime Juice
2 Tbsp sweet chili sauce*
1 cup Coconut Milk
Salt & Pepper to taste
Instructions
In a bowl, mix all your ingredients except the fish to make your sauce.
Lay your fish In a baking dish and coat with the sauce.
Let the fish marinate in the fridge for a minimum of 2 hours (the longer the better).
Preheat oven to 180C/350F.
Bake for 20 minutes or until fish is cooked through.
Taste and season with additional salt and or a squeeze of lime if needed.
Garnish with more chopped fresh coriander and serve with your favorite green veggies and some steamed rice.
Notes:
Lemongrass - If you don't have fresh lemongrass you can use dried or replace it with 1 drop of culinary lemongrass essential oil. Sweet Chili Sauce - when using store-bought chili sauce, read your ingredients! You can find clean ones (Yai's brand is awesome if you can get your hands on it), but many of them have lots of preservatives and additives. For Whole 30 and AIP omit or replace with 1 Tbsp coconut aminos + 1 Tbsp apple cider vinegar.