LIFE IS BETTER WITH CHOCOLATE.
This one is Paleo, Vegetarian, and can be made Vegan.  It's also super easy to make yourself and doesn't use store-bought chocolate.
Living in Singapore we don't have access to as many alternatives when you have dietary restrictions. Awareness is building, and we have definitely come a long way, but I find my self jealous at times when I travel to the US and find Whole30 and Paleo products easily in the grocery store. Finding that stuff here ain't so easy, and when you do find it, it comes with a very heavy price tag!
So, in the meantime, we still have some DIYing we need to do out here.
I love chocolate covered fruit as an entertaining dessert or a special treat for my boys, but most of the dark chocolate chips I come across here either have dairy, soy, hydrogenated oil, or some other nasty preservative. So I DIY'ed my own chocolate dipping sauce which has only 3 clean ingredients and that is super easy to make!
I have used these for strawberries, cookies, bliss balls, bananas, and more. I hope you guys enjoy this one as much as we do!
Make sure whatever you are dipping in this sauce is nice and cold. This helps the sauce stick well and former a thicker layer as apposed to being runny.
Yield/Servings: 20 Strawberries
Author: Riyana Rupani
Print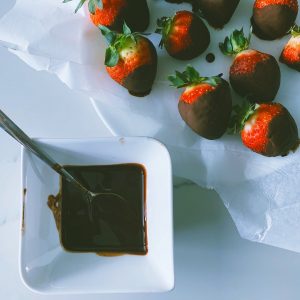 Chocolate Covered Everything
A simple 3 ingredient DIY chocolate sauce you can use on anything!
PREPARATION TIME: 2 MIN
COOKING TIME: 12 MIN
TOTAL TIME: 14 MIN
INGREDIENTS
INSTRUCTIONS
Melt the cocoa butter in a heatproof bowl set over a pot of simmering water. (The bottom of the bowl shouldn't touch the water).
Add the cacao powder and honey or maple syrup and mix well to combine.
Cool slightly then dip each strawberry into the dark chocolate. To speed up the cooling, put the sauce in the fridge for 2 minutes. (If the sauce is too hot, it will be runny).
Dip your strawberries in the chocolate, and then set on parchment paper to set.
Place in the fridge for 5-10 minutes to completely set
NOTES:
This sauce works well if your strawberries (or whatever else you are dipping) are cold. This makes the sauce stick really well, without having to double dip to get a nice thick coat.