This Peruvian-inspired chicken dish needs to be the star of your next dinner!
THIS CHICKEN DISH IS TRULY DROOL-WORTHY! 
Juicy chicken spiced and roasted to perfection and topped with the most delish green sauce.  
If you ask me, this sauce is the star of the show, and I would easily drizzle it on all the things!  Salads, sandwiches, tacos, veggies, different types of protein, eggs, I could go on!
I love this meal because it's quick, full of flavor, and beautiful. It's the perfect choice when entertaining because you can do most of the work ahead of time! 
 My 3rd culture kid brain is all about mixing flavors from all over the world, and If you do make this while entertaining, here are some global sides that would work perfectly with it.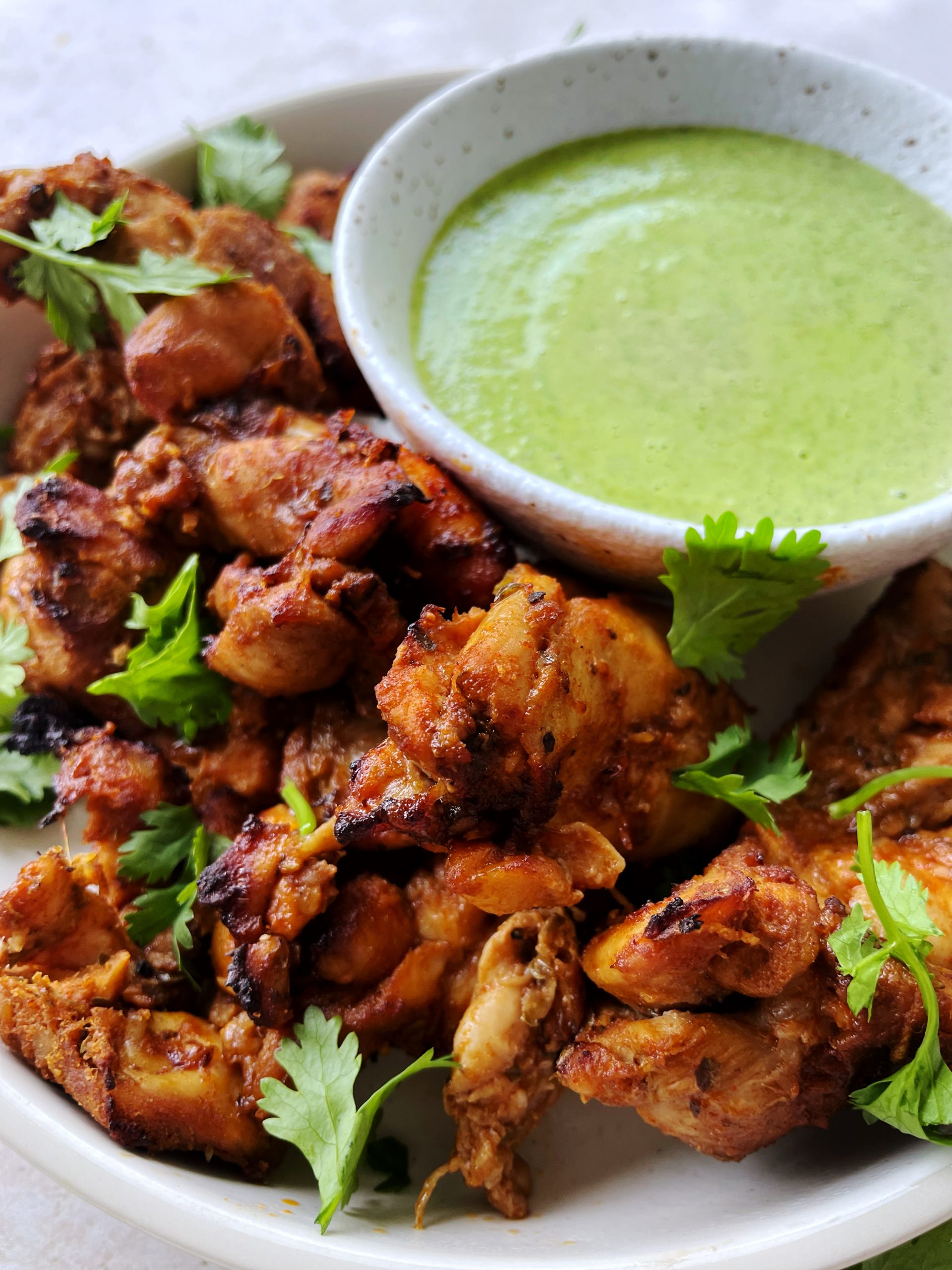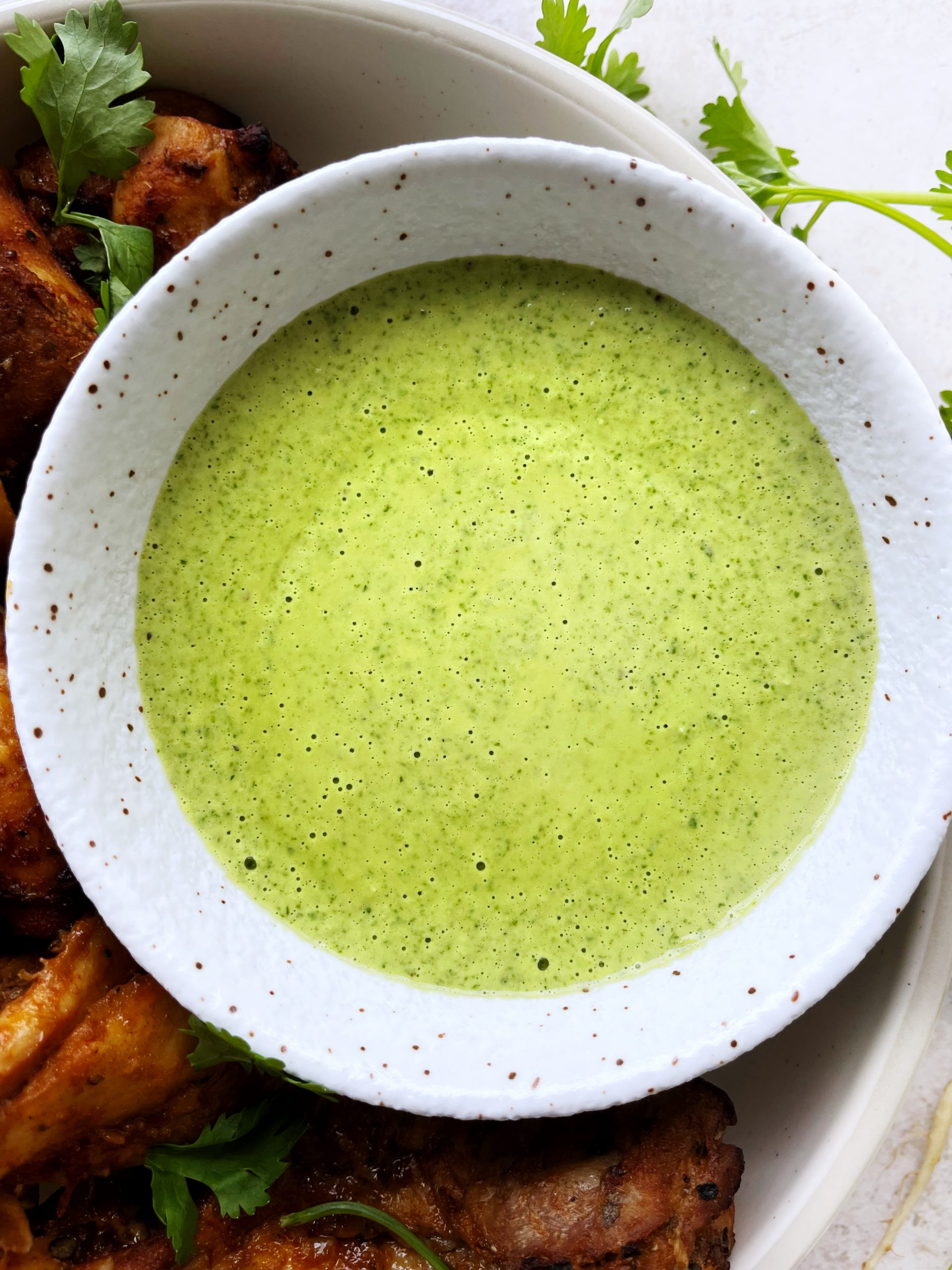 Yield/Servings: 4
Author: Riyana Rupani
Print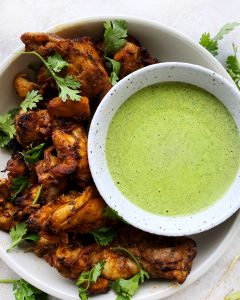 Peruvian-Style Roast Chicken with Green Sauce
Tender Peruvian-style roast chicken with a creamy spicy green sauce
PREPARATION TIME: 15 MIN
COOKING TIME: 50 MIN
INACTIVE TIME: 8 HOURS
TOTAL TIME: 9 H & 5 M
INGREDIENTS
Chicken
5

garlic cloves, finely grated or minced
3 tbsp Everiday coconut aminos
2 tablespoon lime juice
1.5 Tbsp olive oil
1 Tbsp smoked paprika
2 tsp ground cumin
1 tsp oregano
1 tsp freshly ground black pepper
½ teaspoon fine sea salt
1 KG Chicken thigh and legs
Green Sauce
3 jalapeños
1 cup fresh cilantro leaves
2 green onions (chopped (green parts only) )
2 cloves garlic (peeled)
1/4 cup mayonnaise
1/4 cup Greek yogurt or dairy-free yogurt
1 Tbsp lime juice
1/2 teaspoon salt
1/4 tsp black pepper
2 tbsp extra virgin olive oil
INSTRUCTIONS
Chicken
Puree the chicken marinade ingredients in a small blender.

Put chicken in a large ziploc bag and add marinade. Place in refrigerator and allow to marinate for 8 to 24 hours.

When ready to cook, preheat the oven to 200℃ / 400℉ place the chicken pieces in a roasting pan. Bake on the middle rack for 40 minutes, halfway through cooking you want to brush the marinade and meat juices onto the chicken pieces.

Turn the oven on to broil, brush the chicken with spices and juices again, and move the chicken up to the top rack and cook for 5 more minutes.
Green Sauce
Combine all ingredients except the olive oil in a blender and process until smooth. With the motor running, slowly drizzle in olive oil. Transfer to a bowl and refrigerate until ready to serve