THIS PLANT-BASED VERSION OF SATAY WILL HAVE YOU COMING BACK FOR MORE!
Satay is a favorite street food here in Singapore but you don't usually find a plant-based version of it!
These satays are full of fresh and aromatic flavors.  I've used tempeh and it's marinated with herbs and spices such as lemongrass, coriander, cumin, and turmeric.  The flavor is fresh and citrusy.  It pairs perfectly with the peanut dipping sauce that is warm and a tad sweet.
When choosing your tempeh or tofu, look for one that is organic and non-gmo.  Many soybeans are genetically modified and we want to avoid this. 
I know tempeh might be harder to find outside of Asia, so feel free to sub the tempeh with firm tofu.  Remember, you want your tofu to be organic and non-gmo as well.
I've used bell peppers and onion on my skewers but you can use any vegetable or omit these.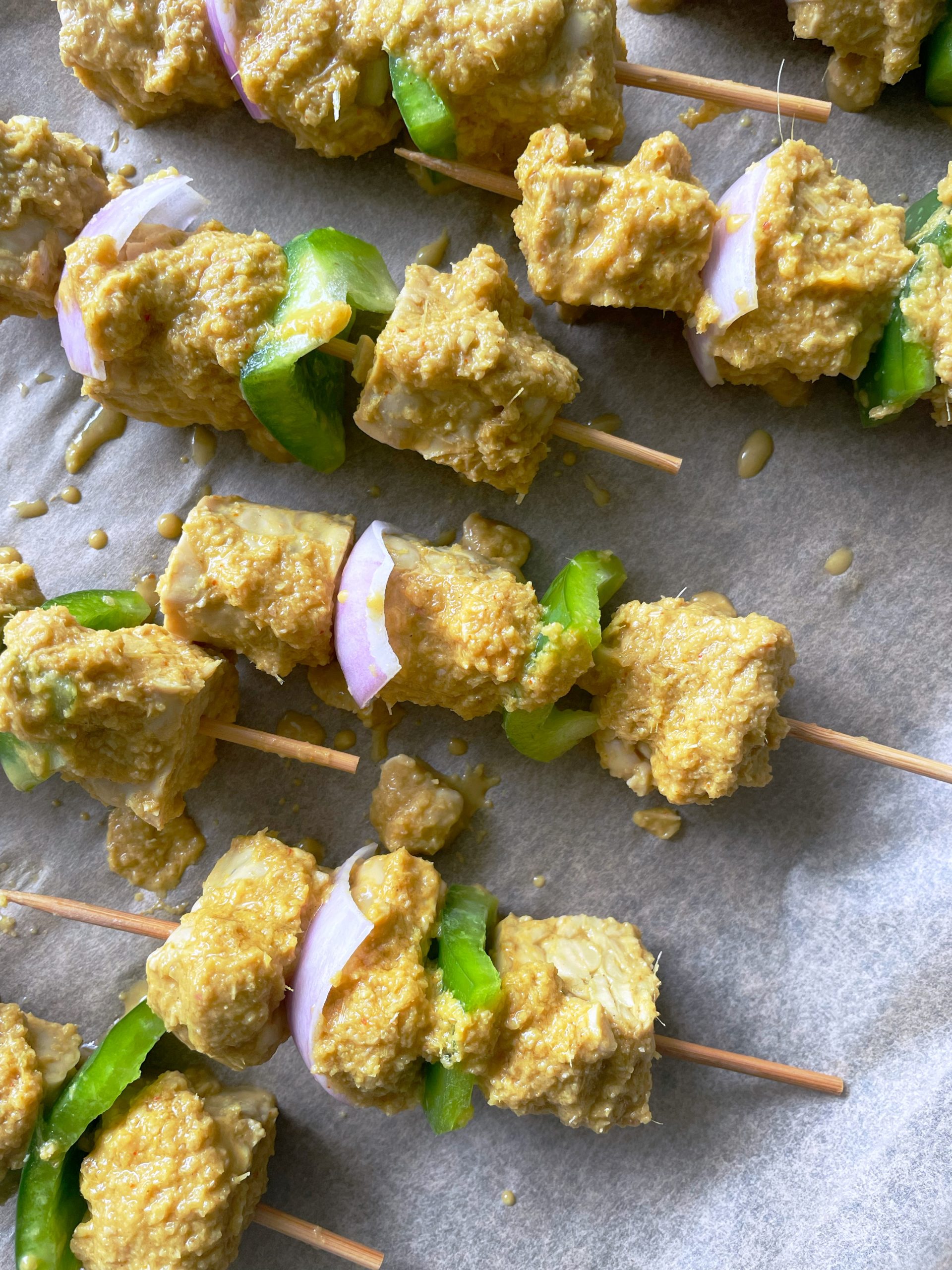 Before baking.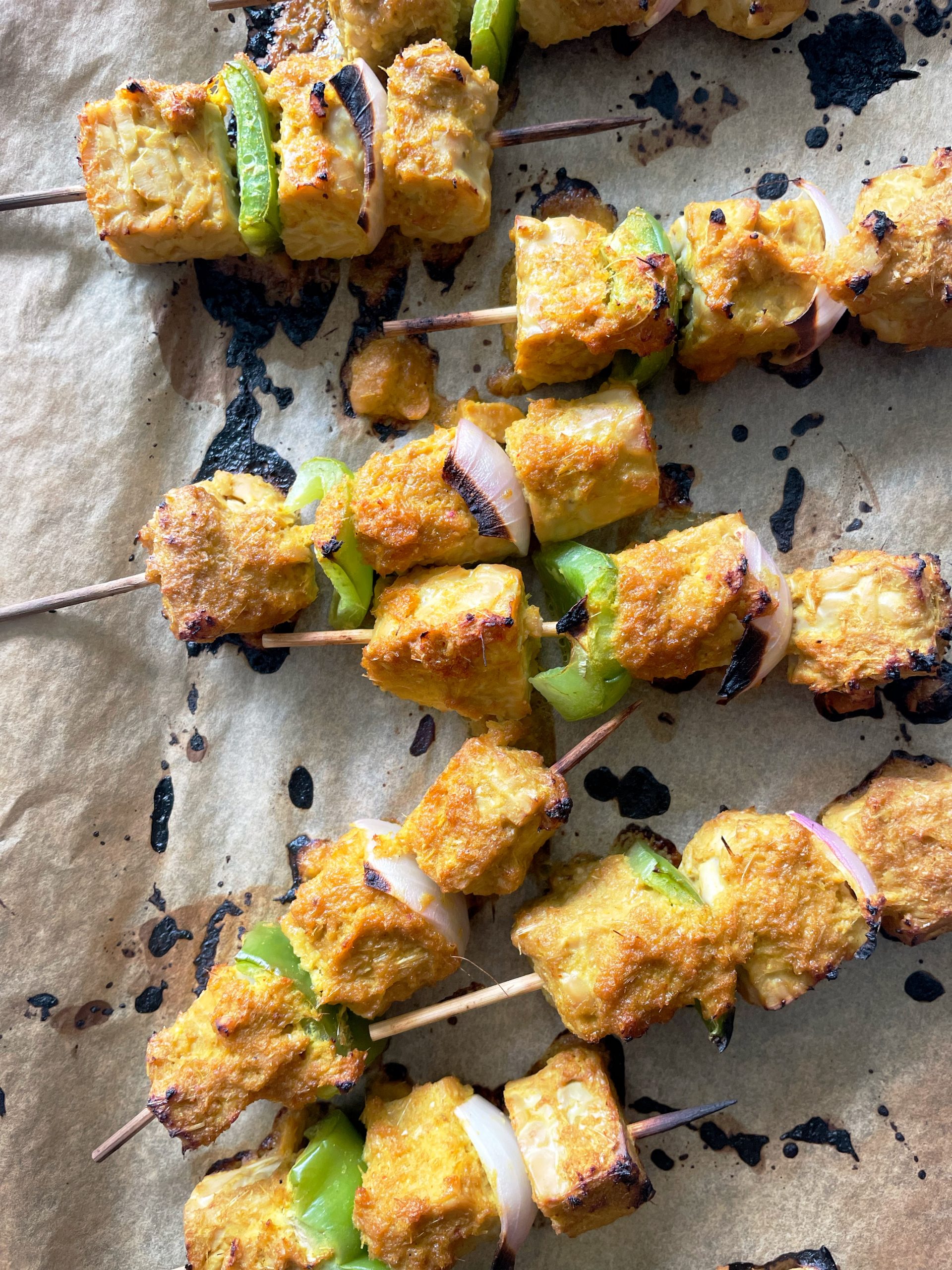 After baking.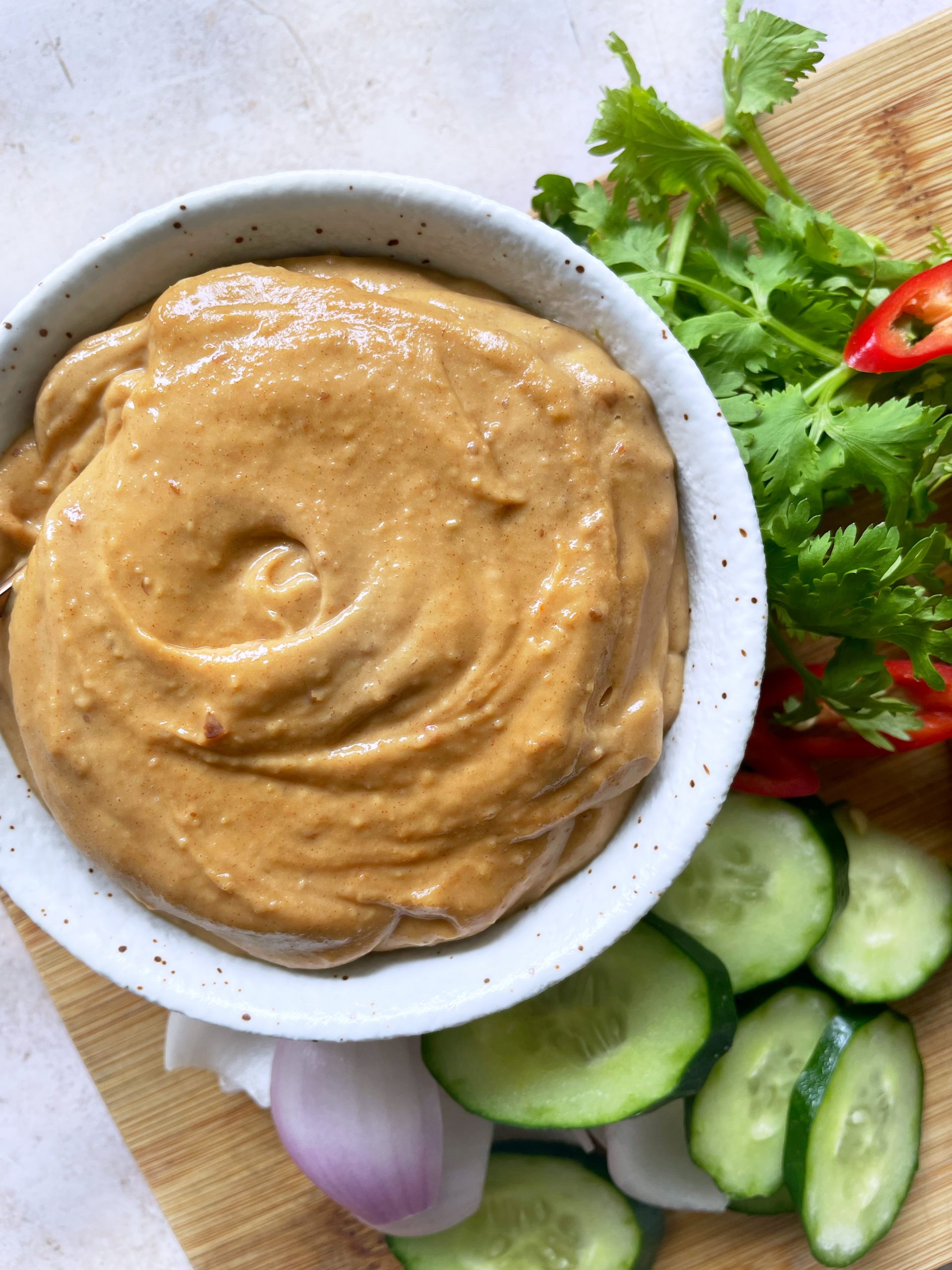 Peanut Sauce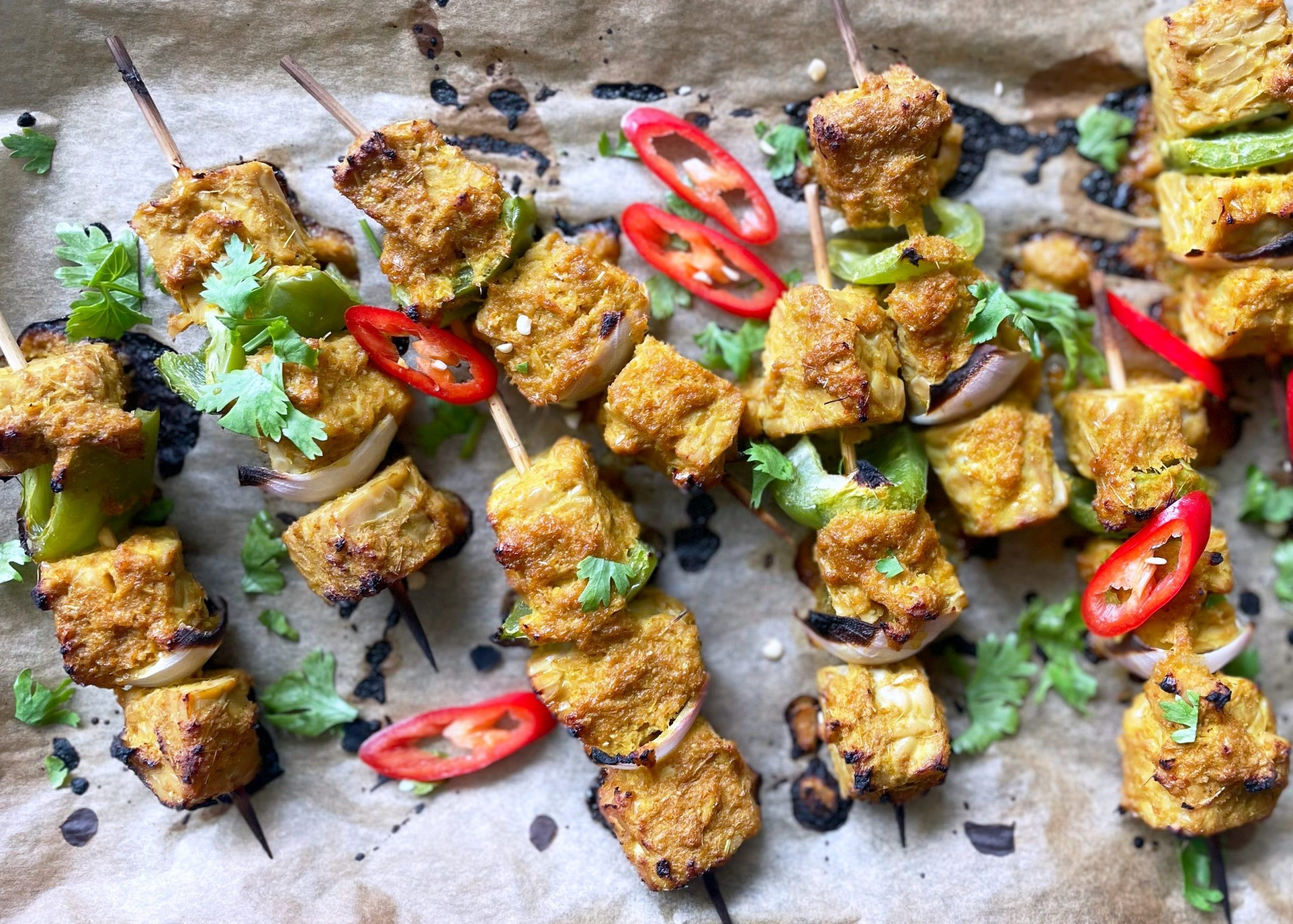 Yield/Servings: 8 - 10 skewers
Author: Riyana Rupani
Print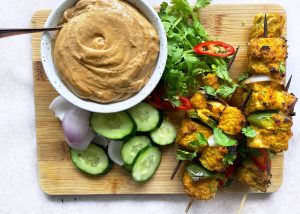 Tempeh or Tofu Satay with Peanut Dipping Sauce
A delicious plant-based version of the popular South East Asian dish.
PREPARATION TIME: 15 MIN
COOKING TIME: 20 MIN
INACTIVE TIME: 30 MIN
TOTAL TIME: 1 HOUR
INGREDIENTS
Tempeh Satay
300g / 11 oz tempeh or tofu, cut into 1" cubes. (always look for organic, non-gmo)
4-inch lemongrass stalk or zest of half a lemon if you can't get lemongrass
1 small red onion
2 garlic cloves 
2-inch piece ginger
3 tbsp lime juice
2 tbsp coconut aminos or tamari
1 tbsp avocado oil
1 tsp coriander powder 
1/2 tsp cumin powder
1/4 tsp turmeric
1 tsp Ri's red chili sauce (or more according to heat preference.)
salt to taste
1/2 large date (about 15g / 0.5 oz)
optional - bell pepper and onion chopped into 1" pieces
Peanut Dipping Sauce
1/4 cup peanut butter
2 tbsp lime juice
1.5 large date (about 45g /1.5 oz)
1 tbsp coconut aminos
1-inch piece ginger
salt to taste
water as needed to thin
INSTRUCTIONS
Soak wooden skewers for 30 min
remove the tough part of the lemongrass stalk and chop the softer inner.
add the chopped lemongrass along with the rest of the marinade ingredients to a small food processor/blender and grind to a paste.  The marinade won't be completely smooth.  This is ok
in a bowl marinate the tempeh cubes at room temp for 30 minutes or in the fridge for up to 12 hours.
preheat the oven to 200C/400F.
skewer the tempeh cubes, alternating with pepper and onion if using.
Lay the tempeh skewers onto a lined baking tray and spoon over the remaining marinade from the bowl.
Bake the skewers for ~12 minutes. 
After 12 minutes, turn on the broiler and broil on a top shelf for ~5 min.  Watch carefully.
For the peanut dressing.  blend all the ingredients together in a small food processor.  Add water as needed to get the consistency you like.  taste and adjust seasoning as needed.