A GRAIN-FREE ROTI OR CHAPATI RECIPE YOU WILL LOVE!
During my healing journey, there was a time I had to give up grains completely. 
I could manage without the bread and rice but I loved my chapati/roti which accompanied many of my meals.   If you are in a similar place and feel the same, I think this recipe will make you very very happy.
This recipe was derived from my original paleo paratha and my paratha 2.0. I still love these recipes when I am looking for a more hearty flatbread to go with rich curries, but when I want something light, this has become my go-to. 
I use this recipe to make about 6 chapatis and in regards to the macros, they are about 5.8g of fat, 6.7g of carbs, and 2g of protein each.  (derived using my fitness pal).
The key to making these chapati or rotis is to take your time while cooking.  The batter is like a pancake batter as opposed to a dough and each side needs 2 to 3 sides to cook.  The longer it cooks the crispier it will get.
If you are replacing the almond flour with coconut flour, please half the amount.  The ratio of almond to coconut flour is 2:1
I plan on trying these out in replacement for soft tacos, and maybe even empanada dough!
Would love your review if you try these!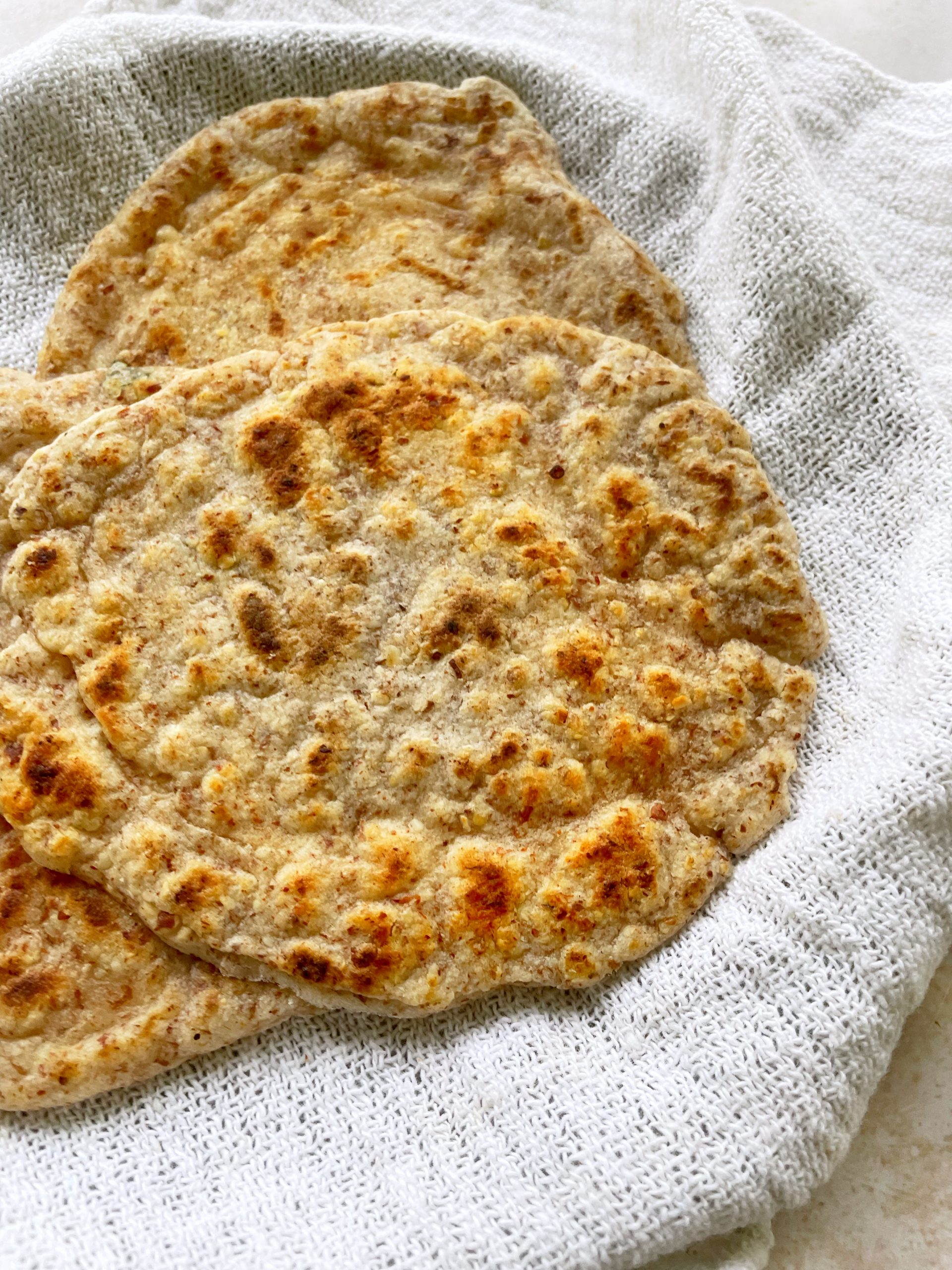 Yield/Servings: 6
Author: Riyana Rupani
Print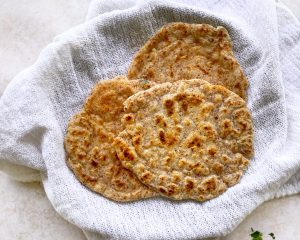 Grain-Free Roti/Chapati
A grain-free Indian flatbread recipe
PREPARATION TIME: 5 MIN
COOKING TIME: 20 MIN
TOTAL TIME: 30 MIN
INGREDIENTS
1/2 cup raw almond flour (blanched almond meal works as well but I prefer the consistency and color with the raw)
1/4 cup tapioca or arrowroot flour
1/2 tsp salt
1 tbsp melted ghee or olive oil
3/4 cup water
INSTRUCTIONS
combine all the ingredients in a bowl to form your batter
heat and lightly grease a pan.  Once hot, pour a roughly 1/4 cup spoon of the batter into the pan and spread with the back of the spoon in a circular motion.
Let the roti cook completely for 1 to 1.5 minutes on one side and then flip.
Be patient with these, they do take some time to cook, but the end result is worth it.
NOTES:
The longer you let the rotis cook, the crispier they will become.  They store well in the fridge for 2 days, and can be frozen for longer.