ESSENTIAL THAI CHILI SAUCE FILLED WITH HERBS AND SPICE.
Prik literally means chili in Thai, and Nam Prik is quite simply chili sauce.
What's in nam prik?
If you google nam prik, you will get a slue of descriptions and recipes.  In general, it should have:
herbs for freshness
chili for heat
fish sauce or shrimp paste (can use a veg version)  for umami
lemon or tamarind for sour
something to sweeten.
Having all of these components is essential to Thai cooking.
My version has ingredients like galangal, garlic, tamarind, and dates to sweeten.
How to use nam prik?
This can be used in a variety of ways.  And can give anything a the Thai zing you love.  Dipping, seasoning, sauteing, topping, tossing, slathering, etc.
I love to use this as a dipping sauce with fresh spring rolls.  It's also wonderful to add to rice and protein to make Thai-style fried rice.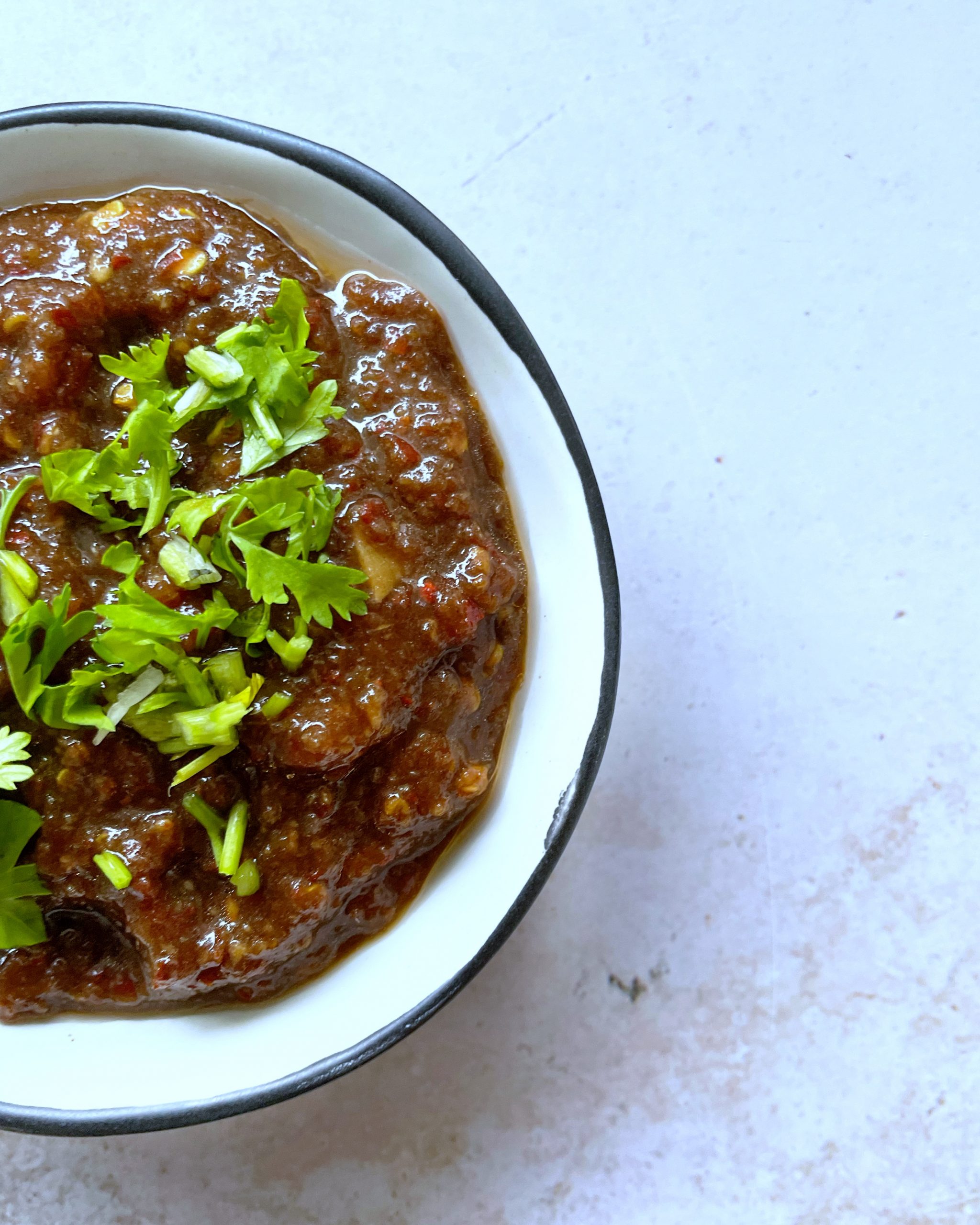 Yield/Servings: 1/3 cup
Author: Riyana Rupani
Print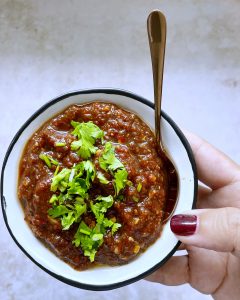 Nam Prik – Thai Chili Sauce
Use this delicious sauce as a marinade, stir-fry, or as a condiment or dipping sauce
INGREDIENTS
1.5-inch piece fresh galangal or young ginger, peeled and roughly chopped
1 garlic clove, peeled and roughly chopped
1 tbsp red boat fish sauce (can sub with vegan fish sauce or ~ 1 tsp salt for vegan & vegetarians)
2 tsp red chilli flakes (or to taste)
1 tbsp tamarind paste or 1 tsp tamarind concentrate
1 large Medjool date (~25g)
4 cherry tomatoes (~50g)
2 tbsp lime juice
2 tsp avocado oil
salt to taste
2 tbsp cilantro, stems and leaves, finely chopped (~5g)
INSTRUCTIONS
Put the galangal and garlic in the small food processor, and whiz till you have small pieces
Add the fish sauce, chili flakes, tamarind, date, tomatoes, and lime juice, blend again
pour into a bowl and add the avocado oil and give a mix.
taste for salt and add accordingly.
lastly, stir in the chopped cilantro.
NOTES:
adapted from a recipe by Yotam Ottolenghi