HOW TO MAKE PERFECT BACON IN THE OVEN
Perfect bacon, every time.
I know, I was skeptical too, but cooking up bacon in the oven is easy, fast, and efficient.  
No need to pre-heat the oven, just pop in your bacon, turn the oven on to 200C/400F and wait 10-15 minutes.  How long it takes depends on how crispy you like the bacon and how thick your cut it.
This works well with traditional bacon, turkey bacon, and beef bacon.
For my vegetarian friends, don't think I would leave you out!  Make sure you try my addictive coconut bacon!!
In regards to the quality of bacon, always check your ingredients.  Ideally, you want to be avoiding bacon that contains nitrates, nitrites, preservatives, and sugar.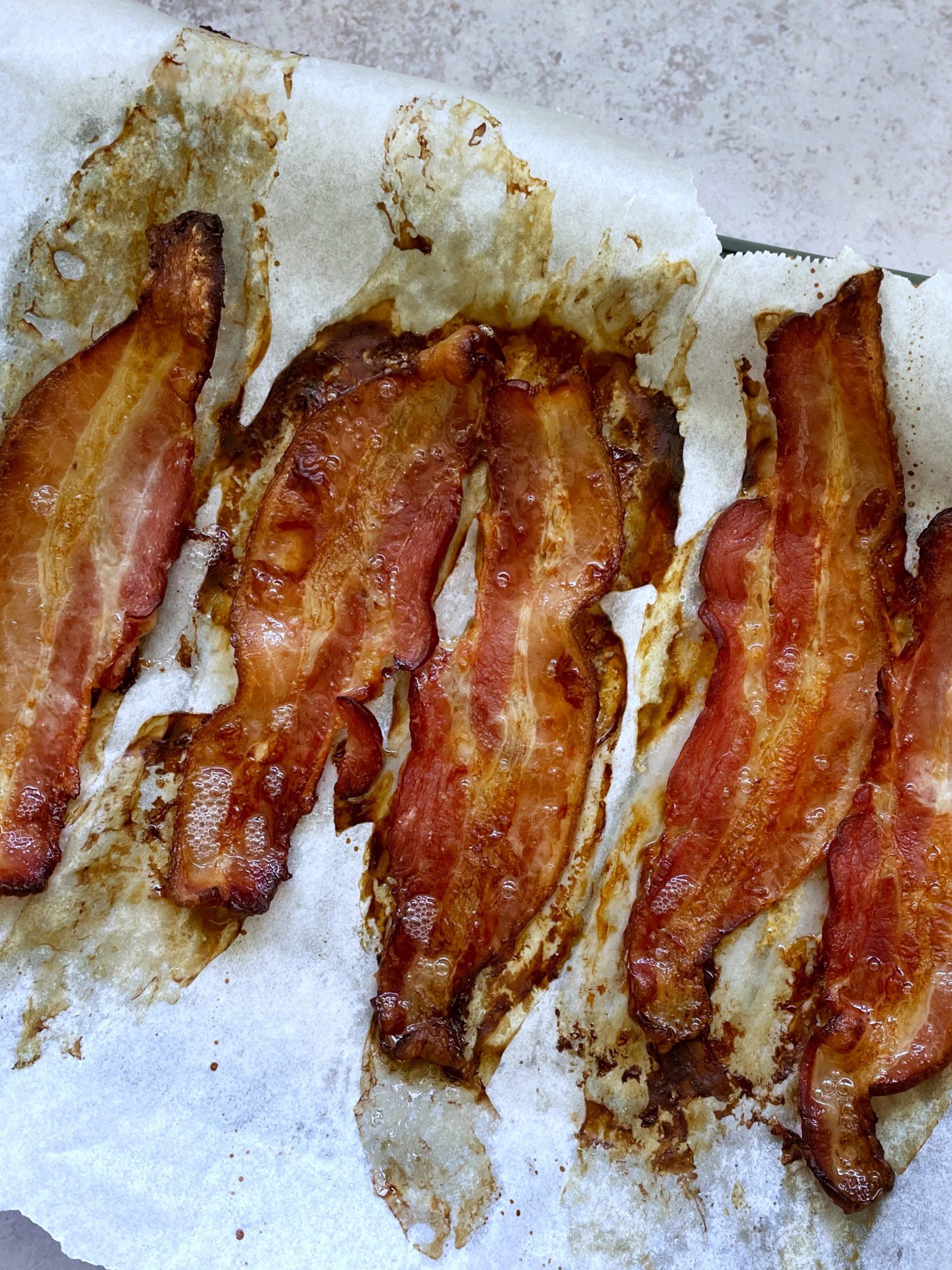 Yield/Servings: As much bacon as you like
Author: Riyana Rupani
Print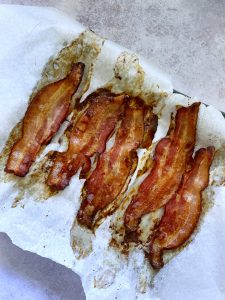 Perfectly Baked Bacom
How To Make Perfect Bacon in the Oven
PREPARATION TIME: 1 MIN
COOKING TIME: 15 MIN
TOTAL TIME: 16 MIN
INGREDIENTS
Bacon Strips (traditional or turkey)
Parchment paper
Baking tray
INSTRUCTIONS
Line your baking tray with parchment paper and arrange the bacon in a single layer.  Don't let the bacon overlap or they'll stick together during cooking.

Heat the oven to 200 C/400 F and stick your tray of bacon in.  You don't need to let the oven preheat.

Bake until the bacon is deep golden-brown and crispy.  This should take about 10 to 15 minutes but could take shorter or longer depending on how crispy you like your bacon or how thick your bacon is.

Use tongs to transfer the bacon to the paper towels to drain and finish crisping. Serve immediately.

If you want to save the bacon fat, let it cool slightly, then pour it through a fine-mesh strainer into a heatproof container and refrigerate. If you don't want to save the grease, let it solidify on the baking sheet, then crumple the foil or paper around it and discard.