BEWARE, THIS STUFF IS ADICTIVE!
I'll admit, I love Bacon.
Everything from the crunchy chewy texture to the smokey, caramel, and salty flavor.
What I don't love is how it's almost impossible to find good quality bacon that isn't loaded with nitrates, preservatives, sugar, and other nasties!
If you are like me and love the flavor of bacon, but not all the processing it goes through, OR if you are simply trying to cut down on your meat consumption or processed food consumption, you are going to love this recipe!
So what's the secret ingredient in this recipe?
Liquid Smoke!  I seriously love this stuff.  It literally makes anything you add it to taste like it's been roasted, and charred to perfection.  It's my secret ingredient when I want a smokey baba ganoush or when I want foods I cooked in my oven to taste like they just came off the BBQ.
What do I like my coconut bacon with?
Salads, soups, stews, as a crunchy side with breakfast, sprinkled on dips like guacamole, and so much more!
Wherever you use bacon, you can easily replace it with this vegan, and clean alternative.
Enjoy!
Yield/Servings: 1 Cup
Author: Riyana Rupani
Print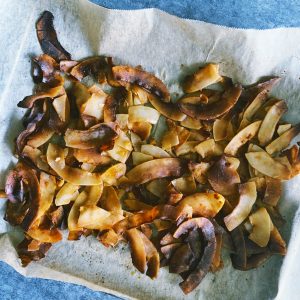 Vegan Coconut Bacon
An addictive, tasty topping. You won't miss the real thing!
PREPARATION TIME: 2 MIN
COOKING TIME: 15 MIN
TOTAL TIME: 17 MIN
INGREDIENTS
INSTRUCTIONS
Preheat oven to 170 C / 360 F.
Line a baking sheet with parchment paper
Directly on the baking sheet, add coconut flakes, oil, coconut aminos, paprika, maple syrup (if using), liquid smoke, and salt. Toss to thoroughly coat.
Bake for a total of 12-15 minutes, stirring the coconut bacon half-way through the baking time. The coconut bacon should be crispy and golden brown (watch carefully in the last minutes of cooking, not to burn).
Let cool for approximately 10 minutes - it will continue to crisp as it cools.
Coconut bacon is great for adding to salads, soups, savory breakfast, etc.
Keep leftovers in an airtight container at room temperature for up to 1 week
NOTES:
*In Singapore, I found liquid smoke at Huber's Butchery.