SO GOOD, YOU'LL NEVER BELIEVE THEY ARE GRAIN, REFINED SUGAR, DAIRY, AND EGG FREE!
These cookies are a hit, whether you are vegan or not!
Perfectly firm on the outside and lovely and chewy on the inside.
You or your kids will never know the difference and definitely won't be missing the grains or refined sugar with these!
In the recipe, I've used almond butter, but these turn out wonderful with cashew butter, peanut butter, or for nut-free, try sunflower butter.
Feel free to change up the toppings too!  These would be great with dried cranberries or fresh blueberries for a nice twist!
If you love these, I,m sure your gonna also love my  Favorite Paleo Chocolate Chip Cookies.  They don't disappoint!
Yield/Servings: 10-12
Author: Riyana Rupani
Print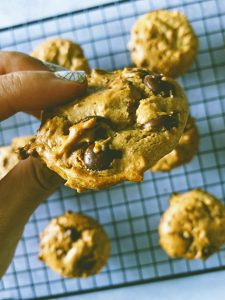 Vegan Chocolate Chip Cookies
These are so good, you'll never believe they are dairy, egg, grain, and refined sugar free!
PREPARATION TIME: 10 MIN
COOKING TIME: 15 MIN
TOTAL TIME: 25 MIN
INGREDIENTS
1 cup almond butter (or nut/seed butter of choice)
1/3 cup coconut sugar
1/4 cup tapioca starch
1/4 cup non-dairy milk
1 tsp baking soda
1 tsp vanilla extract
1/2 tsp salt
1/3 cup chocolate chips
INSTRUCTIONS
Preheat the oven to 180C/350F.
Whisk together the almond butter, coconut sugar, non-dairy milk, and vanilla.
Add the tapioca starch, baking soda, and salt. Stir to combine.
Fold in the chocolate chips.
Use a spoon or cookie scoop to drop spoonfuls of batter onto a lined baking sheet. Space them out as they will spread quite a bit (you will need 2 pans or to bake in 2 batches).
Bake for 12-14 minutes.
Remove from the oven. Cool for 5-10 minutes before transferring to a cooling rack.
Enjoy!