WHETHER YOU ARE VEGAN OR NOT, YOU ARE GOING TO LOVE THIS SALAD
This salad is a flavor bomb!
Crunchy roasted chickpeas, addictive savory sweet coconut bacon, all creamy avocado, all topped on a beautiful bowl of kale and tossed with the most delicious vegan caesar dressing ever. 
You are going to love it!
Kale is my go-to for many of my salad bases.  Why?  Because it's nutrient-dense but also because it holds well!  I'm all about making big portions when I cook and enjoying leftovers.  Kale doesn't go wilted or limp easily, so I personally love it!  Check out these other kale-based recipes.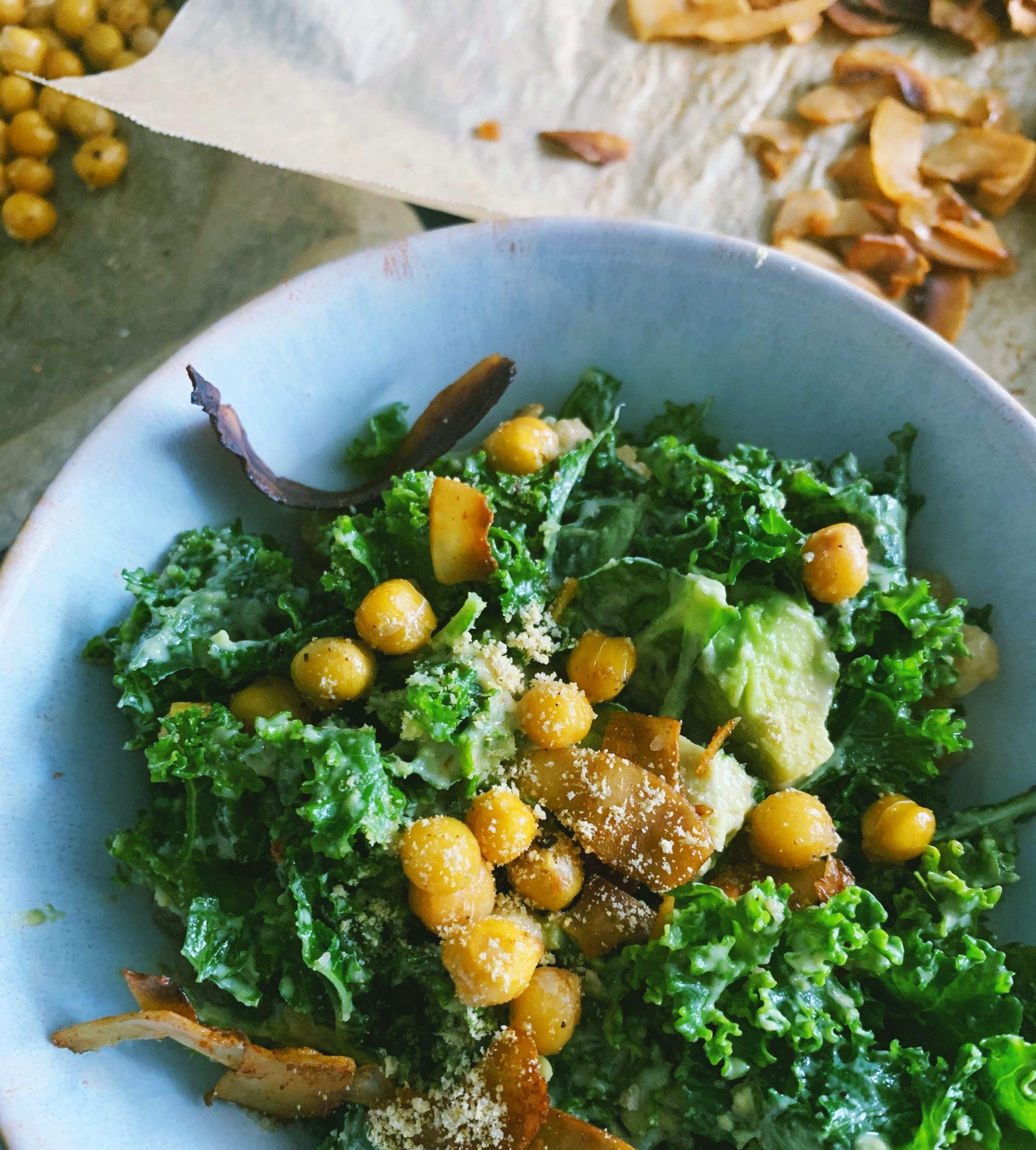 Yield/Servings: 2
Author: Riyana Rupani
Print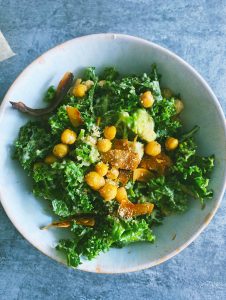 Vegan Kale Caesar Salad
A delicious plant-based version of the classic Caesar
PREPARATION TIME: 15 MIN
COOKING TIME: 30 MIN
TOTAL TIME: 45 MIN
INGREDIENTS
Dressing
1/2 cup cashews, soaked in hot water for at least 1 hour (or sub with 1/4 cup cashew butter

2 tbsp extra virgin olive oil

1 Tbsp apple cider vinegar

2 Tbsp Nutritional Yeast

1/4 a lemon, juiced (about 1.5 tbsp)

1 large clove of garlic minced finely (or 1/2 tsp garlic powder)

1 tsp mustard

1 tbsp capers

1/4 cup water (or more as needed to thin the dressing)

salt & pepper to taste

chili flakes to taste (optional)
Coconut Bacon
1 cups large flake unsweetened coconut

1/2 Tbsp avocado oil

r another neutral oil)

1Tbsp coconut aminos

1/2 tsp smoked paprika

1/2 Tbsp maple syrup (omit for Cin15 & PB Whole30)

1 tsp liquid smoke

1 pinch of salt

1/2 tsp black pepper
Salad
About 6 cups kale chopped

1 can chickpeas, rinsed and drained

1 tsp ground cumin

1/2 tsp garlic powder

2 to 3 Tbsp olive oil, divided

salt to taste

1 avocado chopped
INSTRUCTIONS
Preheat the oven to 200C/4000F & Soak your cashews.

 

Place the chickpeas on a baking pan, drizzle with about 1 Tbsp oil, and sprinkle with salt, cumin, and garlic powder, and give everything a good mix.

 

Bake for 30 minutes total.

 

At the 15 min mark, give the chickpeas a little toss and continue baking.

 

For the coconut bacon, mix all the ingredients and place on a lined baking tray.

 

spread the coconut flakes out so they aren't touching.

 

When you have 5-6 minutes left of baking for the chickpeas, add the coconut bacon to the oven.

 

These only need a few minutes to cook up.

   

While the chickpeas & coconut bacon are cooking, prepare your kale.

 

Chop kale into thin ribbons and place in a large bowl.

 

massaging with about 1.5 Tbsp olive oil and salt for about 2 minutes.

 

For the dressing - combine all ingredients in a high-speed blender.

 

Add water as needed to thin.
Once the chickpeas and bacon are cooked, mix all your salad components together and serve.

 

Saving some coconut bacon for garnish.