CAULIFLOWER AND POTATO COOKED IN AROMATIC SPICES.
I've moved this traditional dish I grew up eating from the stovetop to my oven.
There is something about popping a dish in the oven, setting a timer, and forgetting about it.  When a dish is being cooked on the stove I tend to feel I need to hover over it!  Maybe it's just me!
Anyway, I love when I can convert a stovetop recipe to an oven one, and this oven-roasted gobi aloo turned out wonderful.
The cauliflower (gobi) and potato (aloo) turned out perfectly tender, and the onions were beautifully caramelized.
If you are having this as a standalone dish with some rice or grain-free roti, I would probably add in some chickpeas for protein.  As a side dish, It is just perfect as is.
Yield/Servings: 4
Author: Riyana Rupani
Print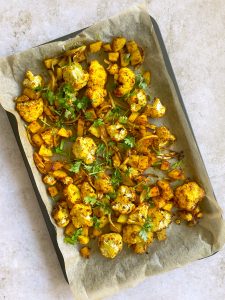 Oven roasted Aloo Gobi (Potato & Cauliflower)
a traditional Indian spiced cauliflower and potato dish made conveniently in your oven
PREPARATION TIME: 10 MIN
COOKING TIME: 30 MIN
TOTAL TIME: 40 MIN
INGREDIENTS
1 medium head of cauliflower, cut into florets
2 medium potatoes, peeled and cubed into 1" squares
1 medium brown or white onion, sliced
3 cloves of garlic grated
2" piece of ginger, grated
1/2 tsp turmeric
1 tsp cumin powder
1 tsp coriander powder
1/2 tsp garam masala
1/2 tsp chili powder (or to taste)
salt & pepper to taste
2 tbsp avocado or olive oil
Garnish
fresh cilantro, chopped
lemon, quartered 
INSTRUCTIONS
Preheat your oven to 200℃/390℉
Add your chopped cauliflower, potato, and sliced onion to a large bowl
Add your spices.
Add your oil.
Give everything a good mix
Transfer the spiced mixture to a lined baking tray
Bake for 35 to 40 minutes.
Garnish with fresh chopped cilantro and a squeeze of lemon.