CLASSIC SHAWARMA BUT AS A SALAD!
A flavor-packed Middle Eastern salad recipe that you'll have on repeat!
This shawarma salad is so simple to put together.  It's perfect to prep the night before for an easy weekday lunch or dinner you will want to have on repeat.   
I have used my simple tahini dressing on this but if you have some fresh herbs in the fridge, my herbed tahini dressing would go great too!
If you love middle eastern flavors, definitely check out these recipes that pair perfectly with this salad!
Yield/Servings: 2
Author: Riyana Rupani
Print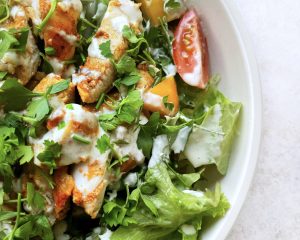 Shawarma Salad
A delicious salad inspired by the classic Middle Eastern Shawarma
PREPARATION TIME: 10 MIN
COOKING TIME: 20 MIN
WAITING TIME: 1 HOUR
TOTAL TIME: 1 H & 30 M
INGREDIENTS
Shawarma 
250g boneless skinless chicken thighs
1.5 tbsp olive oil
1 tbsp lemon juice
2 garlic cloves minced
½ tsp salt
½ tsp paprika / kashmiri mirch
¼ tsp cardamom powder
½ tsp cumin powder
¼ tsp cinnamon
⅛ tsp crushed red pepper
Salad
3 cups r

omaine lettuce or mixed greens chopped
8 to 10  cherry tomatoes, halved
1 cucumber, chopped
½ small onion sliced
½ a bell pepper (any color), chopped
¼ cup chopped fresh parsley 
Optional toppings
pickled onions
pickled peppers
INSTRUCTIONS
Place the shawarma marinade ingredients in a large bowl: olive oil, lemon juice, garlic, salt, paprika, cardamom, cumin, cinnamon, and crushed red pepper; and whisk to blend.

Add the chicken into the bowl with the marinade and stir with a spoon to evenly coat the chicken. Cover the bowl and place in the refrigerator to marinate for at least 1 hour or up to 24 hours.

While the chicken is marinating you can prep the salad and the dressing.

Heat a large heavy-bottomed skillet or cast iron skillet over medium-high heat and add the marinated chicken to it. Cook until the chicken is cooked through, about 10 - 15 minutes.  Try not to move the chicken too much so it gets good color and a possible char.  

Once cooked cut the chicken into strips.

Divide the salad ingredients into two bowls. Add the chicken shawarma on top and drizzle with the tahini dressing.

Serve garnished with fresh parsley, and optional pickled onion or peppers.