A SUPER SIMPLE SALAD TO PAIR WITH YOUR INDIAN MEAL
Kachumber salad is a simple traditional Indian salad.
The freshness and crispness of the onion and cucumber combined with the acid of lemon work beautifully to cut through the spices generally found in Indian cuisine.
Traditionally this salad also has tomatoes in it, but the quality of the tomatoes you find here in Singapore isn't the best so I've chosen to leave them out.  If you do include them, make sure they are top quality!
This salad pairs well with any grilled dishes or any curries.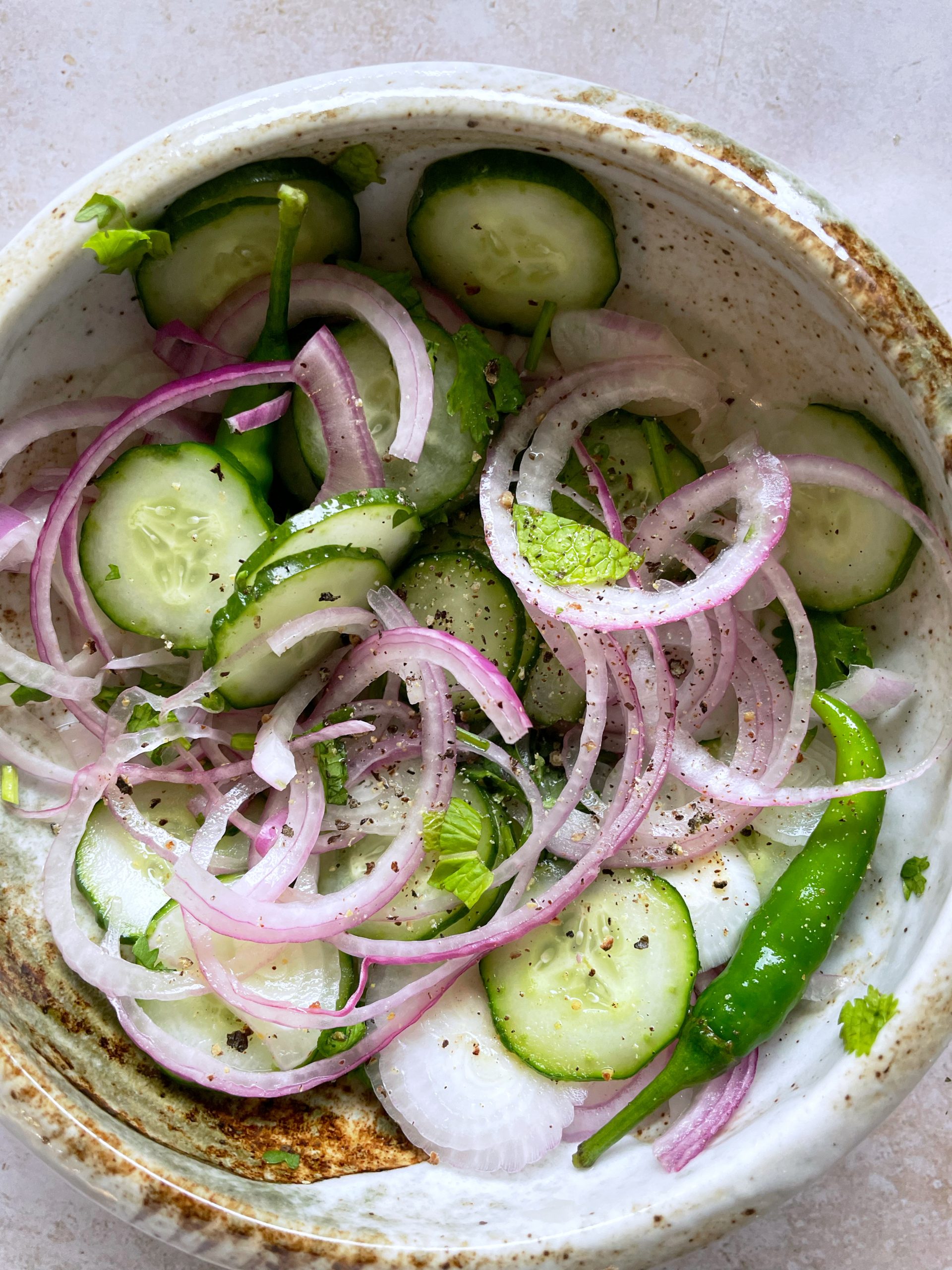 Yield/Servings: 2
Author: Riyana Rupani
Print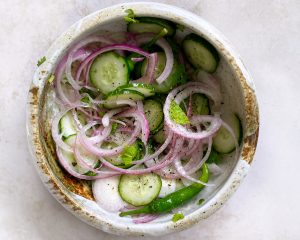 Kachumber Salad
A simple salad to accompany your Indian meal
PREPARATION TIME: 10 MIN
TOTAL TIME: 10 MIN
INGREDIENTS
1 medium-sized onion, sliced thin

½ 

cup

sliced cucumber

1

 

tbsp

finely

chopped mint leaves

2 tbsp

chopped cilantro

1 to 2

 

tsp

 

lemon juice

 

1 green chili finely chopped (optional)

½ 

teaspoon

 

roasted cumin powder

 

or regular ground cumin

1/4 tsp black salt (optional)
salt & fresh ground pepper to taste
INSTRUCTIONS
toss all your ingredients.
Check your seasoning and adjust accordingly.
Serve with your favorite Indian meal.
NOTES:
Kachumber salad typically has tomato in it as well, but the quality of tomatoes we get in Singapore isn't the best so I have omitted them.  If you are using tomato, make sure they are good quality!