A ONE-PAN MEAL YOU ARE SURE TO LOVE.
I love a good one-pan meal.
There is something about throwing ingredients on a pan and popping it in the oven that just makes me happy.   It makes evening meal-prep and clean-up a breeze.
This dish has everything you need on one tray.  I purposely didn't choose to use any potatoes or root vegetables because I wanted the bake time to be fast and didn't want to prep any veggies ahead of time.
You do want to marinade the chicken for at least 1 hour so I like to put it to marinade in the morning and then assemble and bake once I am ready to eat.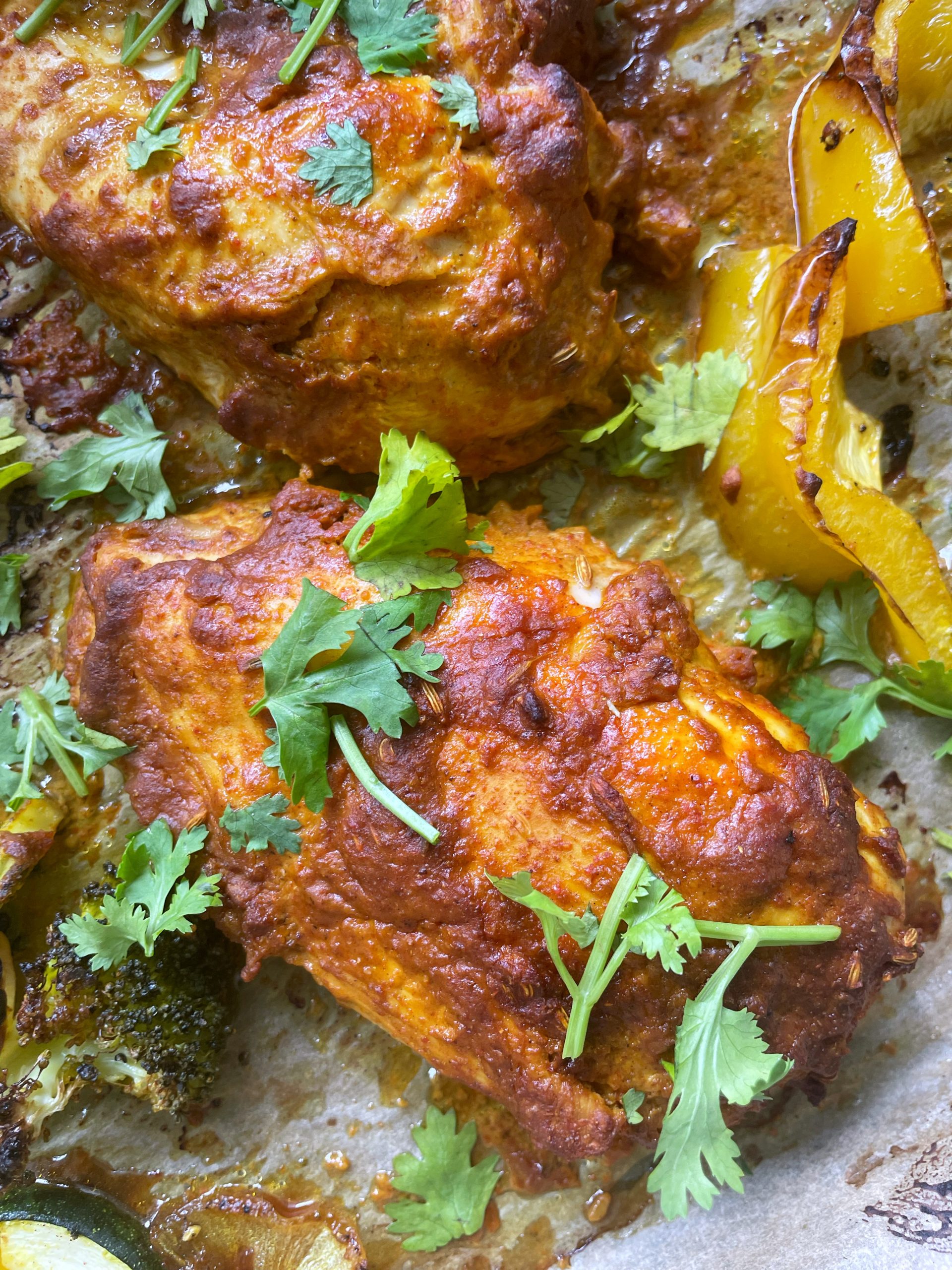 Yield/Servings: 2
Author: Riyana Rupani
Print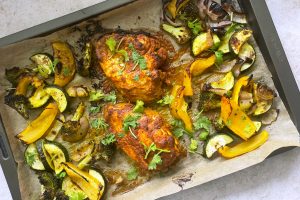 Sheet Pan Tandoori Chicken and Vegetables
an Indian one-pan meal
PREPARATION TIME: 15 MIN
COOKING TIME: 20 MIN
INACTIVE TIME: 1 HOUR
TOTAL TIME: 1 H & 35 M
INGREDIENTS
Chicken
2 chicken breast 200g each
1 tbsp olive oil or avocado oil
2 tbsp lemon juice
1 tbsp coriander powder
1/2 tbsp cumin powder
2 tsp sweet paprika
2 tsp garam masala
1 tsp fennel
1/2 tsp turmeric
1/2 tsp cayenne (optional)
salt to taste
1 tsp garlic powder
1-inch piece of ginger finely grated
2 tbsp almond or coconut or regular yogurt.
Vegetables 
~2 to 3 cups of any veg you would like to roast - I am using broccoli, zucchini, onion, and bell pepper.

 

(If you are using potato or sweet potato, they will need a longer bake time or to be parboiled beforehand.
drizzle of olive or avocado oil
1 tsp garam masala
1/2 tsp turmeric
salt and pepper to taste
INSTRUCTIONS
Put your chicken breast along with all the marinade ingredients into a ziplock bag or a dish.

 

Mix everything well so that the chicken is well coated.
Let marinate in the fridge for a minimum of 1 hour.
Preheat the oven to 425℉/220℃
Chop your vegetables into largish pieces and place them on a lined baking sheet.
drizzle with oil, sprinkle with seasoning and toss to coat.
Move your veggies to the side of the tray to make room for your chicken.
Add your chicken to the tray and get any remaining marinade from the bag/dish and slather it on top.
Bake for 15 minutes.
Optional - Set your oven to the broil setting and pop the tray on the top rack for another 5 minutes.