AN INDIAN TAKE ON THE CLASSIC TOMATO SOUP.
This tomato soup is creamy, dreamy, and spiced to perfection!  
We are crossing from summer to fall and this soup is the perfect transitional recipe.  Fresh ripe tomatoes, cooked, spiced, and blended to creamy perfection.
To make this a complete meal and to really give it that chicken tikka masala vibe, you can add some shredded chicken to the soup and I love my low-carb flatbread or Ri's Glute-Free Kulcha for dipping!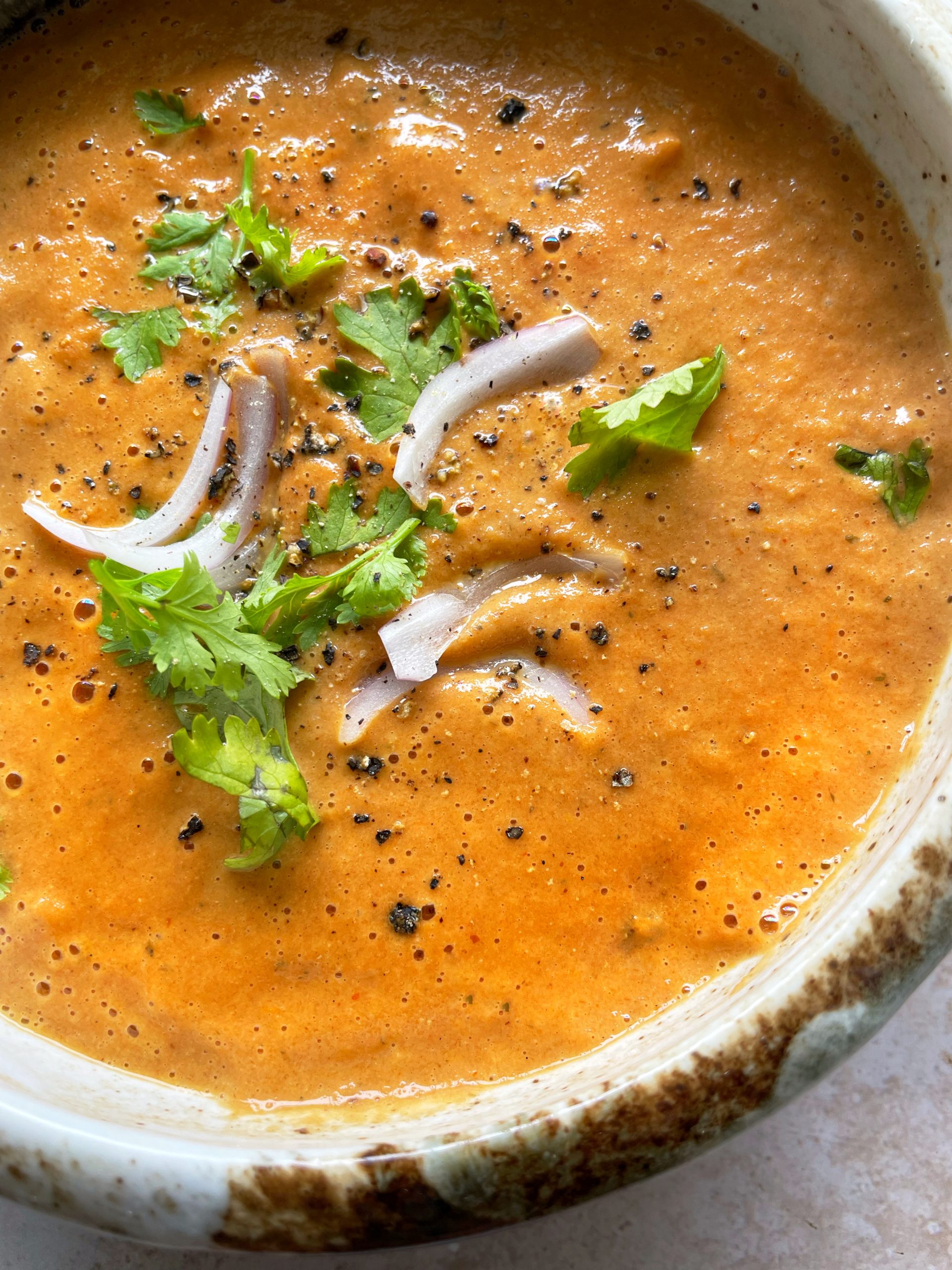 Yield/Servings: 3
Author: Riyana Rupani
Print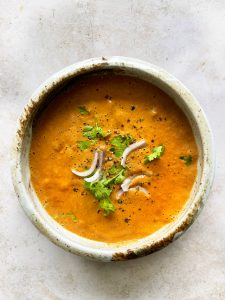 Tikka Masala Tomato Soup
A Indian take on the classic tomato soup
PREPARATION TIME: 15 MIN
COOKING TIME: 30 MIN
TOTAL TIME: 45 MIN
INGREDIENTS
Soup
500g/1.1lbs fresh tomato, halved
4 garlic cloves
1 med onion, quartered
olive oil + salt & pepper for roasting
1 cup vegetable broth
1 tbsp cashew butter
2 tsp tomato paste
1 date soaked in hot water to soften
salt and pepper to taste
Seasoning
1/2 tbsp ghee
1" piece of ginger, chopped
2 tsp Kashmiri march or sweet paprika
1.5 tsp garam masala
2 tsp kasoori methi/dried fenugreek (optional but really gives an authentic flavor)
INSTRUCTIONS
NOTES:
Preheat the oven to 450℉/230℃
Toss your tomatoes, garlic, and onion in a bit of oil and season with salt and pepper.
Roast in the oven for ~30 minutes (you can do this in an air-fryer.

 

same temp, for ~15 minutes).

 

In a small pan heat about 1 tbsp of ghee, once hot add your seasoning spices and cook till fragrant (~ 30 seconds to 1 min)
To a blender Add your roasted veggies seasoning, along with the cashew butter, veg stock, tomato paste, salt to taste, and the soaked date.
Blend till smooth.

 

Optional - run through a straighter to get a smoother consistency
Garnish with fresh cilantro and sliced onion.