SALMON COATED IN A DELICIOUS TOMATO AND FETA SAUCE. SUPER EASY TO MAKE, BIG BOLD FLAVORS!
I made a few tweaks to the viral TikTok baked feta, cherry tomato, and pasta recipe. The results were delicious!
While I love pasta, it's not something I have on the regular.  It's low on nutrients and high on simple carbs which are ok on occasion but not all the time. 
I loved the idea of feta and cherry tomatoes blistered and melted together but I wanted to use this delicious and ridiculously easy sauce over something a little healthier like a good piece of protein.
I chose salmon but this would easily work over chicken, prawns, or zoodles!
Since I made this, we have already had it a few times as a simple weeknight meal.  It really is that good and that easy.
To complete your meal, make sure you serve this up with some veggies!  One of my favorites with this is my Lemon Garlic green beans.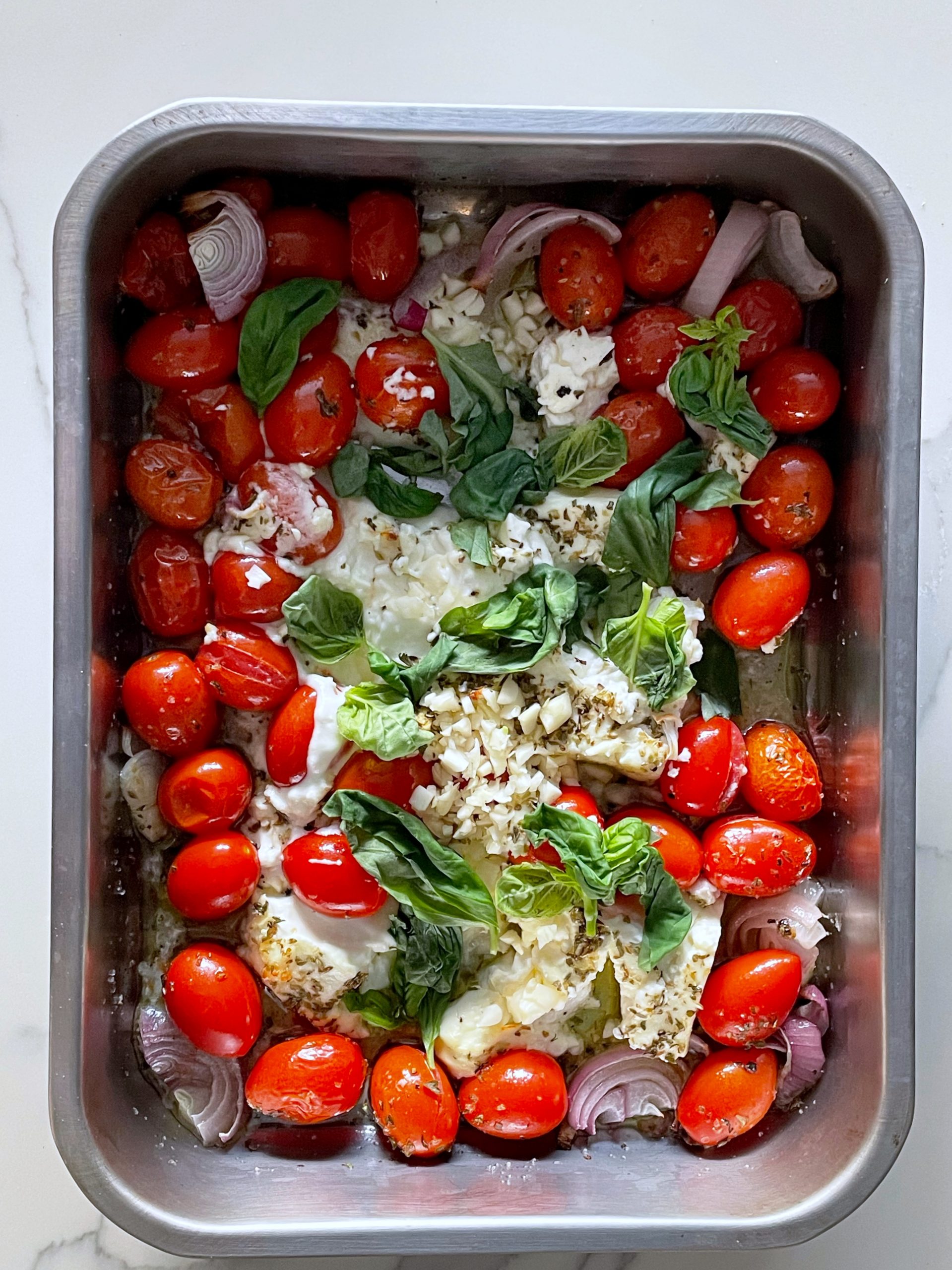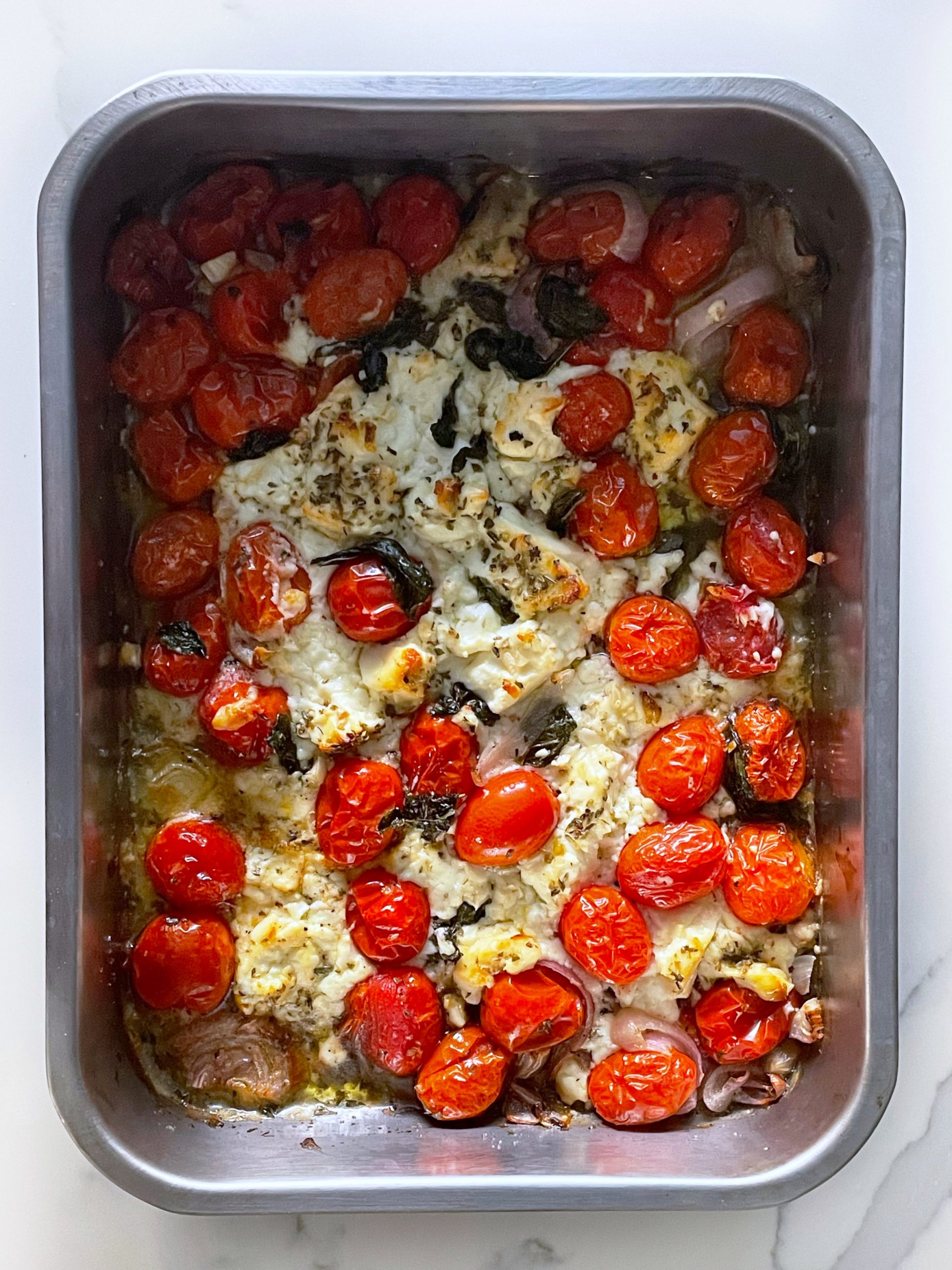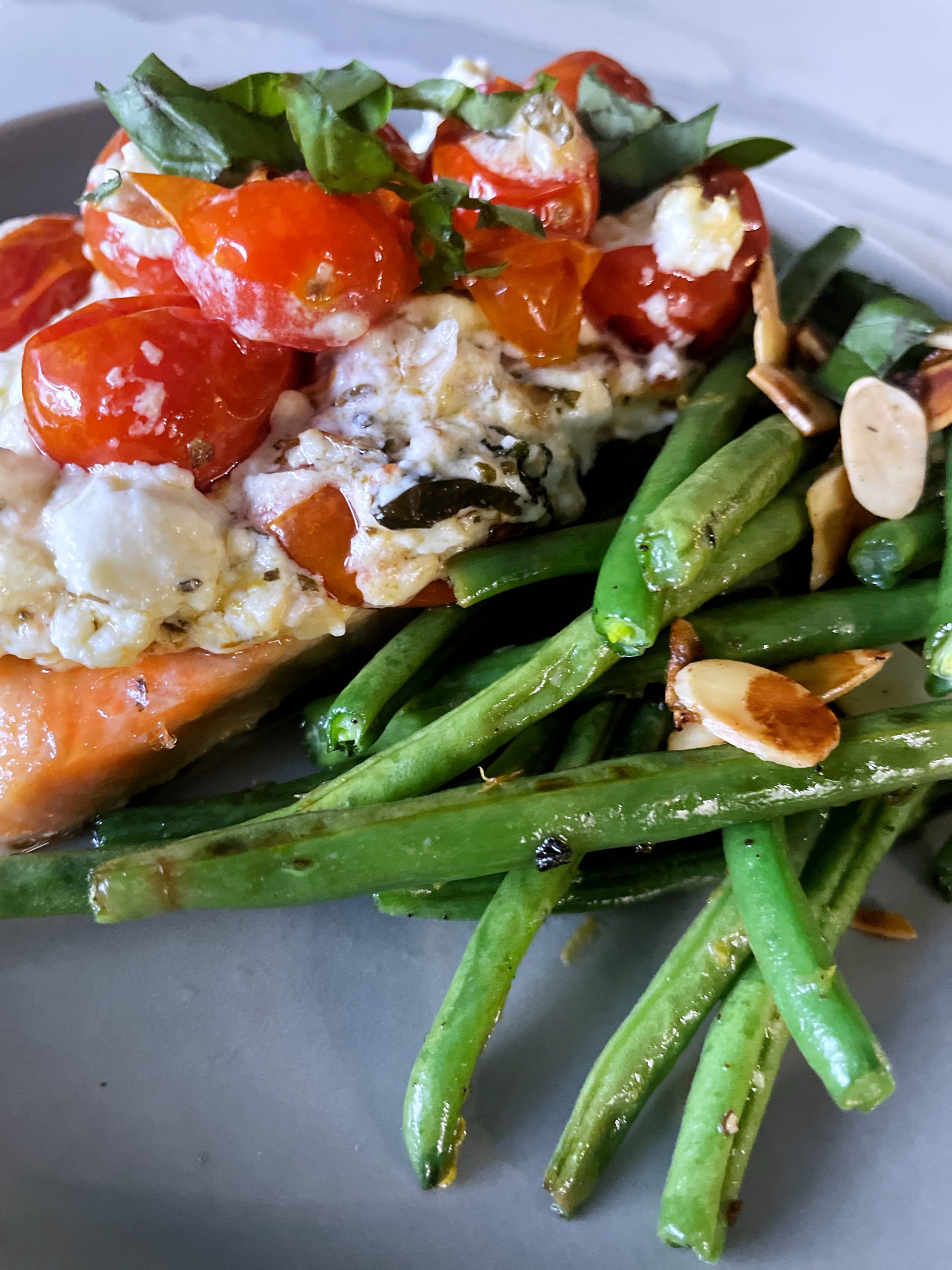 Yield/Servings: 4
Author: Riyana Rupani
Print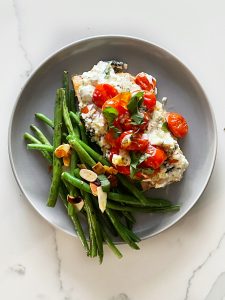 Baked Feta & Cherry Tomato Salmon
Salmon coated in a delicious tomato and feta sauce
PREPARATION TIME: 10 MIN
COOKING TIME: 40 MIN
TOTAL TIME: 50 MIN
INGREDIENTS
4 salmon filet 150g each
2 tbsp olive oil
400g/14oz cherry tomatoes
200g/7oz block feta
1 onion, sliced
1.5 tsp dried oregano
3 cloves garlic finely chopped
1 tsp  chili flakes (optional)
1 small handful of torn fresh basil leaves
salt and pepper
INSTRUCTIONS
NOTES:
Preheat oven to 400F/200C.  Add tomatoes, onion,  1 tbsp olive oil, and salt & pepper to a baking dish and toss.
Place the block of feta in the middle and top with 1 tbsp more olive oil plus the chili flakes and dried oregano. Bake for 30 minutes.
After the 30 minutes, remove the dish from the oven.  Stir in the garlic and basil. Increase the oven temperature to 450F/220C and bake for another 5-10 minutes or until the feta and tomatoes have browned.
During the last 10 minutes of baking, prep your salmon.  Simply season with salt and pepper and pan-fry, or pop into the oven along side the tomato and feta mix.  I like to bake my salmon for 10 minutes.
Remove the baking dish from the oven, and plate your salmon. Give the tomato and feta a gentle mix Season with salt and pepper to taste if needed and top your salmon.
Serve alongside your favorite side of veggies.